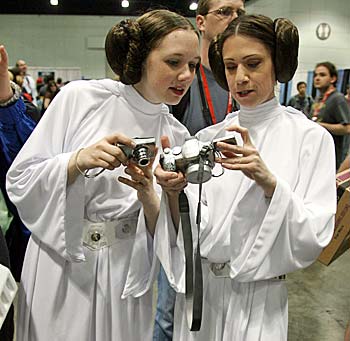 Star Wars fans will always be around. Give them a convention or conference involving lightsabers and they are there. Star Wars Celebration Europe is the official Star Wars fan convention. More than 20,000 attendees from 40 different countries attended this past weekend.
In a Main Stage event hosted by Warwick Davis, Lucasfilm President Kathleen Kennedy announced that legendary composer John Williams will return to score the highly-anticipated Star Wars: Episode VII, to be directed by J.J. Abrams. And one of the Executive Producers from Star Wars Rebels, Dave Filoni, was on hand to guide fans through the genesis of the upcoming animated series, revealing designs heavily influenced by original Star Wars concept artist Ralph McQuarrie. Star Wars: Episode VII is slated for a 2015 release and Star Wars Rebels will begin airing on Disney XD starting in fall of 2014.
At the closing ceremonies, Lucasfilm announced that its next fan fest – Star Wars Celebration VII – will be timed to the theatrical release of Episode VII, and will be held in Anaheim, California from April 16-18, 2015.