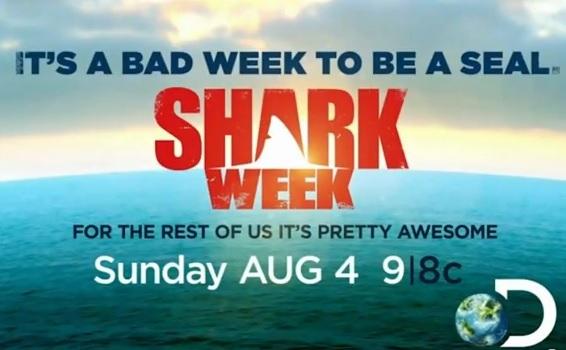 The 26th Annual Shark Week  returns to Discovery Channel on Sunday, August 4 at 8PM. Building upon last year's eight shark-filled specials, a whopping 11 Shark Week episodes coupled with the first ever late night Shark Week talk show gives this year's Shark Week the most premiere hours ever featured in the 26-year history of the event.
One of this year's Shark firsts is "Shark After Dark", Discovery's new late-night talk show that will air each evening during Shark Week. Our host will lead viewers through an hour-long celebration of all things shark-related with segments that highlight favorite moments from Shark Week. The show also features unexpected guests, shark experts, shark attack survivors, and more.
Following a year of shark encounters closely followed by the media, "Sharkpocalypse" examines the trend of sharks moving in closer to shorelines and debates whether there is a connection between declining shark populations and the increase in shark attacks.
Another first this year is Shark Cam, a robot submarine that is used to track sharks in a new and exciting way. "Return of Jaws" includes spectacular footage of Shark Cam following Great White Sharks living and hunting off the shores of Cape Cod. Footage of a 17-foot Great White is seen at close range over a five hour period as the shark hunts seal colonies, comes close to shore in less than four feet of water, and takes a chilling interest in one specific area.
For more information on all things sharks, head over to SharkWeek.com, the destination for Shark Week content featuring infographics, videos and other interactive elements including games.