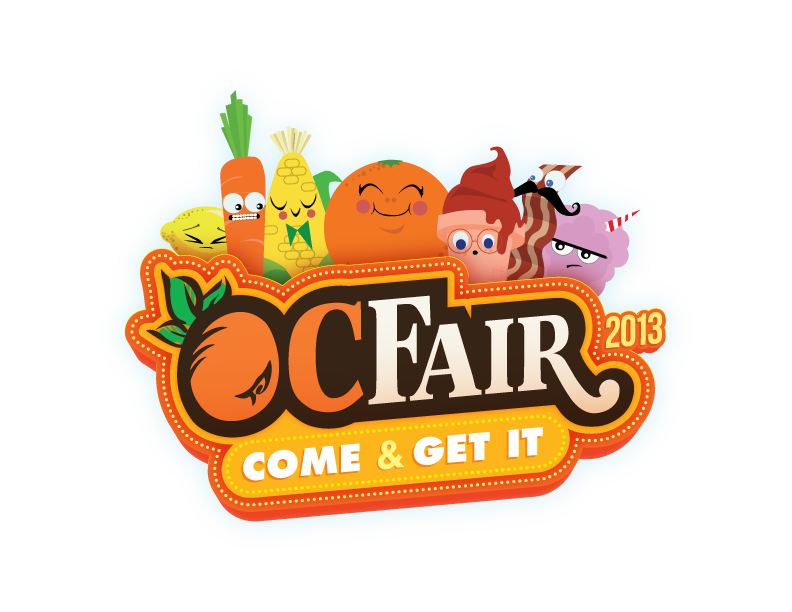 The OC Fair kicks off today in Orange County and runs until August 11th. From Food, to Rides, Animals, Activities and Music… there's so much to do! The 2013 OC Fair invites Fairgoers to make the most of their admission ticket and take advantage of a variety of free exhibits, demonstrations, contests and events available.

For the OC Foodies, new this year is food-themed characters. Scoop (ice cream cone), Carl (cotton candy), Olivia (orange), Mike (bacon-wrapped turkey leg) and more foodies will be featured as graphics, purchasable plush toys and costumed characters throughout the Fair.
As for the music, get your tickets for…
Colbie Caillat 
Friday, July 12, 7:45 p.m.
She has sold 10 million singles,more than 6 million albums and her happy music is  a crowd pleaser. Colbie's singles "Bubbly," "Realize" and "Lucky" are perfectly fitting for a warm summer night under the Costa Mesa night sky. The Grammy winner will open this year's OC Fair with popular songs and good vibes. Tickets start at $18.50.
Steel Pulse / Iration
Saturday, July 13, 7 p.m.
Grammy-award-winning Steel Pulse has been around for 35 years and focuses on sending the message of peace and love through their music. Claiming the title of one of Bob Marley's favorite bands, Steel Pulse won't disappoint. Accompanied by Iration, the alternative/reggae band famous for their songs "Cookie Jar" and their last album Time Bomb which hit No. 1 on the iTunes reggae chart. Tickets start at $19.50.
The Go-Go's
Sunday, July 14, 8 p.m.
This 80s band hasn't gone anywhere and they definitely still have the beat. And now, three decades after the release of their first album, The Go-Go's music still makes us dance. Tickets start at $21.50.
Alan Jackson
Wednesday, July 17, 8 p.m.
Alan Jackson has 35 No. 1 singles, three albums that have gone six-time platinum, 17 CMA Awards, 2 Grammy Awards, and a career full of success that most country singers can only dream of.  He has sold more than 60 million records, with his country sound recognized worldwide. Tickets start at $45.50.
The B-52s & X
Thursday, July 18, 8 p.m.
Known as the "World's Greatest Party Band," The B-52s are ready to rock the stage and the crowd with hits such as "Love Shack" and "Rock Lobster." 70's punk band X will round out the evening of rock music. Tickets start at $29.50.
Three Dog Night / The Grass Roots
Friday, July 19, 7:45 p.m.
Their well-loved hits, delivered in their unmistakable style, Three Dog Night is ready to rock the audience with sounds familiar to every home. These Grammy-nominated icons are celebrating their fourth decade with their collection of top 10 hits including "Mama Told Me (Not To Come)" and "Joy to the World." Joining them will be The Grass Roots, with their own 29 hit singles and having sold more than 20 million records worldwide. Tickets start at $19.50.
Emblem 3 / Chris Wallace
Saturday, July 20, 8 p.m.
Fan favorites on the X-Factor, Emblem 3 refused to be labeled as another boy band. A mix of pop, reggae and hip-hop, this trio is set to change the music industry with singles like "Chloe (You're The One That I Want)". Opener Chris Wallace will grace the stage with songs from his first solo album Push Rewind and his single "Remember When (Push Rewind)." Tickets start at $19.50.
Counting Crows with The Wallflowers
Sunday, July 21, 7 p.m.
These dynamic rock bands are joining forces to rock the stage with mind-blowing performances. The relationship between these two bands goes way back and both have had their own success over the years.  The Wallflowers are Grammy-award-winning and the Counting Crows have sold more than 20 million albums. Tickets start at $29.50.
Austin Mahone / Bridgit Mendler
Wednesday, July 24, 8 p.m.
At the age of 16, Austin Mahone is already selling out shows within minutes. His first hit single "11:11" and his more current hit "Say Something" have lead him to be a teen sensation with his dedicated fans nicknamed "Mahomies." Opener Bridgit Mendler is the latest Disney starlet to cross over into the music industry. The "Good Luck Charlie" actress debuted with her single "Ready or Not," which landed her on the Billboard Hot 100. Tickets start at $22.75
Joan Jett and The Blackhearts / Girl in A Coma
Thursday, July 25, 7:30 p.m.
Dubbed the "Queen of Rock 'n' Roll," Joan Jett is bound to put on a performance that will rock the crowd. Her most famous song "I Love Rock 'n' Roll" stayed as No. 1 on the Billboard charts for multiple months. With eight platinum and gold albums, nine Top 40 singles and a career full of success, Joan Jett and The Blackhearts are rock legends. Opener Girl in a Coma's first single "Clumsy Sky" won an Independent Music Award, and now with the release of their fourth album, are ready to take over the music industry with their nuclear performances. Tickets start at $19.50
Weezer
Friday, July 26, 8:15 p.m.
Weezer has sold more than 10 million albums and played thousands of shows since coming on the scene in 1992. From their music videos to their live performances, they are all about being wacky and their loyal fan base can attest to their stellar live performances. Tickets start at $29.50.
Save Ferris / The English Beat / The Originalities
Saturday, July 27, 7 p.m.
Lead singer Monique Powell will bring the hit sounds of Save Ferris to the stage. Known in England as simply "The Beat," the English Beat is a ska revival band founded in England in 1978. Their songs fuse ska, pop, soul, reggae and punk rock. Opening the night is Orange County band The Originalities, with their sounds of surf classics mixed with reggae and ska. Tickets start at $19.50.
The Dirty Heads / The Expendables / Common Sense
Sunday, July 28, 6 p.m.
The Dirty Heads are an acoustic, hip-hop group with good vibes and a sunny outlook. Rolling Stone labeled them as one of 2008's best new bands and their single, "Lay Me Down," spent 11 weeks as No. 1 on the Billboards Alternative Chart. The Expendables out of Santa Cruz will add their own blend of reggae, punk rock and 80's-style guitar to the night. Opening the evening of reggae and ska will be local band Common Sense, who took their reggae-rock influences and created their own style from their Southern California surroundings. Tickets start at $19.50.
The Flaming Lips / The Growlers
Wednesday, July 31, 7:45 p.m.
The Flaming Lips released their 13th album "The Terror" and unveiled their brand of psychedelia and modern rock favorites such as "Sun Blows Up Today" and "She Don't Use Jelly." The Growlers, trendsetters from Long Beach, are a rock and pop group with a sound referred to as "groovy" and "sick" and a reminder of 1960s rock. Tickets start at $31.50.
ZZ Top
Thursday, August 1, 8:15 p.m.
The only rock and roll group that still has all of its original members after three decades, ZZ Top's music is recognizable and filled with soul. This blues-rock trio has moved across time while sticking true to their grungy blues groove, bucking any trends that come their way. Tickets start at $38.25.
Styx
Friday, August 2, 8:15 p.m.
After two Super Bowl appearances, chart-topping tours and two more studio albums, Styx is not new to wowing audiences. This rock band is best known for its hit songs "Lady" and "Come Sail Away." Tickets start at $19.75.
The Fab Four – Beatles at the Movies
Saturday, August 3, 8 p.m.
This Beatles tribute band is known for their precise attention to detail and they will make any Beatles fan think they are watching the real thing. The OC Fair performance will feature the fabulous foursome's greatest hits from movies like "Let It Be," "Help!," "A Hard Day's Night" and more. Tickets start at $16.
Hunter Hayes / Sara Haze
Sunday, August 4, 8 p.m.
Young country singer Hunter Hayes is ready to take on his first Let's Be Crazy tour after releasing chart-topping singles like "Wanted" and "Somebody's Heartbreak." He was nominated for three 2013 Grammy Awards including Best New Artist. Opening for Hunter Hayes is Orange County native Sara Haze, who moved to Nashville to pursue her dreams and is returning home to showcase her success with songs like her single "Moonshine" as featured in the movie "Safe Haven." Tickets start at $23.50.
The Wanted
Wednesday, August 7, 8:15 p.m.
This European boy band sensation made its way over to the U.S. in 2012 with their hit single "Glad You Came," which sold three million copies and landed at No. 3 on the Billboard Hot 100. Tickets start at $29.50.
Daryl Hall & John Oates
Thursday, August 8, 8:15 p.m.
This No. 1 selling duo in music history are still considered to be one of the greatest musical influences with popular artists today. They have celebrated the 40th anniversary of their first album and multiple No. 1 singles over that span. Tickets start at $19.50.
Rebelution / Matisyahu / Collie Buddz
Friday, August 9, 6:30 p.m.
Rebelution's album Peace of Mind debuted at No. 13 on the Billboard Top 200, No. 1 on the Reggae chart, No. 1 for Independent Albums and No. 4 on iTunes' overall album chart. Matisyahu is a one-of-a-kind vocalist and songwriter who sticks to no single area when it comes to his musical tastes and style. Rapping, singing and electro beats are just a few examples of his eclectic style and his lack of conformity to one genre. Bermuda native Collie Buddz will bring his unique blend of hip-Hop, soca and dancehall, with a mix of modern reggae. Performance order is Matisyahu, Collie Buddz, Rebelution. Concert starts promptly at the listed show time. Tickets start at $25.
Roger Daltrey
Saturday, August 10, 8:15 p.m.
Former frontman for The Who, Roger Daltrey will lend his iconic voice for a special charity concert to benefit Teen Cancer America. Tickets start at $39.50.
Roger Hodgson
Sunday, August 11, 8:15 p.m.
Recognized as one of the most gifted composers, lyricists and songwriters of all time, Roger Hodgson is best known as the voice of Supertramp and hit songs "Give a Little Bit" and "Dreamer." Tickets start at $22.50.
Pacific Amphitheatre concert tickets can be purchased online at Ticketmaster.com, from any Ticketmaster outlet or the on-site Box Office at the Pacific Amphitheatre during regular hours. Visit ocfair.com for the current days and hours.