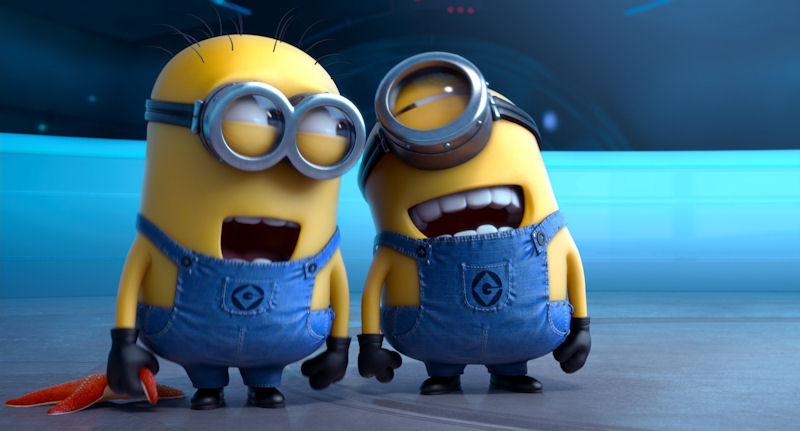 Joint directors Pierre Coffin and Chris Renaud go for the double down sequel method in their second "Despicable Me" outing. The world is twice as big, the gags are twice as ridiculous, and there are definitely twice as many jibber-jabbering Minions. Adding a healthy handful of organic 3D and an even more delectable cast on top, makes this sequel even sweeter than the original.
"Despicable Me" has always been about heart — well, actually the lack thereof. In 2010, Universal showed us that it was possible to thaw the icy temperament of an evil super villain named Gru (Steve Carrell) with the unbridled love of three adorable orphans. In "Despicable Me 2," Gru's ever expanding heart grows even bigger, this time finding enough room for a girlfriend.
As the film opens, we find a completely new Gru. He may still look and sound like an animated James Bond villain, but in reality,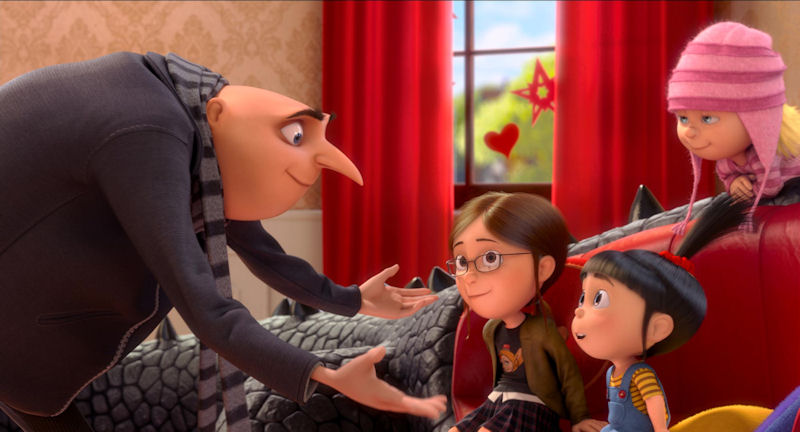 he has fully embraced his role as stepfather. His torture chamber has been converted into a playground, his underground lair now produces jellies and jams, and his minions now act as butlers instead of nameless test subjects. Gru's domesticated lifestyle comes up short, however, when it comes to the ladies. Luckily, his lackluster love life is given an unexpected jolt after he joins the AVL (Anti-Villain League) in order to track down an illusive baddy hell-bent on controlling the world. This is where Gru meets Lucy Wilde (Kristen Wig), a newly minted agent, and it's nothing but love at first mutual big-nosed sight.
With so much love in the air, the imaginative art direction and production design work done by Eric Guillon and Yarrow Cheney could easily be overlooked. Vibrant set pieces including a high-octane helicopter attack, an island themed Minion luau, and a laugh-out-loud Mexican restaurant break in, all manage to use the 3D projection technique in original, unobtrusive ways. This is a rare accomplishment considering how infuriating 3D movies have become recently.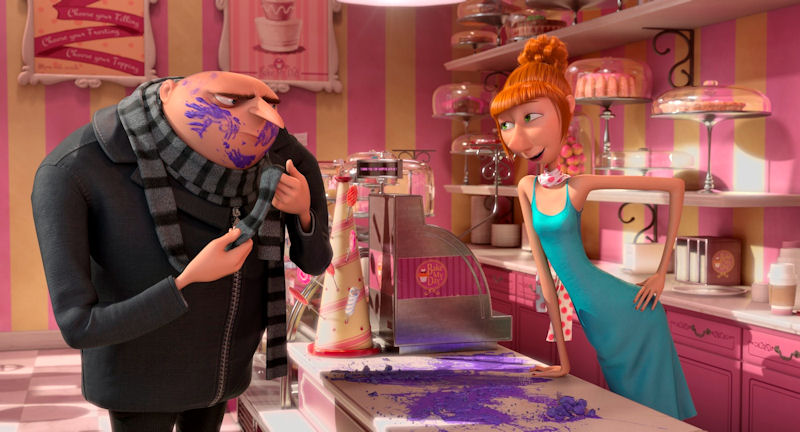 Adding to the beautiful animation is an equally stellar cast including performances by: Ken Jeong, Russell Brand, Steve Coogan, and Benjamin Bratt. Elsie Kate Fisher as little Agnes is still the most charming of all the characters, however.
There isn't much Ken Daurio and Cinco Paul's screenplay could have done better. The story has elements that will undoubtedly crack up any kid, and even manages to sneak in a few nods to the older generation — the hilarious Minion renditions of "I Swear" and "YMCA" especially. The film also expands on the "Despicable Me" universe in enjoyable ways, and prepares us for the all Minion movie that is already in the works at Universal.
"Despicable Me 2" is in a word: adorable. Enough said. 
By David Morris