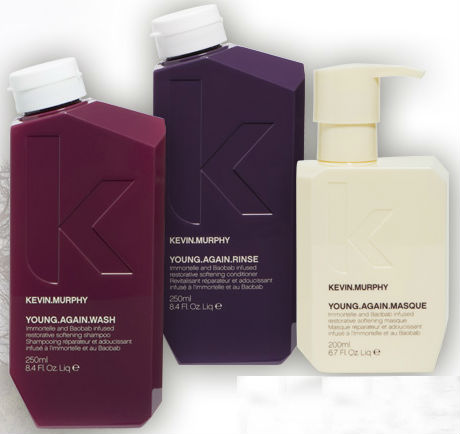 Three new products from KEVIN.MURPHY. YOUNG.AGAIN. The products are formulated with antioxidants, fruit/flower extracts and essential oils to combat the ageing process of hair. Featuring a WASH, RINSE and MASQUE, this trio is designed to renew dry, damaged or brittle hair. The YOUNG.AGAIN range is a three-part system to address the effects of ageing on the hair.  The process is a simple: prep and cleanse the hair via the WASH, deliver the ingredients via the MASQUE, and then lock the cuticle down via the RINSE.
"I have chosen ingredients that demonstrate longevity and ingredients that have shown resilience in harsh climatic conditions". The YOUNG.AGAIN range is driven by Bioflavonoids from Berries and Citrus, 20 Essential Amino acids, Baobab Seed Oil and Immortelle Essential oil chosen for their moisturising abilities and the ability to bring back elasticity.
"After the successful launch of YOUNG.AGAIN, our leave-in treatment oil, I've been working to expand the product line. Like skin, hair ages over time. To combat this process, the YOUNG.AGAIN line takes skincare technology and applies it to hair, helping to renew youthful luster and shine while softening dry, damaged hair," explains Kevin Murphy, stylist and founder of KEVIN.MURPHY. "All products are infused with Immortelle – produced from the flowers of the Helichrysum plant – and Baobab seed oil to really restore, soften and revive hair."
YOUNG.AGAIN WASH, RINSE and MASQUE is available now in salons for $35.00 suggested retail (WASH and RINSE) and $49
(MASQUE). For more information on KEVIN.MURPHY go to www.KevinMurphy.com.au.