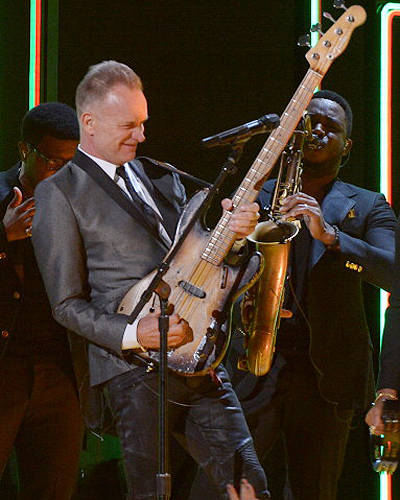 For the first and only time, Sting will perform songs from his new album, The Last Ship , for 10 concerts to benefit The Public Theater in their intimate, 260-seat Anspacher Theater from September 25 – October 9 . An evening of music and storytelling with one of the world's most prolific artists, these performances will offer unique insight into the creative process of both his new album, to be released September 24, and his forthcoming play of the same name, premiering in 2014. All proceeds benefit The Public Theater and are tax deductible.
"The Public Theater, a New York institution committed to supporting all of the city's distinct communities, was a natural fit to perform this material that is, at its core, about the importance of community," Sting said. 
In the spirit of The Public Theater's ongoing mission of accessibility, a limited number of free seats will be distributed the day of each performance via a lottery system.  Entries will be taken between 5:30 p.m. and 6:00 p.m. each performance day, with a drawing beginning at 6:00 p.m. (All entrants must be present to win.)
Sting also has a long tradition of hosting special events for members of his official fan club. In addition to these 10 performances, 100 Sting.com Fan Club members will receive free tickets, selected via lottery, to attend a very special concert in celebration of Sting's birthday on Wednesday, October 2 at The Public Theater. For details, please visit www.sting.com.
American Express ® Cardmembers can purchase advance tickets beginning on Wednesday, July 10 at 6 p.m. EST through Sunday, July 14 at 10 p.m. EST at http://www.publictheater.org/content/view/296 or 212-967-7555 .