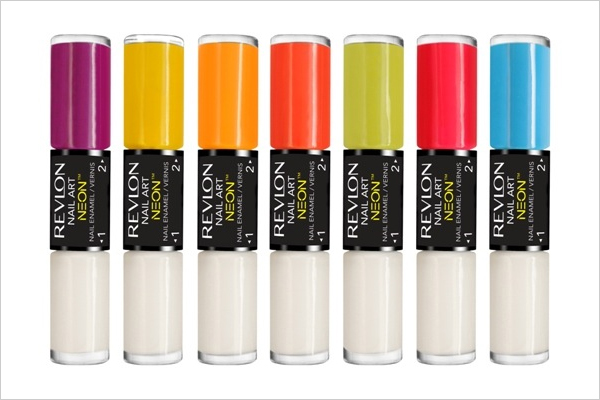 From bold, bright neons to mini-masterpieces on your fingertips, nail art is a colorful form of self- expression. Revlon Nail Art offers an easy way to capture this trend at home with dual-ended packaging that contains everything you need to create the hottest designs from the runways. 
The Revlon Nail Art collection offers 30 shades and three different styles with which to mix, match and paint.
Dare to be high voltage: Revlon Nail Art Neon collection allows you to brighten your neon with a white base coat for a pop of shocking color.
Dare to be cosmic: Revlon Nail Art Moon Candy lets you discover out-of-this-world nails with 3D, iridescent top coats over deep base colors for a multi-dimensional, cosmic look.
Dare to be a work of art: Revlon Nail Art Expressionist taps into the artist in all of us with a palette of 10 color combinations. Create detail with the skinny nail art brush – anything from gold studs to sweet bows.
SHADES: 30 shades (10 Revlon Nail Art Moon Candy– Moon Dust, Eclipse, Supernova, Orbit, Galactic, Milky Way, Satellite, Universe, Meteor, Cosmic. 10 Revlon Nail Art Expressionist – Silhouette, Pinkasso, Night & Degas, Ulterior Motif, Pop Art, Pastel Punk, Monet Monet, Jackson Polish, Post Modern, Vincent Van Gold. 10 Revlon Nail Art Neon – Pink Glow, Atomic Pink, High Voltage, Hot Flash, Neon Light, Amped Up,
Fluorescent, Laser Beam, Ultra Violet, Killer Watt.)
SUGGESTED RETAIL PRICE: $8.99 www.revlon.com