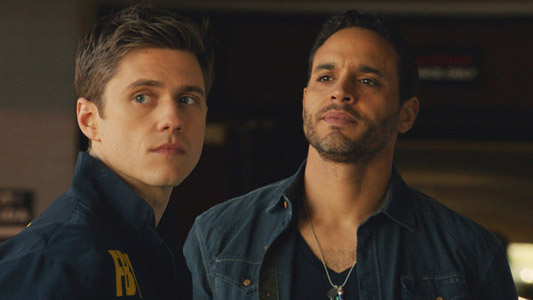 Inspired by true events, USA's new one-hour drama, "Graceland," about the adrenaline-fueled world of a diverse group of undercover agents whose lies are their lives, premieres Today, Thursday, June 6 at 10/9c. From executive producer and "White Collar" creator Jeff Eastin, the series stars Daniel Sunjata ("Rescue Me"), Aaron Tveit ("Les Miserables"), Vanessa Ferlito ("Stand Up Guys"), Brandon Jay McLaren ("Falling Skies"), Manny Montana ("Chicago Code") and Serinda Swan ("Breakout Kings").
"Graceland" is a place where nothing is what it seems and everyone has a secret. From the outside, this idyllic beachfront property is inhabited by a group of young roommates. Inside, a vastly different world is exposed: one that sustains itself through a complex web of lies. "Graceland" delves into the lives of an elusive group of undercover agents from the Federal Bureau of Investigations (FBI), Drug Enforcement Agency (DEA) and Immigration and Customs Enforcement (ICE), who live and operate under one roof. When forced to give up any shred of normalcy and the question of trust is a matter of life or death, the house becomes their sanctuary, their "Graceland."
Graduating at the top of his class, FBI rookie, Mike Warren (Tveit) anticipates a traditional DC desk job when he's unexpectedly shipped to "Graceland."  Immediately thrown into his first undercover assignment, he relies heavily on the guidance of legendary FBI agent and mentor Paul Briggs (Sunjata).  Briggs is an unusually Zen senior agent who notoriously hates the rule book and will go to any length to protect "Graceland" from the outside world.