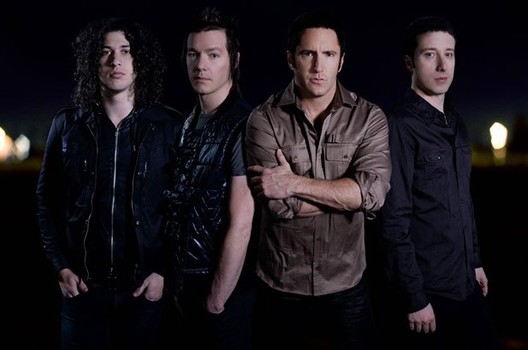 Two big announcements for Nine Inch Nails: the band just signed with Columbia Records and will release a new studio album later this year.
"I've been less than honest about what I've really been up to lately," said Trent Reznor. "For the last year I've been secretly working non-stop with Atticus Ross and Alan Moulder on a new, full-length Nine Inch Nails record, which I am happy to say is finished and frankly f*cking great.  This is the real impetus and motivation behind the decision to assemble a new band and tour again.  My forays into film, HTDA and other projects really stimulated me creatively and I decided to focus that energy on taking Nine Inch Nails to a new place.  Here we go!"
The band is performing at a number of festivals this summer, including Lollapalooza, Outside Lands, Leeds, Reading, Made In America and the Voodoo Festival.  The new Nine Inch Nails lineup – Alessandro Cortini, Josh Eustis, Robin Finck, Trent Reznor and Ilan Rubin – will debut on July 26 at the Fuji Rock Festival in Naeba, Japan. The show will mark Nine Inch Nails' first live performance in nearly four years.
Nine Inch Nails is considered a pioneer in the industrial music movement and has been highly influential in the evolution of electronic music. Its recordings – which include the RIAA Platinum-certified Pretty Hate Machine (1989), Broken (1992), The Downward Spiral (1994) and With Teeth (2005) – have revolutionized detailed digital production. The band has sold more than 30 million albums worldwide, released a remarkable series of singles, including the No. 1 Modern Rock radio hits "The Hand That Feeds," "Only," "Every Day Is Exactly the Same" and "Survivalism," and received two GRAMMY® awards. Building on Nine Inch Nails' long history of soundtrack work, Reznor, together with Atticus Ross, scored the David Fincher films The Social Network and The Girl with the Dragon Tattoo, winningan Oscar, a Golden Globe and a GRAMMY in the process. For a more extensive history of Nine Inch Nails, visit http://thehistory.nin.com/ .