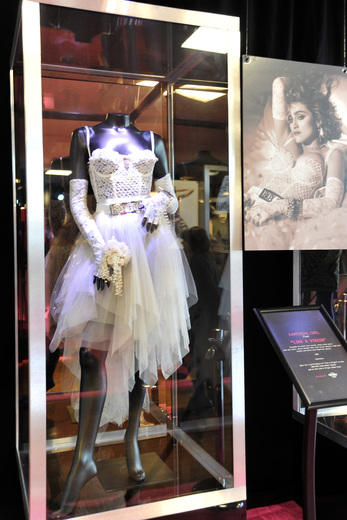 Madonna, Material Girl and Macy's offered consumers the ultimate insider experience at a thrilling one day pop-up fashion exhibit, "Madonna's Fashion Evolution" at Macy's.
Arianne Phillips, Madonna's longtime collaborator, who styled and helped to curate the exhibit, was on hand to celebrate along with celebrity guests Vanessa Hudgens, Annasophia Robb, Kat Graham, Michelle Trachtenberg, Darren Criss, Ireland Baldwin, Christos Garkinos from Bravo's "Dukes of Melrose" and more.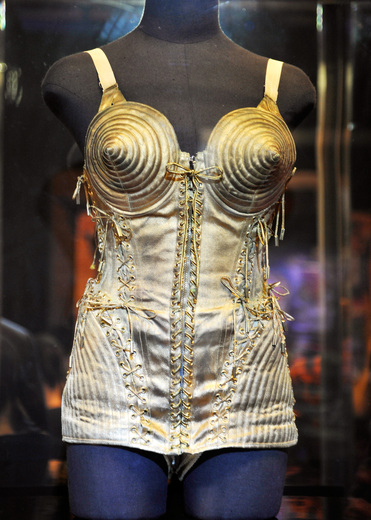 Madonna handpicked her favorite costumes from a vast archive of tour costumes and personal collection for the exhibit, hosted by Material Girl. On display for the first time together, as they have never been seen before, were items including Madonna's famous Jean Paul Gaultier cone bra corsets from her Blond Ambition Tour, her Re-Invention Tour ensemble by Christian Lacroix, her "Like A Virgin" wedding dress she wore to the MTV VMA's in 1984, the Bob Mackie evening gown she wore to the 1991 Oscars as Michael Jackson's guest, the black leather motorcycle jacket by Montgomery Ward and t-shirt from her "Papa Don't Preach" video, the black satin corset with conical cups from her "Who's That Girl" Tour, her "Boy Toy" jacket designed by Vivienne Westwood and the late Keith Haring, and more.
"The pop-up exhibit at Macy's perfectly exemplifies the inspiration and spirit of the Material Girl line and will give my fans a great opportunity to see the evolution of my style over the years," commented Madonna.