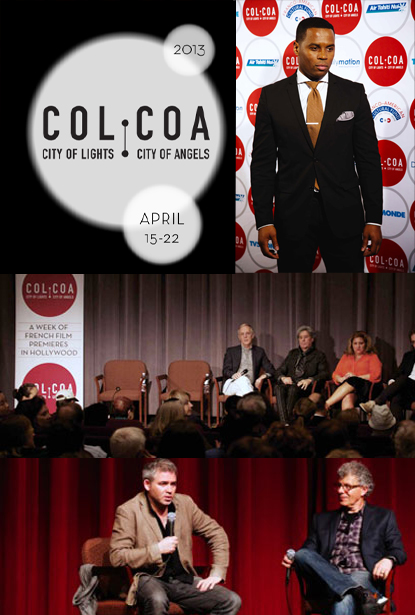 The weeklong City of Lights, City of Angels festival set an impressive attendance record of 19,000 at the Directors Guild of America. Thirty-one French features, documentaries and 19 shorts competed for the 2013 COL*COA Awards. Who were le grande winners?

The Attack, directed by Ziad Doueiri and written by Ziad Doueiri and Joelle Touma (based on Yasmina Khadra's book L'Attentat), walked away with three honors, including the COL*COA Audience Award. The Critics Special Prize also went to the film as well as the new Coming Soon Award, a prize given in association with KPCC 89.3, to a film presented with an attached U.S. distributor. The Attack was presented at COLCOA as part of the series World Cinema produced by France. The film will be released in France on May 29, followed by its U.S. release on June 21 by The Cohen Media Group.
A Few Hours of Spring was awarded the LAFCA Critics Award by the Los Angeles Film Critics Association jury at the 17th annual City of Lights, City of Angels French film festival. The film was co-written by Stéphane Brizé and Florence Vignon, and directed by Stéphane Brizé.
The Audience Special Prize went to Haute Cuisine, co-written by Etienne Comar and Christian Vincent, who directed the film, and the First Feature Award to Populaire, a romantic comedy written by Régis Roinsard, Daniel Presley, and Romain Compingt, and directed by Régis Roinsard. The Weinstein Company will release both films in the U.S., respectively on August 16 and on May 17.
Special Mentions were given by the Audience to What's in a Name, a comedy co-written and co-directed by Alexandre de La Patellière and Matthieu Delaporte, soon to be released in the U.S. by Under The Milky Way, and by Critics to In the House, written and directed by François Ozon.
The COLCOA Documentary Prize went to Becoming Traviata, written and directed by Philippe Béziat. Distrib Films will release the film in the U.S.