Opening with an elaborate Alice In Wonderland inspired number from none other than the 'everywhere-you-look' Taylor Swift, at first, I was a little leery that the Grammys would turn into yet another three hour long praise-fest for the under 20 fan set. Though Swift looked more like Uncle Sam than the Mad Hatter she was going for while she sung her overexposed "We Are Never Ever Getting Back Together" for the millionth time, the rest of the evening was an ode to originality. Pairing different artists together, while risky, definitely made for an interesting evening.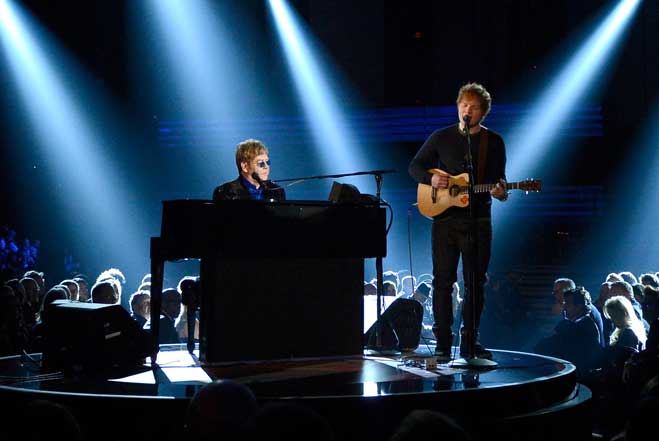 The first duo up was the eccentric Sir Elton John and the understated Ed Sheeran, performing Sheeran's breakout hit "Class A Team." Generally you can count on an icon to out shine an up-and-comer, but this proved not to be the case. With Elton on piano cloaked in a sparkly sequined dark blue blazer and Sheeran on guitar in a plan black long-sleeved tee that looked like he just picked it out of the bargain bin, this performance was ill matched from the start. When Elton took over singing the chorus of his fellow Englishman's track, I couldn't help but cringe. While Elton's legacy stands on its own, his vocals can no longer say the same, and sadly I just kept wishing he would stick to the piano and let the supple-throated Sheeran do his thing.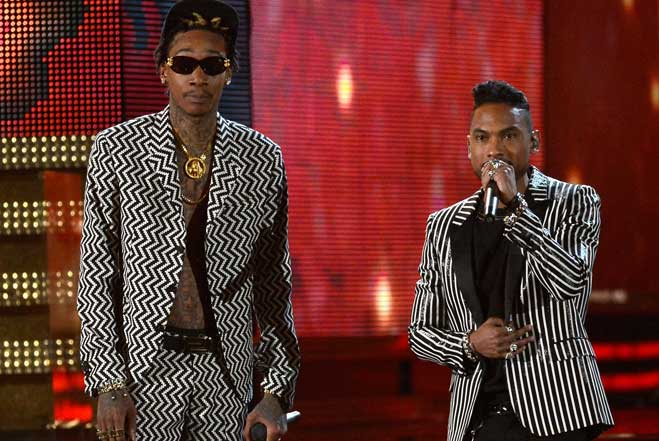 Another testament to the weird mix of both amazing talent and irrelevance was the performance by Miguel and Wiz Khalifa. Miguel did a superior job soulfully singing "Adorn" while Khalifa looked on nodding his head vigorously wearing a clown-like suit without a shirt and without adding anything at all to the routine. This left me wondering why they even bothered trotting him out on stage just to hear him grunt out a few extraneous "uh huh"s and "yeah"s.
One of the best match-ups of the evening was definitely the top 40 dominators, Maroon 5 and Alicia Keys. Maroon 5's "Daylight" melded seamlessly with Keys' "Girl On Fire," effortlessly bleeding together for the perfect duet. Their impassioned performance showcased each act's strengths and made up for other ill-advised pairings.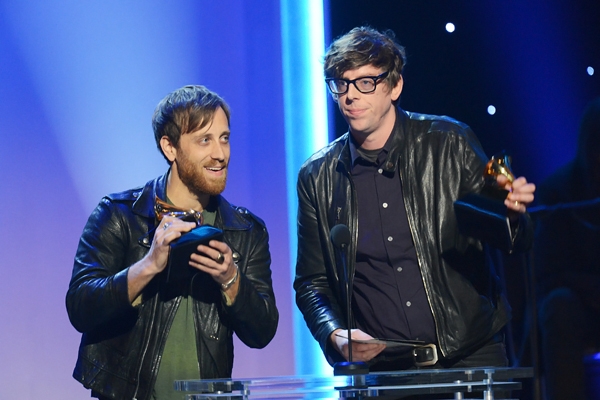 In between all these performances, of course, were the awards. It ended up being a pretty big year for rock and roll as the Black Keys snagged Best Rock Album for "El Camino," and doubled up on the success with "Lonely Boy" getting both Best Rock Song and Best Rock Performance for the track. As well, fun. took home two coveted awards: Best New Artist and Song Of The Year for "We Are Young." Though their fake-rain soaked rendition of "Carry On," didn't quite get the right balance of showmanship and vocal clarity, their Best New Artist win was certainly deserved. As they exploded on to the scene with "We Are Young," the indie crossovers followed it up with almost as equally popular "Some Nights" and then of course "Carry On," making their hat trick all the more impressive considering that no one knew who they were in 2011.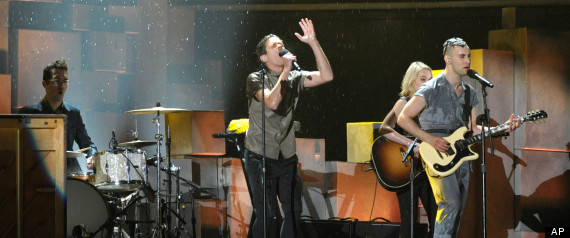 Mumford and Sons grabbed arguably the  most desired award of the night: Album of The Year for their surprising underdog record "Babel;" a true symbol of the power of the alternative folk rock movement. The Record Of The Year went to Gotye's "Somebody That I Used To Know," which wasn't surprising considering that months went by where it was virtually impossible not to turn on the radio and expect to hear that song. This again seemed to indicate the immense influence (and perhaps luck) the indie world has had on the industry this past year.
Still, the Grammys couldn't forget about the tried and true pop favorites such as Beyoncé (Best Traditional R&B Performance for "Love On Top"), Adele (Best Pop Solo Performance for "Set Fire To The Rain") and Kelly Clarkson (Best Pop Vocal Album for "Stronger").
Last night proved the Grammys still knew how to put on a good show. Sure it was excruciatingly long (what do you expect these days from an award show?), but it was peppered with just enough great and not-so-great performances and surprising wins to keep it entertaining.
Click here for the full list of winners, and check out our recap of the exclusive Warner Brothers Music after party in L.A. Glam.

By: Darianne Dobbie