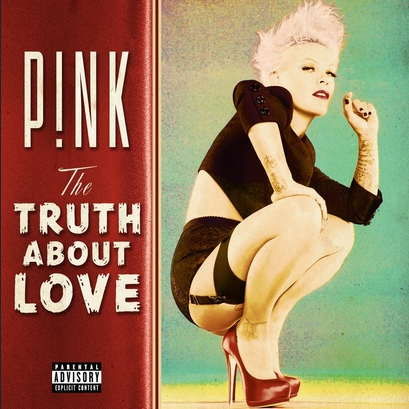 With all the success singer/songwriter Pink has had since she and her bright fuchsia hair popped onto the scene in 2000, it is truly surprising that her newest album, "The Truth About Love," is her first to make it to #1. Previously, the musician's peak sales debut had occurred over a decade ago with 2001's "M!ssundaztood" which sold 220,000 copies and came in at #6. Rattling the charts and selling 280,000 copies in its first week, the punk-pop singer has finally been able to reach the coveted spot at the top with her latest record which solidified its position as the third highest selling debut this year after Justin Bieber's "Believe" (374,000) and Madonna's "MDNA" (359,000).
Her hit single off the album, "Blow Me (One Last Kiss)" has been getting consistent airplay, making it to #5 on Billboard's Hot 100 and #1 on the Radio Songs chart. Since her premiere single, "There You Go," Pink's mix of glamour and combat boots combined with her edgy yet accessible style has allowed the singer to become a mainstay in modern pop music.
In looking back at the contemporaries she came up alongside, it is clear that Pink has stayed a formidable competitor, able to weather the changes in the industry as well as personal milestones like divorce and motherhood. Throughout the years, Pink has held steady, refusing to fall behind or become obsolete, just like the crowned queen of pop herself, Britney Spears (who scored her sixth #1 debut with 2011's "Femme Fatale"). Both have been able to dominate the charts just as well as they did a decade ago despite the emotional tolls of contending with rocky romantic relationships and the birth of their children. Superstar and icon, Beyonce Knowles, has also masterfully balanced motherhood and an enormous career, snagging a #1 debut with her 2011 album, "4," while sporting a baby bump. Proving that maintaining that balance is not an easy feat, the angry, boundary-pushing, Pink has surpassed musical megastars such as Jennifer Lopez whose post-babies album, "Love?" which debuted at #5, couldn't quite stretch high enough to touch the top. More than ten years, three Grammys, five VMAs, and one baby later, the rebellious rocker has proved that among the charts crowded with pop princesses, a punk pioneer can still be #1.
By: Darianne Dobbie