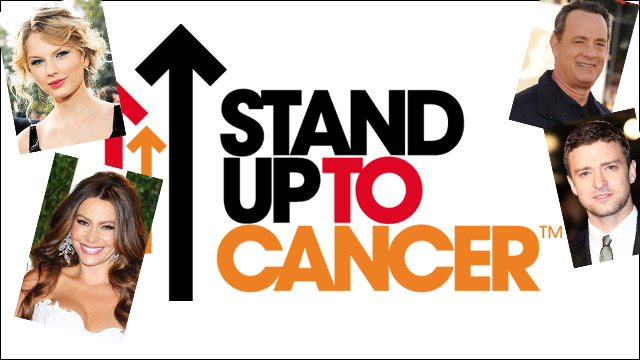 An impressive number of stars are coming out to support Stand Up To Cancer for this year's telecast. Tom Hanks, Halle Berry, Justin Timberlake, Sofia Vergara, Eric Stonestreet, Ray Romano, Felicity Huffman, Max Greenfield, Stacy Keibler, Maura Tierney, Rocco DiSpirito, Ethan Zohn and Olympic Gold Medalists Gabrielle Douglas and Missy Franklin will participate in Stand Up To Cancer's landmark event tonight, Friday, Sept. 7 (8:00-9:00 PM ET & PT). They join celebrities from film, television, music and sports in a nationally televised broadcast which will fund groundbreaking translational research that delivers new therapies to cancer patients quickly and save lives.
Executive produced by Gwyneth Paltrow and Joel Gallen of Tenth Planet Productions, in collaboration with SU2C's production team, the 2012 Stand Up To Cancer broadcast will feature previously announced stars Julia Roberts, Matt Damon, Michael Douglas, Jessica Biel, Samuel L. Jackson, Jeremy Renner, Seth Rogen, Emma Stone who will join Paltrow and SU2C Co-Founder Katie Couric. Taylor Swift, Coldplay, Alicia Keys and Tim McGraw will deliver moving, one-of-a-kind performances alongside inspiring patient stories. Actors and personalities including Simon Baker, Jordana Brewster, Diem Brown, Dana Delany, Chelsea Handler, Marg Helgenberger, Minka Kelly, Joe Manganiello, Jillian Michaels, Masi Oka, Ana Maria Polo, and Alison Sweeney will also take part in the broadcast.
For more info visit LATFUSA's previous article.
The program will include a celebrity phone/multi-media bank that will allow viewers to interact with participating talent. Viewers will also be able to donate via text-to-give and at www.standup2cancer.org