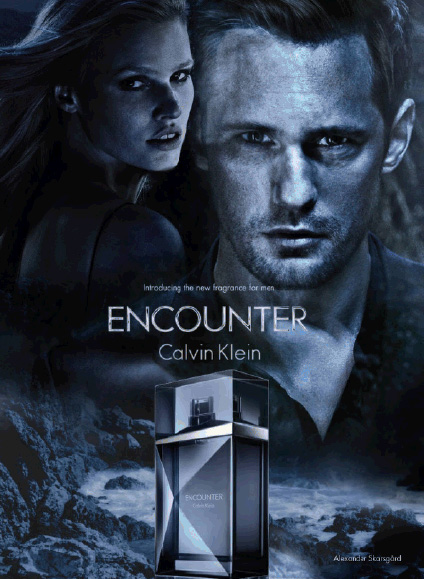 Everything is switching to digital. It is fast and it saves money.
The latest men's fragrance from the Calvin Klein Collection,  ENCOUNTER Calvin Klein,  which will be in department stores in September is using a different approach. Understanding that a print and TV campaign is just not enough anymore, Calvin Klein's sensual woody fragrance, featuring actor Alexander Skarsgård will celebrate its launch by inviting consumers to participate in the "Dare to Encounter" on-line journey. Starting on September 4th, when you visit ENCOUNTERCalvinKlein.com you can compete in a series of sophisticated virtual challenges that unlock pieces of actor Alexander Skarsgård and super model Lara Stone's mysterious story of desire. Using animated GIF's, attached, you can capture moments from the TV advertising shoot and bring the story to life in an unexpected way. Upon completing the challenges, users can watch the ENCOUNTER Calvin Klein short film and enter for a chance to win the grand prize of an ultimate ENCOUNTER getaway.
The campaign was conceived by consulting creative director, Fabien Baron of Baron + Baron, working with CRK, Calvin Klein, Inc.'s in-house advertising agency, and AKQA, a New York based interactive media and technology agency. The campaign will be supported with paid media across all social media channels, including Facebook®, Twitter® and YouTube®, as well as print and television advertising, which will feature a call to action encouraging users to visit ENCOUNTERCalvinKlein.com. The website will be available in several languages around the world. The global print campaign will debut in September 2012 magazines.
http://www.encountercalvinklein.com