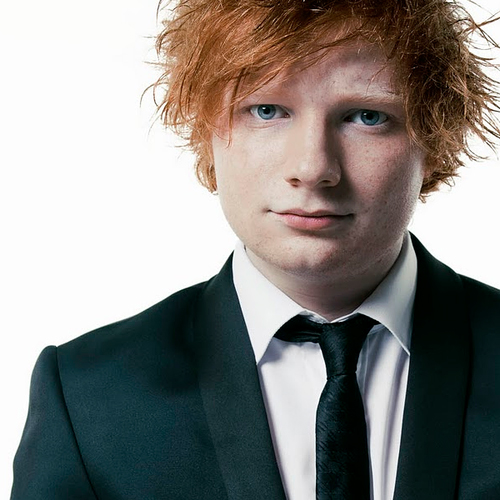 If you caught this year's Closing Ceremonies at the 2012 London Olympics, you might have heard the UK's newest breakthrough musician, Edward Chrisopher "Ed" Sheeran's cover of the famous Pink Floyd song "Wish You Were Here."Sheeran's contemporary throwback sound was captured perfectly in his rendition, but the majority of Sheeran's success has been attributed to his unique blending of folk, pop rock, soul and even hip-hop influences. His inspirations range from James Morrison and Damien Rice to Jay-Z. His pop-catchy hooks and lyrically driven folk style has helped Sheeran stand out amongst the club-y/electronic influences of many of today's hits.
Though he began playing gigs in London at the age of 16, Sheeran, now 21, started raising eyebrows with the release of his EP No.5 Collaborations Project (released January 2011) which reached #2 on the iTunes chart as an independent production. In September of the same year, Sheeran released his debut album entitled + (pronounced Plus) which jetted the Halifax-native onto the mainstream music platform with three largely successful singles: "The A Team" (reaching #3 on the UK Singles Chart), "You Need Me, I Don't Need You" (peaking at #4), and "Lego House" (#5 on the UK Singles Chart). Sheeran's first single, "The A Team" became the best selling debut single and the overall eighth best single of 2011 with 801,000 copies sold. Furthermore, + has been certified quadruple platinum in the UK earning Sheeran two BRIT Awards for Best British Male Solo Artist and British Breakthrough of the Year.
Be sure to check out Sheeran's newest singles on iTunes ("Drunk" and "Small Bump") and his co-writing work with UK's heartthrobs that make up the boy band One Direction on their song "Moments".