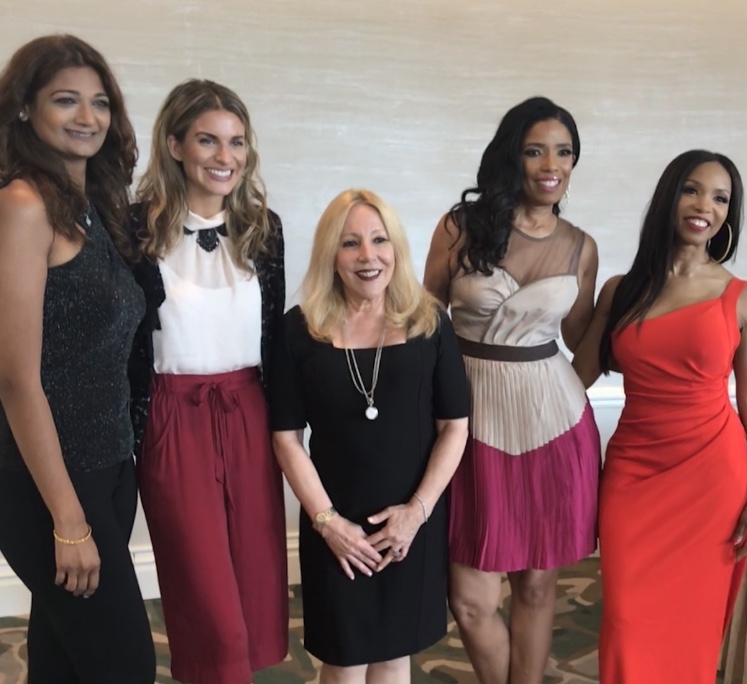 (L-R, Dr. Sonia Badreshia, Rachel McCord, Michele Elyzabeth, Areva Martin, Elise Neal)
LATF USA's publisher and Hollywood Beauty Awards CEO/Founder, Michele Elyzabeth spoke on the Ageless Face of Beauty Panel at the 10th annual A Pink Pump Affair 'A Celebration of Women' on Sunday at the Beverly Hills Hotel.
Moderated by Areva Martin (Author, Attorney, Advocate and Talk Show Host), Michele joined fellow panelists: Elise Neal (Image Award-Nominated Actress), Rachel McCord (Author, The McCord List founder) and Dr. Sonia Badreshia, MD (Board Certified Dermatologist).
The panel spoke about subjects including women in business and social media/influencer culture. In a world where 20 and 30 somethings rule the Instagram universe, an audience member asked about how women over 40 and 50 years-old can build their brand and become attractive to bigger companies for support.
Michele encouraged the audience of women to take pride in their age and speak up. "I think women past a certain age, past 40, have a voice. I'm really going to try and lead the way because I'm close to 70."
Areva asked if the panel thought that brands would flock to a 40+ blog site as opposed to a 20 something. Michele said that the 20 and 30 somethings "don't need the fillers, they don't need the sculpting. You had bloggers, then you had influencers. Before influencers, there were no influencers. You have to start somewhere. I'm doing this with Hollywood Beauty Awards; saying, 'We're not dead at 50!'"
She emphasized the buying power of women beyond the millenial generation. "We exist and we have a power of buying; it's huge. At 20 you have some money, or maybe you get it from your parents; but you don't have the same power. Go out there and tell them, 'Hey, this is me.' Don't be afraid to tell your age."
Major beauty companies such as Covergirl are leading the way by including women over age 50 in their campaigns. "You see, Maye Musk, who is one of the faces of Covergirl; she's 70. So, it's starting. We just have got to push for it. But they're very bright; they are starting a movement. You have to highlight these women and they did, they took the lead. Bravo to them."
The panel shared their expertise advice and encouraged the audience of movers and shakers: "If you don't succeed, try, try again… and you will succeed no matter what," as Michele said.
Join the #WereNotDeadAt50 conversation on IG and share your thoughts with Michele @HollywoodBeautyAwards and @LATFUSA.
The Pink Pump Affair Power of Women Gala is Hosted by Special Needs Network, the Los Angeles based and nation's leading nonprofit organization for children with autism and other special needs.
Watch more clips on @Hollywood Beauty Awards IG