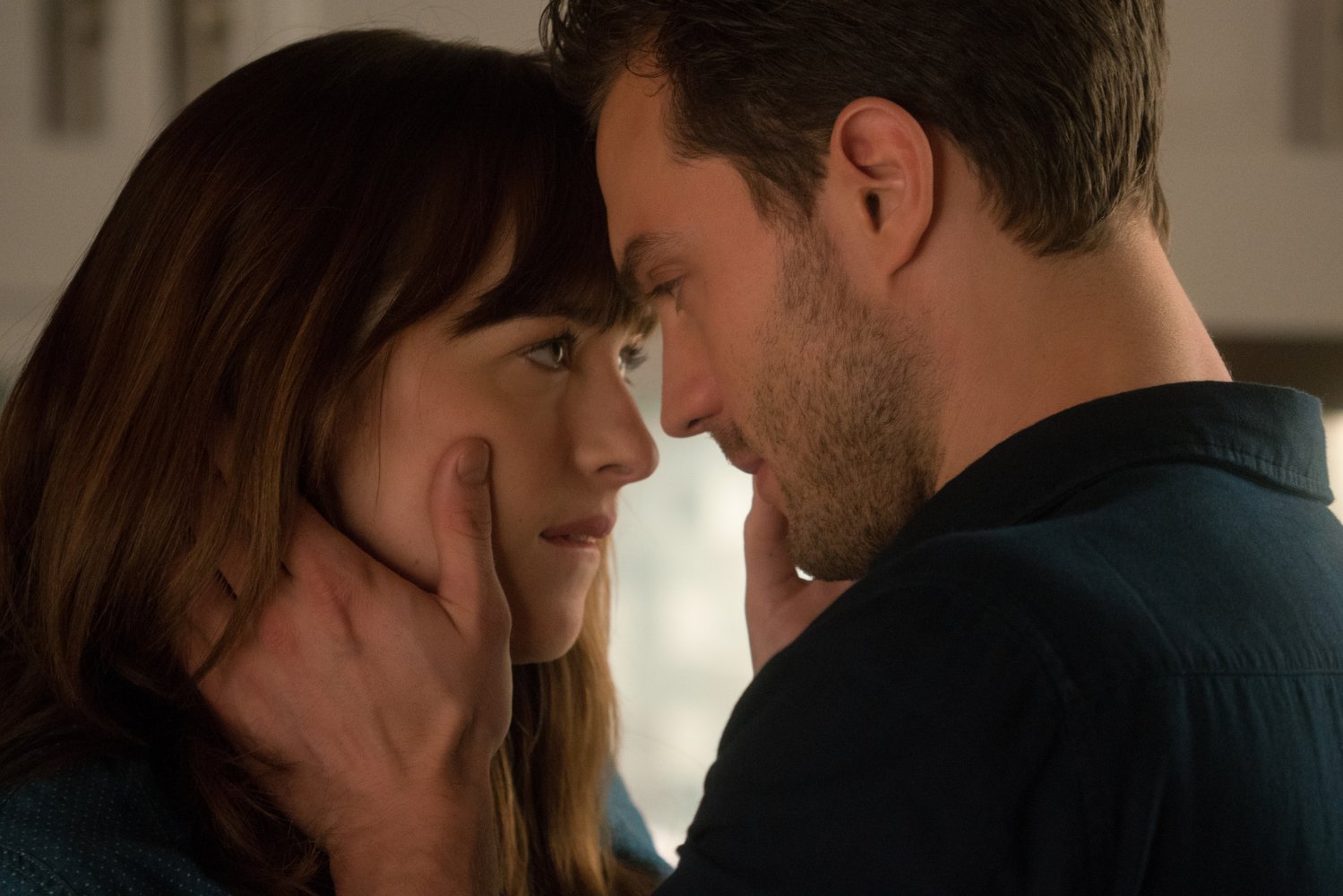 Just in time for Valentine's Day, the wildly popular, allegedly sexy Fifty Shades book series returns to the big screen for a second installment with Fifty Shades Darker, a torturous and unintentionally hilarious erotic-thriller starring Dakota Johnson, Jamie Dornan, Kim Basinger, Bella Heathcote and Marcia Gay Harden.
Taking over directorial reins from Fifty Shades of Grey chief Sam Taylor-Johnson, is James Foley (Glengarry Glen Ross, House of Cards), whose efforts at steering this terribly misguided storyline into something resembling enjoyable date night fare prove futile. A franchise misstep that will hopefully be corrected by the upcoming third installment (they shot the 2nd and 3rd films back-to-back with the same creative team), unless you're a diehard Fifty Shades fan or in the mood for some mean-spirited chuckles, don't waste your time with this trifling endeavor masquerading as erotic romance.
In Fifty Shades Darker, heroine Anastasia Steele (Johnson) is now a lowly assistant at a Seattle-based publishing house, where, between receiving unwanted advances from her possessive boss, Jack Hyde (Eric Johnson), she aspires to one day achieve editor status. While attending her friend Jose's (Victor Rasuk) photography exhibit, Ana is approached by the mysterious and mega-rich Christian Grey (Jamie Dornan) with a proposal to rekindle their unconventional romance.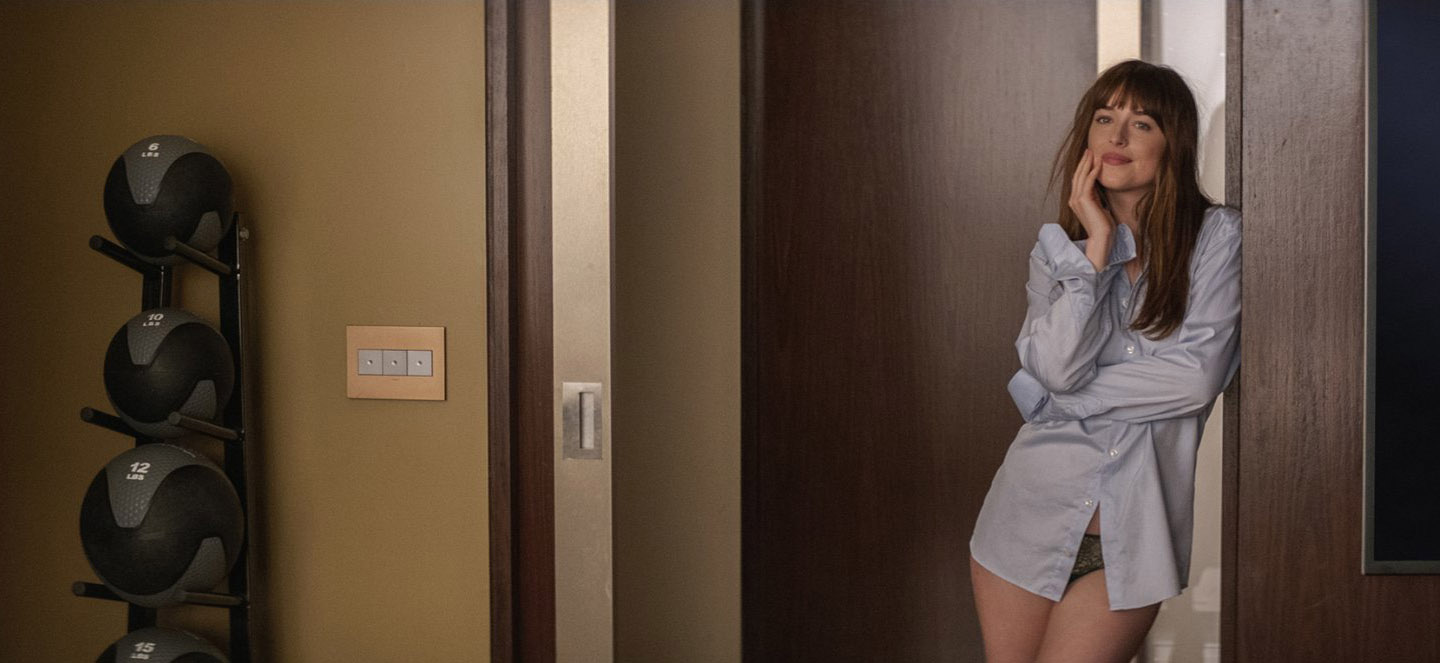 While the tortured lovers pick up where they left off in their dominant-submissive relationship and all the kinkiness that comes with it, some troubling aspects of Christian's past bubble to the surface. For starters, there's Leila (Heathcote), Christian's disgruntled former sub who has taken to stalking him and those closest to him. Then there's Elena Lincoln (Basinger), the Mrs. Robinson-esque friend of Christian's mother who introduced him to his sexually deviant ways, now back on the scene and throwing creepy vibes in Ana's direction.
As Christian and Ana attempt to take their relationship in a more traditional direction, and the screenplay attempts to build something akin to an engaging narrative, the aforementioned shadowy figures from Christian's past and Ana's present do all they can to derail their romance.
Perhaps trying to avoid the creative differences between author and filmmaker that plagued the first production, Fifty Shades Darker is faithfully adapted by Niall Leonard, the husband of "Fifty Shades" author E.L. James, which partially explains the tone-deaf results. From the lifeless acting and hokey storyline to the oppressive soundtrack and painfully repetitive sex scenes, Fifty Shades Darker is a decidedly disagreeable affair that will induce laughter instead of arousal. With a storyline that seems better suited to the midnight hour on Cinemax than the Cineplex, despite director James Foley's best efforts, this is one seriously flawed and unsatisfying follow-up.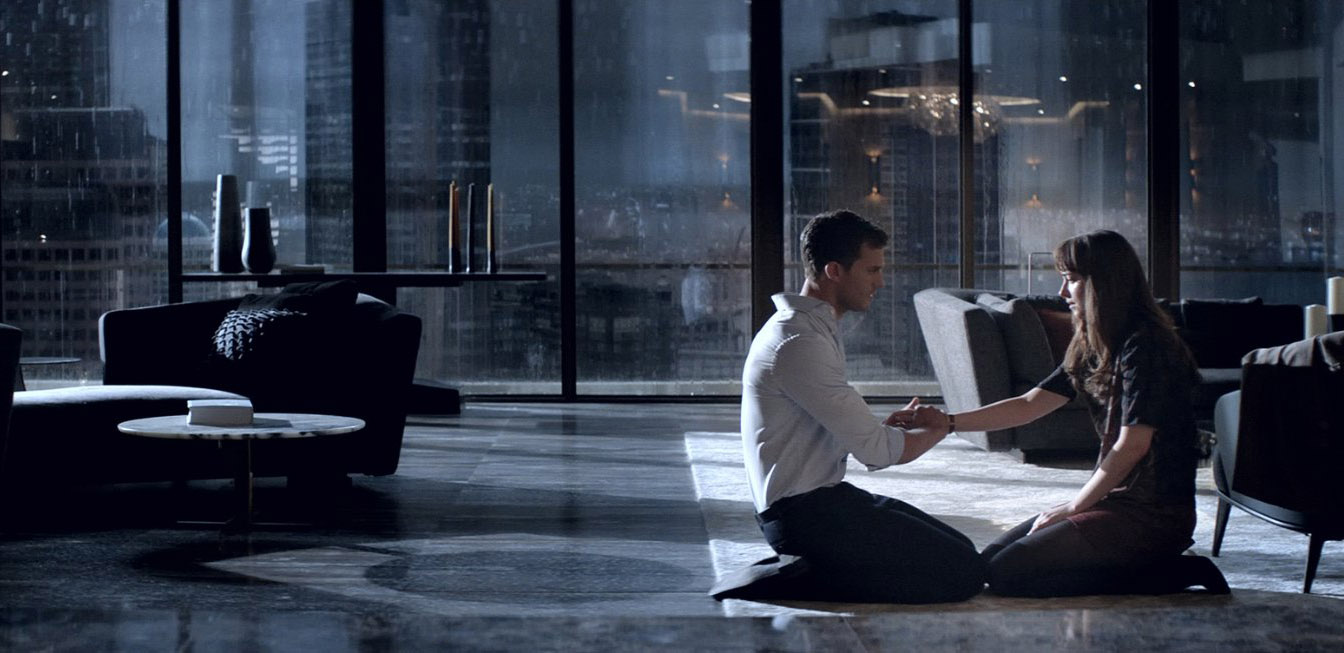 The role of good-girl-gone-bad Anastasia Steele is the cross that budding actress Johnson has had to bear in order to garner the attention that paves the way for more artistically fulfilling roles. And while she does her best to inhabit her paper-thin character, it would be nice to see her in a multi-dimensional lead role where she could exhibit the depth that audiences saw flickers of in last year's A Bigger Splash and 2015's Black Mass. Similarly, as Christian Grey, Ana's tormented, sadomasochistic lover, Jamie Dornan's performance is laden with far too many corny lines and sexually compromising positions to be taken even remotely seriously. The talents of the supporting players are similarly wasted, from Kim Basinger as the perverted Elena Lincoln and Marcia Gay Harden as Christian's adoptive mother to Bella Heathcote as Christian's stalker-ex and Rita Ora as Christian's chop-busting sister.
Couples looking to set the tone for Valentine's Day will be disappointed by this shoddy second chapter.
Running Time: 118 minutes
Rated R for strong erotic sexual content, some graphic nudity, and language.