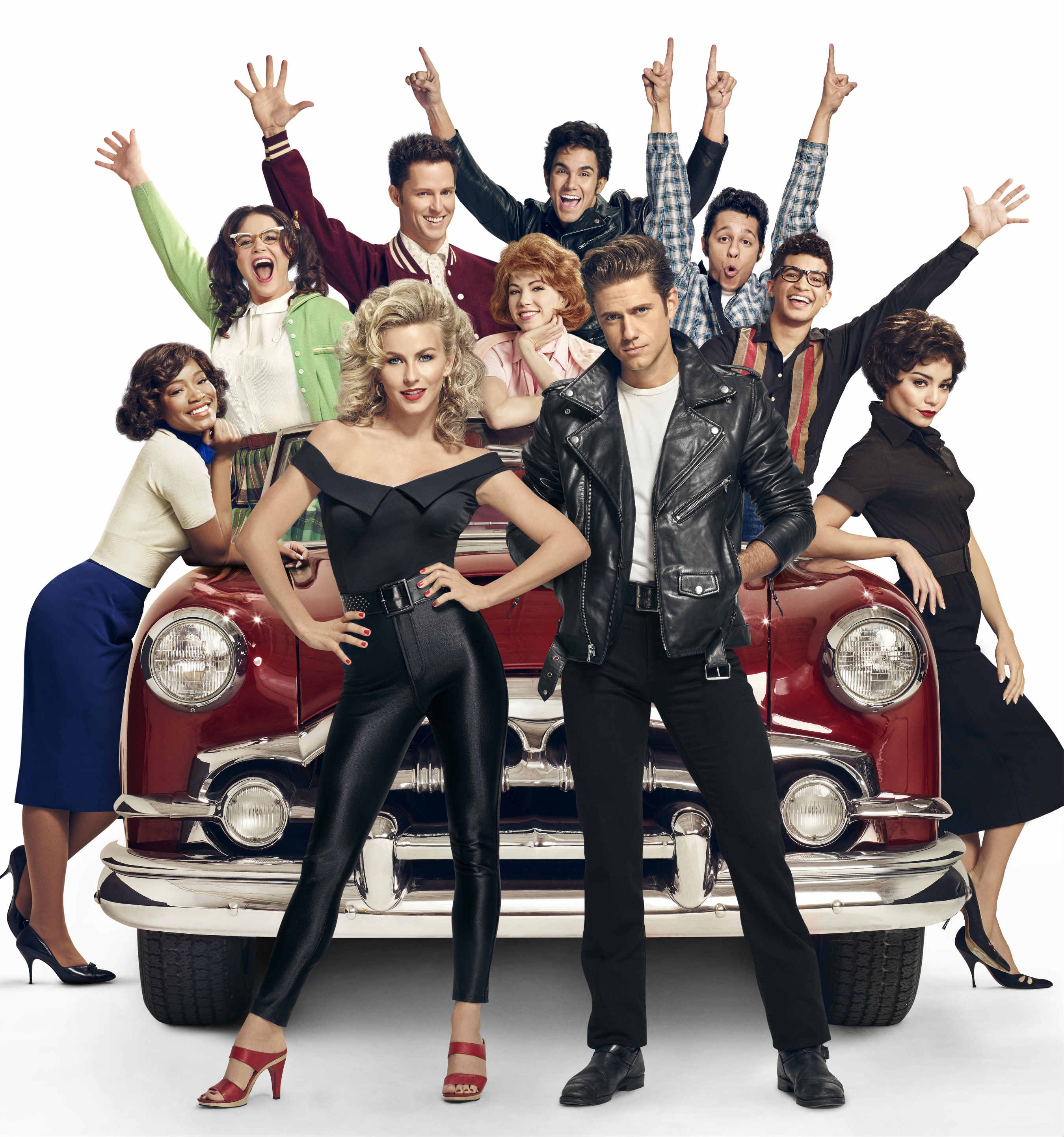 "GREASE: LIVE" airs Sunday, Jan. 31, 2016 (7:00-10:00 PM ET live/PT tape-delayed) on FOX.
The first-ever live television production of "Grease" will re-imagine the hit crossover musical for an entirely new generation. GREASE: LIVE is based on the original 1971 musical "Grease," by Jim Jacobs and Warren Casey; and Paramount Pictures' 1978 feature adaptation. The film, starring John Travolta and Olivia Newton-John, grossed nearly $400 million worldwide, making it the highest-grossing movie musical ever. GREASE: LIVE is a Paramount Television production.
GREASE: LIVE stars Julianne Hough ("Dancing with the Stars," "Rock of Ages") as the angelic SANDY YOUNG – Rydell High's most talked-about newcomer – and Aaron Tveit ("Les Miserables," Broadway's "Catch Me If You Can") as bad boy DANNY ZUKO. Also tapped to star are Vanessa Hudgens (Broadway's "Gigi," "Spring Breakers") as iconic bad girl RIZZO; Keke Palmer (SCREAM QUEENS, "Masters of Sex") as sassy Pink Lady MARTY MARASCHINO; Carlos PenaVega ("Big Time Rush") as KENICKIE, Danny's tough-guy sidekick; multi-Platinum Grammy® Award-nominated singer and songwriter Carly Rae Jepsen as Pink Lady and beauty school dropout FRENCHY; Kether Donohue ("You're The Worst") as Pink Lady JAN; David Del Rio ("Spare Parts," "The Troop") as T-Bird PUTZIE; Jordan Fisher as DOODY; and Andrew Call as SONNY.
The event will reimagine and reintroduce some of the most memorable moments, great music and timeless love story to an entirely new generation. In this live television adaptation of the musical classic, the beginning of senior year means the end of Danny and Sandy's summer romance – until Sandy unexpectedly transfers to Danny's high school. Can Danny maintain his bad-boy image as the coolest member of the T-Birds, once he and Sandy start going together, and can Sandy remain a good girl after she joins the Pink Ladies? With their friends, Rizzo and Kenickie, pulling them in different directions, it's up to Danny and Sandy to stay hopelessly devoted as they make their way from Rydell High to a new frontier.