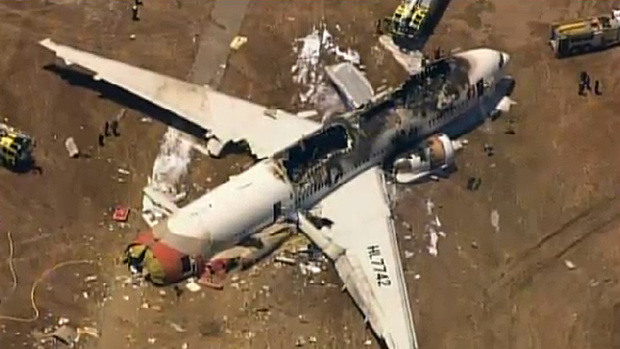 Saturday an incoming Asiana Airlines flight from Seoul, South Korea crashed as it was landing at San Francisco International Airport.
More than 300 people were on board. The San Francisco Fire Department told CBS News that two people were killed, with 61 injured, some critically, and that the number of injured "will go up." San Francisco General said they have received 10 of the critically injured, including two children.
Debris was scattered across the runway with smoke rising to the sky. Passengers were forced to jump down the emergency inflatable slides to safety.
As reported from CBS News, a spokesperson for San Francisco General said "most, if not all, of the passengers taken to the hospital are Korean-speaking. We are working to get interpreters for them," she said, "but they are quite critically injured so there is not a lot of discussion with them at this time."
Early reports indicate that Asiana Airlines Flight 214 made a hard landing, with the tail of the plane striking the runway and breaking off.