Move over "Oppenheimer," another three hour+ epic is here to battle for a Best Picture nomination, and it's pushing in for the kill. That's Martin Scorsese for you. "Killers of The Flower Moon" is the celebrated director's epic dark Western.
Somehow after making non-stop landmark films for over six decades, it feels as if we still see our greatest living director reinventing himself, pushing his cinematic muscles harder as ever; even at 80 years-old. His latest film feels like a summation of his best work ("The Departed," "Goodfellas," "Gangs of New York") while also being something completely brand new.
With an insane production budget of over $200 million at his fingertips, Scorsese unleashes this true-crime tragedy about the multiple mysterious deaths and murders of the Osage Native American Tribe throughout the 1920s in Oklahoma.
Even after the successful release of Christopher Nolan's three hour "Oppenheimer" (and the not-so-successful "Beau Is Afraid") people may wonder if Scorsese's latest project is really worth its prolonged runtime and mega-budget? Don't fret. At 206 minutes, it's a masterfully hard charging beast of a movie, from the first scene to the jaw-dropping last frame. It's massive in scope, but somehow feels zeroed in and intimate. Even with "Cape Fear" and "Shutter Island," this picture might be the scariest piece of work by Scorsese. I'm left wondering if its release was intentionally timed to premiere just before Halloween. It's also ferociously funny and as thrilling as anything he's ever crafted, with an electric energy pulsating through every frame that keeps you pinned to your seat.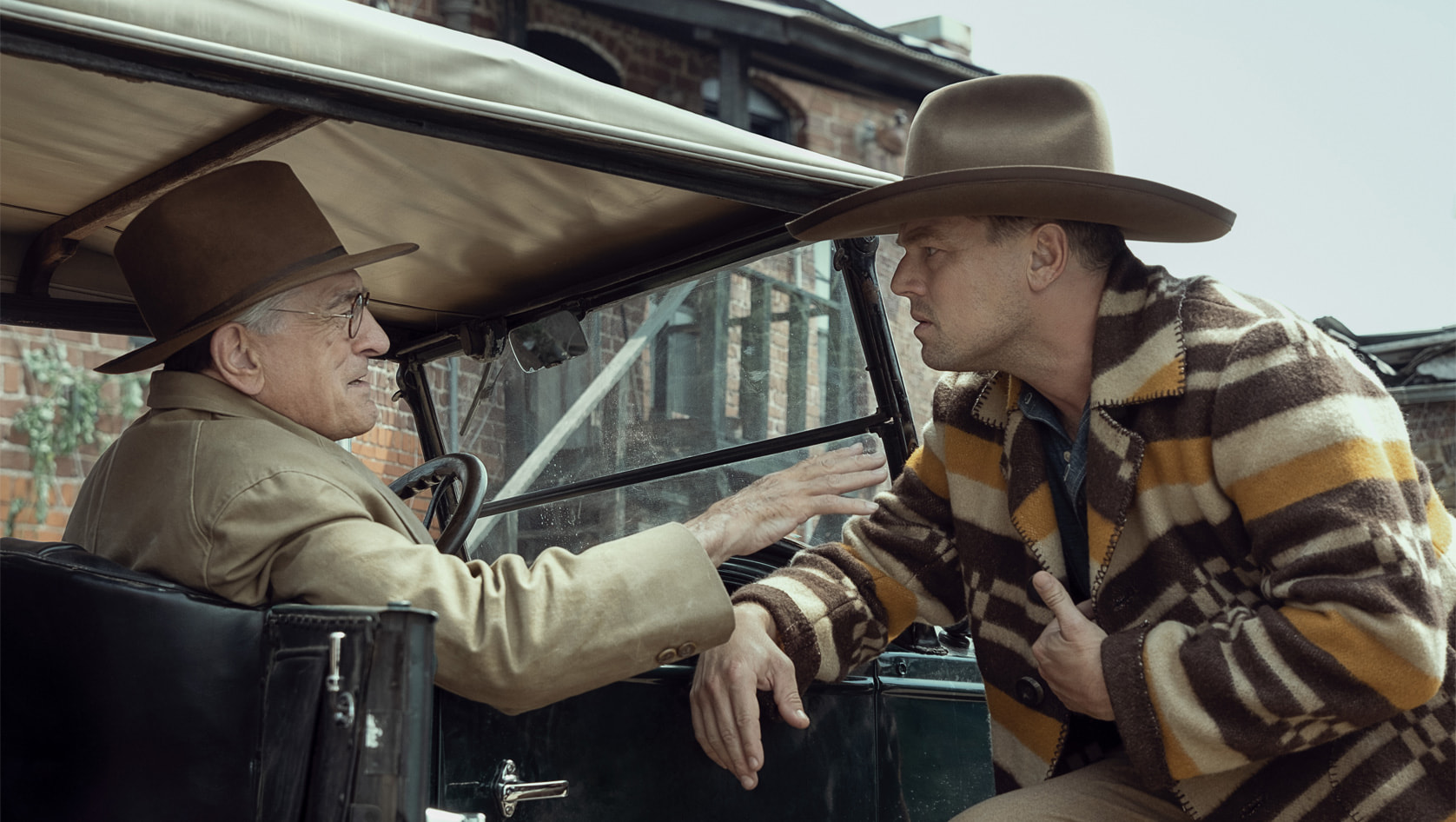 Perhaps the biggest draw this movie has going for it is Scorsese's main muses in the star roles, Leonardo DiCaprio and Robert De Niro. The two acting giants are at the top of their game, on-screen together for the first time since DiCaprio was a child actor in "This Boy's Life." This bad-boy Hollywood trio is something any fan of cinema would be crazy to miss.
But it's newcomer Lily Gladstone's performance as Mollie Burkhart that will rightfully be talked about the most. Her character's heart and warm presence is the only thing standing in front of complete chaos.
After a dreamy opening dance sequence under a shower of gushing oil, and old footage that establishes the backstory of how the Osage came to their land and eventually their fortune, the camera moves through a bustling Osage County. Scorsese connoisseurs will notice long-take shots reminiscent of "Goodfellas" and "Casino;" all to the thunderous score by Robbie Robertson.
We meet DiCaprio's character, Ernest Burkhart who rides into town to see his uncle Hale (De Niro), a man who calls himself "King." You can feel the money in the air as the camera glides through the well-dressed crowds, many of the rich Osage Native women shown to be married to white men. Ernest is a lovable goof at first, eager to chase his own American dream under the mentorship of his Uncle. He starts by driving a cab around town, regularly driving around Mollie, one of the very wealthy Osage family members, who Ernest gets sweet on. Soon, a romance begins, and a marriage is arranged by his uncle. Ernest suddenly finds himself living a better life. You see, if Ernest marries Mollie, and something might happen to her, Ernest would inherit Mollie's fortune, making him and his Uncle the real kings of Osage County.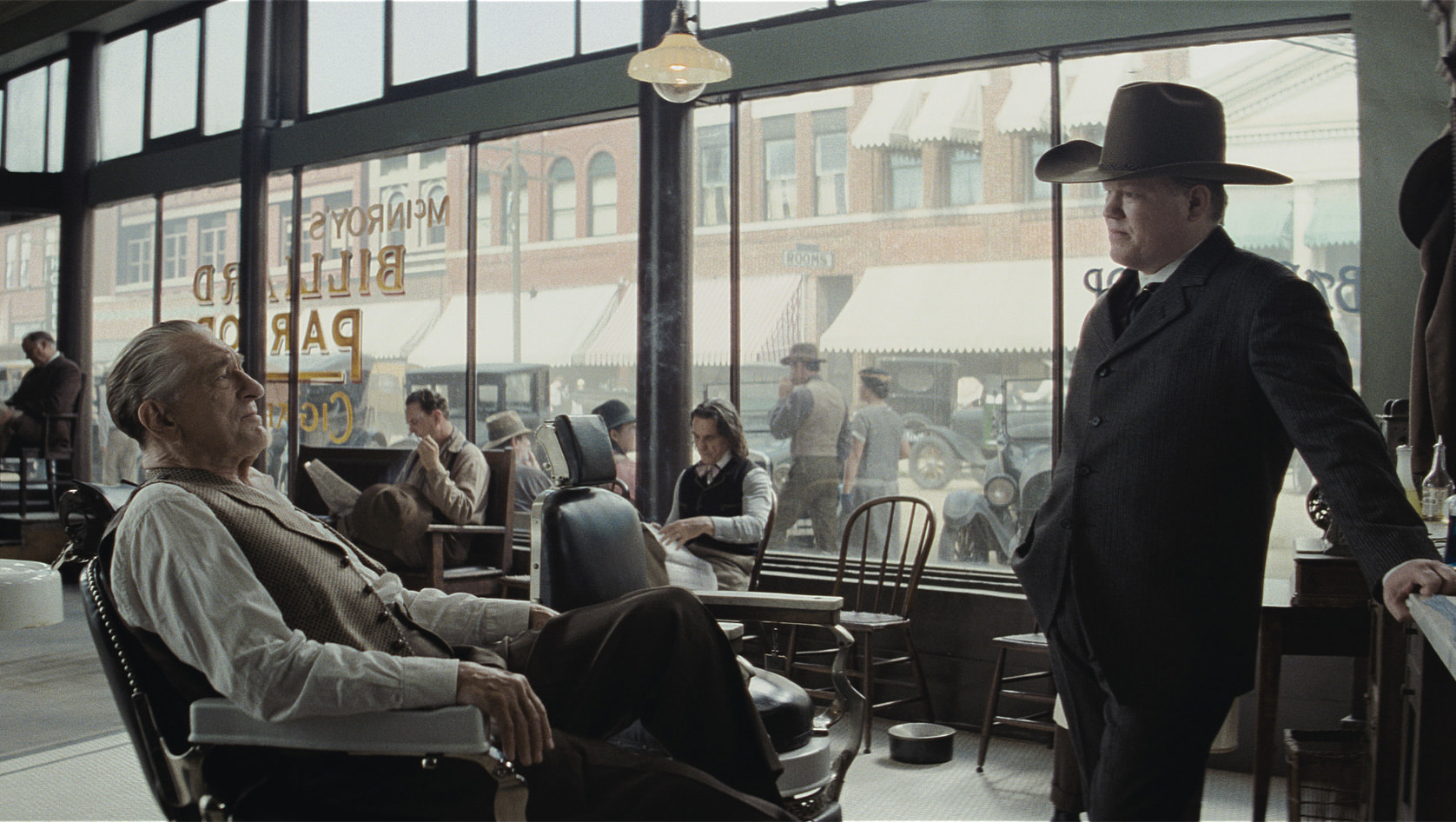 The film starts out on a happier note before all bloody hell breaks loose. Native member's bodies start piling up, and we watch in horror as Mollie's family members are picked off one-by-one. The violence is mostly shown from a distance, somehow making it even more brutal and devastating. As the dread builds into unbearable tension, we start to see systematic mass slaughter led by Hale and everyone who is not a part of the tribe; cops and doctors included. With the uprising of white-grievance in modern politics and recent use of words like decolonization, the racial politics are obviously a social commentary on today's headlines.  If you're looking for monsters at the movies this Halloween, you won't find any more scary than the landmark portrait of evil that De Niro portrays on-screen.
Loved and respected by all of the tribe members, he's the nicest guy in town as far as anyone is concerned. But it's in the quick moments where behind that good-ole-boy smile we see a flash of the devil as Hale orchestrates a wide web of murders.
The chemistry between DiCaprio and De Niro is palpable. One scene, where Hale comes down on Ernest for a murder gone wrong is as scary as it is hilarious in the darkest of ways. We've seen DiCaprio play the villain before in films such as "Django Unchained and Blood Diamond," but his performance in "Flowers" is something unique.
If you've read the book by David Grann, you  know how it all plays out. As the film moves into its final hour, we see an emotionally battered Ernest, drunk and in a perpetual haze, barely functional as the FBI starts sniffing around (led by a stellar, underused Jesse Plemons) and the walls start to close in on him and Hale. The film transforms into a courtroom drama much like "Oppenheimer's" final third. And then Scorsese pulls the rug out from under you at the very end with an abstract epilogue that will leave you thinking for days.
From the award-caliber and heavily detailed set design by Adam Willis and costume design by Jacqueline West, the beautiful photography by Scorsese's regular Rodrigo Prieto, to all other creative aspects, this is artful, epic filmmaking at its finest. In a world consumed by chaos, it's a true blessing to still have a talent like Scorsese, whose creative reach continues to break barriers. With this film, he is reaching glorious new heights. "Killers of the Flower Moon" is one of his very best. After 3.5 hours, you'll wish it never ended.