Hurricane Otis, located in the eastern Pacific, is drifting northward toward the coast of Mexico. As of Tuesday evening, Otis was located 85 miles south-southeast of Acapulco, Mexico. The tropical cyclone's wind intensity increased from a 50-mph tropical storm at 4 p.m. CDT on Monday to a 145-mph Category 4 hurricane at 7:00 p.m. CDT on Tuesday evening, to a 160-mph Category 5 hurricane at 10:00 p.m. CDT Tuesday night.
AccuWeather Chief Meteorologist Jonathan Porter said, "Otis has rapidly intensified into an intense hurricane and will bring a wide variety of life-threatening impacts to parts of the Mexican coastline, including the major population center of Acapulco, home to almost a million people.  A major hurricane has not made landfall in this area in modern times.  Otis may result in catastrophic damage and quickly become a humanitarian crisis in the wake of the storm with many people in need of medical care and supplies, food, shelter and safe drinking water."
"Heavy rain, destructive winds and a life-threatening storm surge will accompany the storm as it moves inland. This will bring the risk of significant flooding and mudslides, catastrophic damage to structures and widespread downed trees and power lines," he continued.  "Due to impacts from heavy rain, wind and storm surge, Otis is a 5 on the AccuWeather RealImpact™ Scale for Hurricanes in Mexico, a rare, highest level designation on the exclusive AccuWeather RealImpact™ Scale for Hurricanes, showcasing the truly dire situation which can evolve in the area where Otis makes landfall."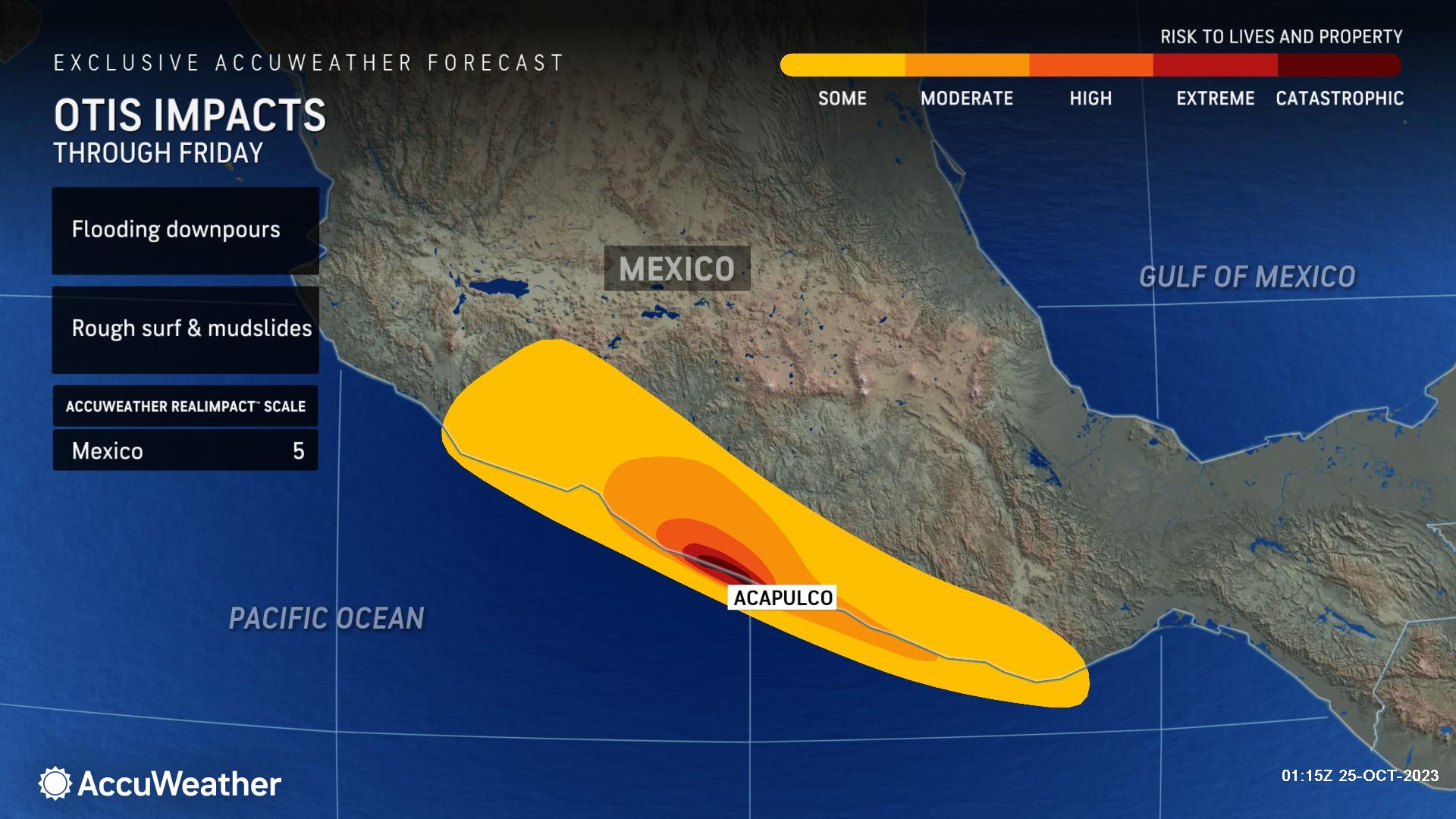 The storm has rapidly strengthened, which occurs when winds increase by 35 mph or greater in 24 hours or less. In fact, the sustained winds in Hurricane Otis increased by 80 mph in 12 hours, the most rapid intensification on record for the East Pacific basin since at least 1966.
Otis has undergone additional strengthening, with the hurricane reaching Category 5 intensity on the Saffir-Simpson Hurricane Wind Scale before landfall along the Mexican coastline on Wednesday. AccuWeather has placed a StormMax™ wind gust of 210 mph for Otis.
Rain and wind impacts will spread inland in advance of the hurricane as it draws closer to Mexico. Rainfall amounts of 2-4 inches (50-100 mm) can occur over a widespread area directly along the coast with some places near Acapulco picking up between 8 and 12 inches (200 and 300 mm).
There is an AccuWeather Local StormMax™ of 17 inches (430 mm) for Otis in this area.
Just as with most tropical systems, when Otis pushes ashore and encounters the mountainous terrain, the torrential rainfall will greatly raise the risk of life-threatening and damaging flash flooding and mudslides.
For Additional Information: