New research has discovered the 10 best states for outdoor exercise, with Hawaii taking the crown.
Online fitness resource Total Shape analyzed several factors in each state including boats and water sport facilities, hiking trails, and golf courses which were measured by state size to determine the ranking.
Taking the title of the best state for outdoor exercise is Hawaii with a score of 84.17. Hawaii received the highest score compared to other states for adrenaline and extreme sports facilities with 121.66 for every 10,000th mile; so, it's perfect for those wishing to combine a thrill with outdoor exercise.
In second place is California with a score of 70.97. California scored particularly high for sports camps and clinics, with 207 in total in the state, so there's plenty of options for citizens to exercise outdoors – rock climbing, tennis, and yoga, and much more.
Massachusetts places third, receiving a final score of 68.55. The state scored particularly high for kayaking and canoeing attractions, so it's ideal for citizens who enjoy getting out on the water. On top of this, Massachusetts scored the highest for golf courses compared to other states with 134.55 for every 10,000th mile, so it's excellent for those who prefer a low-impact activity.
In fourth place is Rhode Island, taking a final score of 68.22. With the highest score of all states for beaches at 297.74 per 10,000 miles, there are plenty of opportunities in Rhode Island to take exercise to the coastline, from yoga to running. On top of this, the state scored the highest for both hiking and biking trails.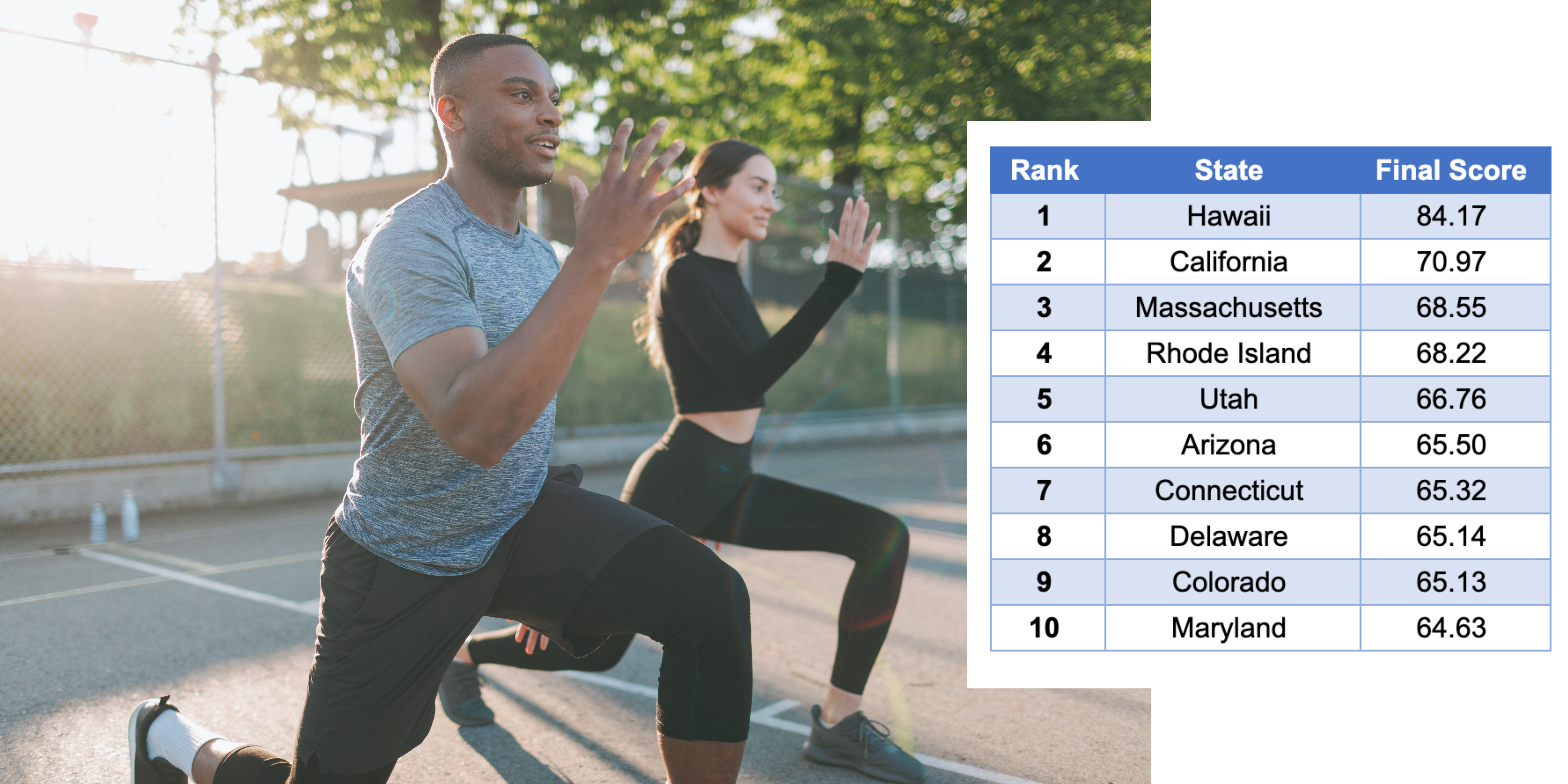 Utah ranks in fifth place with a final score of 66.76, with a particularly high score for the percentage of adults with at least 1 park within half a mile at 74.9%. So, citizens can opt for a run in their local park, or even take their home workouts here instead.
Ranking in sixth place is Arizona. The state received a final score of 65.50 and scored high for annual precipitation with an annual average of just 11.6mm, so citizens won't need to worry about rain ruining an outdoor workout.
Connecticut places seventh with a final score of 65.32. Connecticut received one of the highest scores for boats and water sport facilities with 175 per 10,000 miles, so you can burn calories on the water with activities like water skiing or wake surfing. 
Delaware is in eighth place taking a final score of 65.14. Surfing, windsurfing, and kitesurfing facilities are some of the best outdoor exercises in Colorado with there being 44.2 available for every 10,000th mile, and this scored particularly high compared to other states.
Following closely behind is Colorado in ninth place with a final score of 65.13. Citizens can work up a sweat by tackling the slopes here, with the state scoring high for the number of skiing and snowboarding facilities, precisely 80 in total.
Last on the list is Maryland with a final score of 64.63. The state scored the highest overall for the number of miles of shoreline per 10,000 miles, 2,571.34 to be precise, so citizens can swap the treadmill for a run along the coast.