Aspiring screenwriters and directors are a dime a dozen here in Los Angeles. Everyone has a screenplay, and everyone is trying to have their project made. Just ask that guy with the laptop at your local Starbucks. The odds of actually getting funding, distribution and a universal green light are about the same as winning the lottery. It's a matter of opinion, but I believe it takes talent, perseverance, having the right connections and a whole lot of luck to achieve success in the industry of filmmaking. 
For Fabien Martorell, he's checked off all of the boxes. On June 16th, his drama/thriller feature film COLLISION will premiere on Netflix. 
A native of France, Martorell has seen success on both sides of the pond. He's the co-founder of the Festival du Film Court de Vaulx-en-Velin in France, now in its twentieth year and he founded his film production company, FM Pictures LLC in Los Angeles over a decade ago. 
From the feature documentary, TROMATIZED: MEET LLOYD KAUFMAN to UNBELIEF, starring Andrew Howard and Tobin Bell and the short drama THE COIN, starring Christopher Lloyd and Kathryn Morris, Martorell's projects have taken home awards from many major international film festivals. 
His latest venture with Netflix is COLLISION, starring Langley Kirkwood (HBO's Warrior), Vuyo Dabula and Tessa Jubber. Shot in Johannesburg, South Africa, the film takes place over the course of one fateful day, a corrupt businessman and his socialite wife race to save their daughter from a notorious crime lord.
We sat down with Martorell to talk about the process of making the film and more:
It's not easy to make a movie, especially one that gets distribution. Tell us about how you connected with Netflix to stream COLLISION? Did they come in during the early stages?
One of our producers was already connected with Netflix and she pitched Collision to them, which they liked immediately. Netflix was involved at an early stage. They gave us notes on the script and we had to do a few rewrites before having it greenlit. Once we all agreed on a few production details, we mostly had the freedom on the creative side of the project. It was a very good collaboration. 
You're one of several writers on the screenplay. Have you worked together before? 
I co-wrote the script with two South African screenwriters, Siphosethu Tshapu and Sean Cameron Michael. I knew Siphosethu before, as we were working on a different project prior. 
How did the concept of the movie come about? 
I actually went to Johannesburg three years ago for another project. I was in a car with Siphosethu and we were driving in Johannesburg because he wanted to show me around. He stopped at a traffic light, and I was very impressed by the area, the architecture, and the people around me. Everything was very cinematic and full of life. I immediately told him that it would be a great location to start a film – at this exact crossroad – an intense emotional complex story of characters from different walks of life spanning racial and cultural lines. Their multifaceted lives would blend, interweave, and collide in a car crash. Siphosethu loved the idea and started to write the first draft. I'm proud of the film because Collision is a drama that has some elements of suspense/thriller – a fast-paced, visually powerful film, exploring hard-hitting relevant themes. The story explores universal themes and connects with South African, African, and international audiences alike.
How long did it take from "idea" to filming? 
It was quite a long process, which took at least a year and a half once we got our first draft to filming.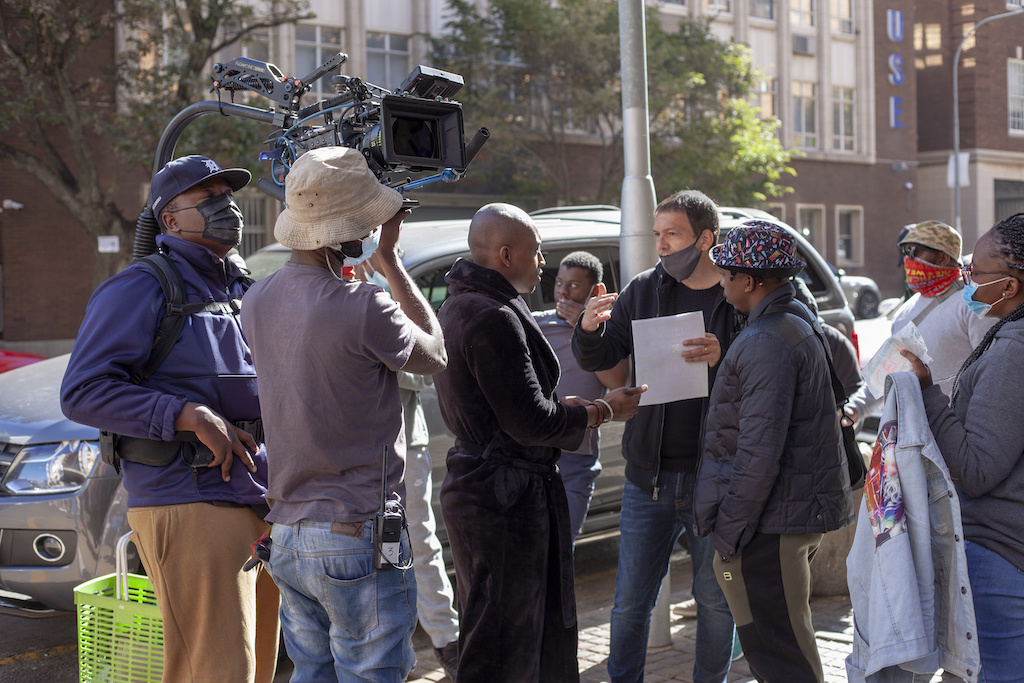 You filmed in South Africa, what were the challenges of filming during COVID shut downs? Did you have delays? 
The first challenge was that I didn't know any of the crew members since it was my first time filming there. The second challenge was shooting in the middle of the pandemic, with curfews and Covid protocols. We needed to protect the crew and cast. We also had to deal with repetitive power-outages.  All of these obstacles impacted our schedule, but we managed to do it and, most of all, we were proud of it. I'm very grateful to the cast and crew.
What advice do you have for aspiring screenwriters and directors in Hollywood? 
I would say, be patient and keep working hard. Preparation is key and it's also why I managed to make this film happen regardless of the pandemic. I worked on the storyboard, planned each shot in advance, so I was prepared even before the pre-production and it allowed me to make the right decisions when needed and to keep up with the schedule.
---
Martorell is in post-production for his second feature documentary, The Guns Story, with legendary guitarist Tracii Guns (L.A. Guns, Guns N' Roses), Iggy Pop, and Lemmy Kilmister.