Drunk Elephant's T.L.C. Glycolic Body Lotion's supercharged blend of 10% AHAs gently exfoliates to restore and resurface dull and uneven areas, while its mix of soothing plant oils, deeply moisturizing butters, and barrier-supporting electrolytes replenishes dry and dehydrated skin below the neck.
The results are:
It gently smooths and refines rough, bumpy skin. It also improves areas of uneven tone and texture while helping strengthen and replenish a compromised skin barrier. The lotion also boosts the production of vital natural moisturizing factors that keep skin healthy, soft, and flexible.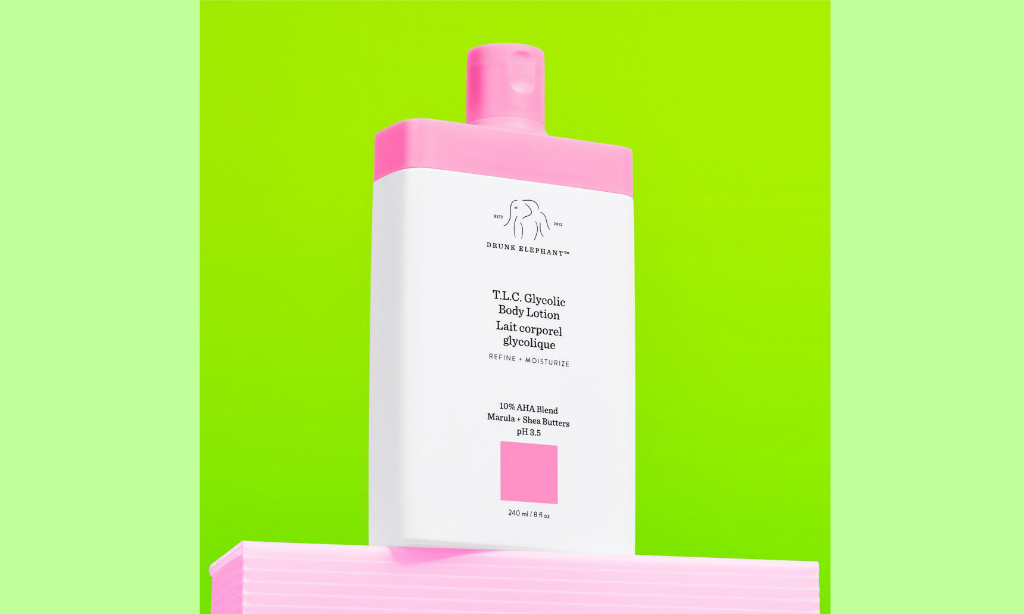 What are the ingredients in it?
It's Vegan and cruelty-free. T.L.C. Framboos AHA blend: Glycolic plus tartaric (T), lactic (L), and citric (C) acids exfoliate built-up dead skin cells, resurfacing dull, uneven skin for a smoother, brighter, more even-looking complexion.
Marula Butter: A super-pure concentrated butter derived from marula oil, and rich in antioxidant polyphenols, lipids, and fatty acids, that deeply moisturizes skin and provides powerful barrier protection.
Shea Butter: A concentrated butter derived from the shea fruit. Shea butter has a complex triglyceride composition that is responsible for its characteristic rich, emollient properties and skin-barrier protection.
Just a great product!
For more info go to www.drunkelephant.com