ASUS Republic of Gamers (ROG) announced an all-new lineup of gaming gear during the Break All Limits online launch event.
The lineup features the new ROG Z690 Intel® motherboards, a new generation within the Intel® Z690 series. The ASUS Z690 platform ― covering ROG Maximus to the ROG Strix, TUF Gaming, ProArt and Prime motherboards ― is built to support all-new 12th Gen Intel® Core™ processors that feature up to 16 cores and 24 threads.
ROG also introduced the ROG Strix XG309CM and ROG Strix XG276Q gaming monitors for ultra fast and ultra smooth visuals; the ROG Thor 1600W Titanium and Thor Platinum II (850W, 1000W, 1200W) Power Supplies for maximum performance at the ultimate rating; and the ROG Delta S Animate headset for crystal-clear audio and endless customization.
Z690 Intel ROG Motherboards: The Next Generation
Introducing the new generation of ASUS ROG Intel® motherboards: the Z690 series. Featuring DDR5 memory modules and extensive support for PCIe® 5.0 devices, the Z690 series supports the latest 12th Gen Intel® Core™ processors. This new line of ROG motherboards also includes an exclusive new overclocking technology called ASUS Enhanced Memory Profile (AEMP), offering blistering-fast DDR5 performance in just a few clicks.
While DDR5 is ordinarily limited to a maximum of 1.1 volts, the Z690 series includes a special blend of circuitry and firmware for its Z690 motherboards that bypasses this restriction, freeing users to discover the limits of the new memory technology for themselves by applying manual tweaks or enabling AEMP to quickly unlock a performance boost. To make this possible, ASUS has worked diligently with major DDR5 manufacturers around the world including Adata, Corsair, Crucial, Geil, G.SKILL, Kingston, Klevv, and Teamgroup to ensure high compatibility and stability.
Each ASUS ROG Z690 motherboard features built-in Windows 11 support, and each one features mounting holes that are compatible with CPU coolers designed for either LGA 1200 or the new LGA 1700 socket. In addition, for users who like to venture beyond the nuts and bolts and linger on personalization and aesthetics, the Z690 series brings all-new visuals like the AniMe Matrix™ display that features mini programmable RGB LEDs to show off personal style with custom lighting designs, unique animations and live audio visualizations, plus striking designs that evoke sci-fi worlds from cyberpunk to aerospace exploration.
The full lineup features the ROG Maximus and Prime series, to the gaming-focused ROG Strix and TUF Gaming series, and creator-focused ProArt series.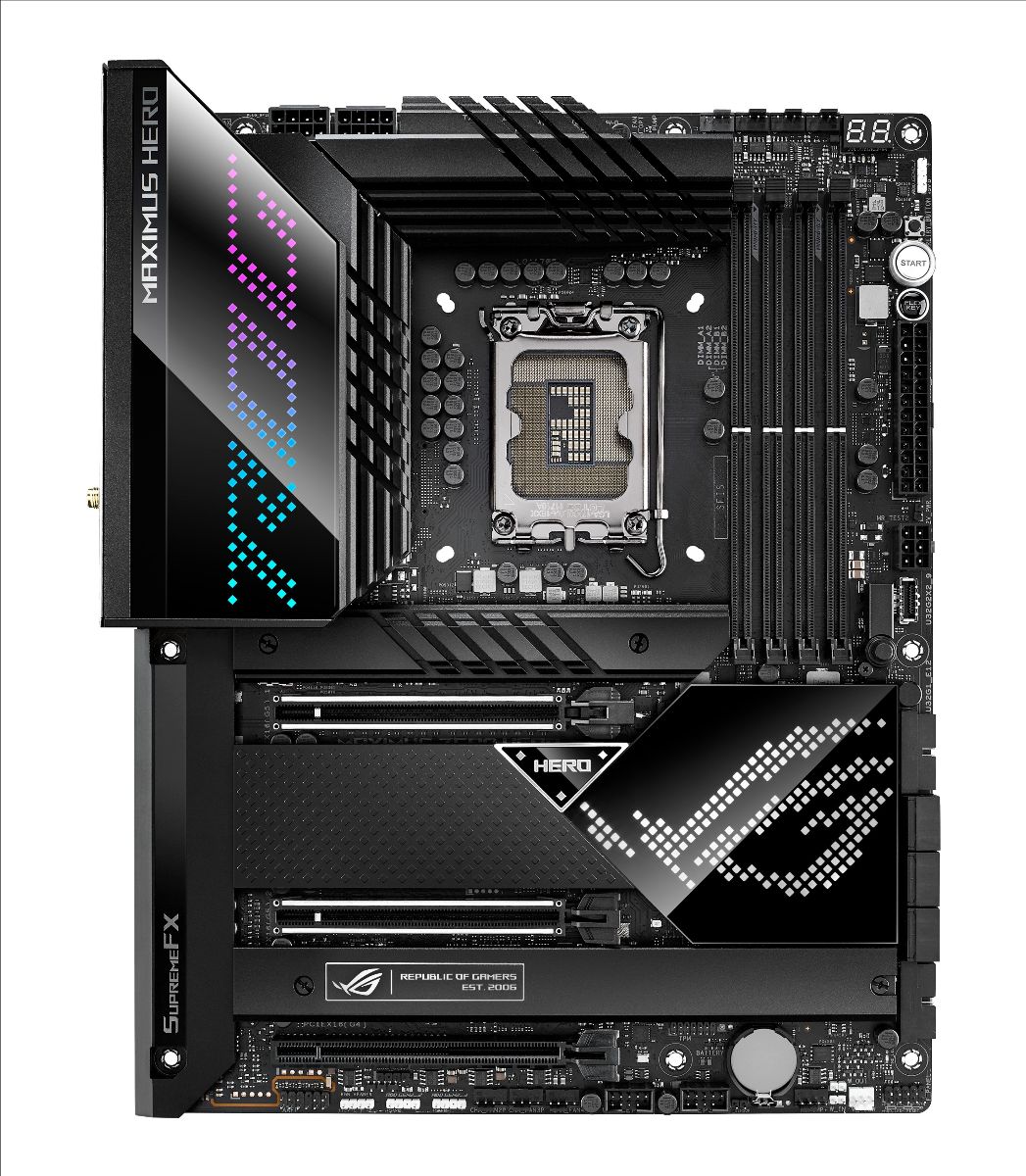 ROG Thor 1600W Titanium & Thor Platinum II (850W, 1000W, 1200W) PSUs
The ROG Thor 1600W Titanium is the first 80 PLUS® Titanium certification power supply within the ROG Thor line, requiring greater than 90% efficiency for loads ranging between 10 to 100%. Using advanced gallium-nitride and solid-state components within the PSU's circuit design, this combination allows the Thor 1600W Titanium to achieve over 93% efficiency at full 100% loads.
The ROG Thor Platinum II series features 850W, 1000W, and 1200W capacities at 80 PLUS® Platinum certification. The Titanium and Platinum II series provides quieter operations at higher wattage and fanless operations at up to 50% load. Equipped with large ROG-designed heatsinks, a larger surface area, and an overall redesign, the improved Thor Platinum II and new Titanium PSU line provides an optimal balance of airflow and noise levels at a high capacity.
ROG Strix XG309CM and XG276Q gaming monitors
The ROG Strix XG309CM is a wide-aspect ratio (2560 x 1080) gaming monitor. The 29.5" display features a 200 Hz refresh rate bolstered by the latest ASUS ELMB (Extreme Low Motion Blur) sync technology. ASUS Extreme Low Motion Blur Sync (ELMB Sync) technology eliminates motion blur without sacrificing variable refresh rates, taking smooth visuals to the next level.
The ROG Strix XG276Q is a 27-inch 165 Hz gaming monitor that features Fast IPS panel and 1 ms gray-to-gray (GTG) technology for an optimized 1080p gaming experience. Both the ROG Strix XG276Q and ROG Strix XG309CM include new aesthetic features, including an integrated tripod on the display stand, allowing users to mount a webcam or microphone and customize their work-and-play setup.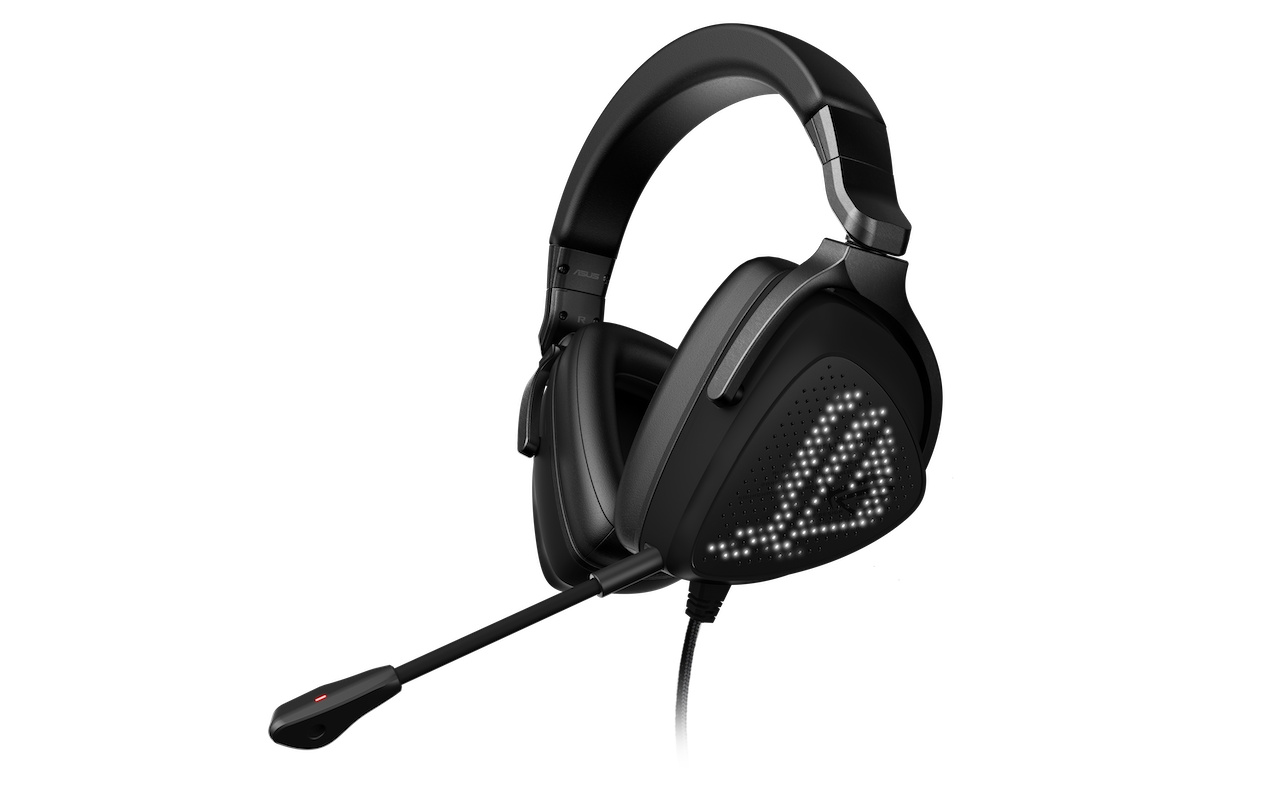 ROG Delta S Animate Gaming Headset
ROG Delta S Animate gaming headset is the first ROG headset to introduce customizable AniMe Matrix™ displays on the headset's external ear cushions. The AniMe Matrix™ technology features an array of mini LEDs, programmed to showcase a user's custom lighting designs, unique animations, and live audio visualizations.
The ROG Delta S Animate features the industry-leading, hi-fi-grade ESS 9281 CODEC with QUAD DAC™ technology, and is the first gaming headset series with Master Quality Authenticated (MQA) technology, an award-winning technology that delivers studio-quality audio files to reveal every detail of the original recording. Paired with exclusive ASUS Essence drivers, the headset's airtight chamber design and audio signal diversion technology work in unison for incredibly immersive audio.
The headset is USB-C®, and USB-A compatible, allowing cross-platform capability with PC, Mac, PlayStation®, Nintendo Switch™, and mobile devices.