I love waking up to the aroma of coffee. There is nothing better in my book than a good cup of coffee. There are so many lines on the market and I keep on discovering more everyday.
Did you know that Catherine Zeta-Jones recently launched, Casa Zeta-Jones Coffee? As I mentioned many times before, coffee roasting is an art only learned over many years. CZJ Coffee chose to partner with a 90 year-old 4th generation importer, roaster and packaging company established in 1930, in order to bring the finest and select proven specialty coffee blends to their customers.
Each one of their roasters is a member of the Roasters Guild of the Specialty Coffee Association of America (SCAA) and has at least a decade of experience, ensuring that each cup you brew will produce the rich, intense flavors that you expect from a gourmet coffee.
Catherine went a step further by making sure that the mission of Casa Zeta-Jones Coffee is not only to serve fans and friends around the world the best cup of coffee but also helping to support people in need through donating a portion of the profits to charities that are dear to her.
The company works directly with growers to provide a "Crop-to-Cup" solution that enables them to make a difference, change lives and communities for the better and create a more equitable division of the supply chain profits which raises the standard of living for the growers, their families, and their communities.
Working directly with growers allows them to invest in their children's education by keeping them in school and out of the fields, provide better healthcare, and ensure food security for their families. It leaves increased resources for the growers to re-invest in their operations and pursue more efficient, sustainable, and environmentally friendly growing strategies
I have personally tried them all!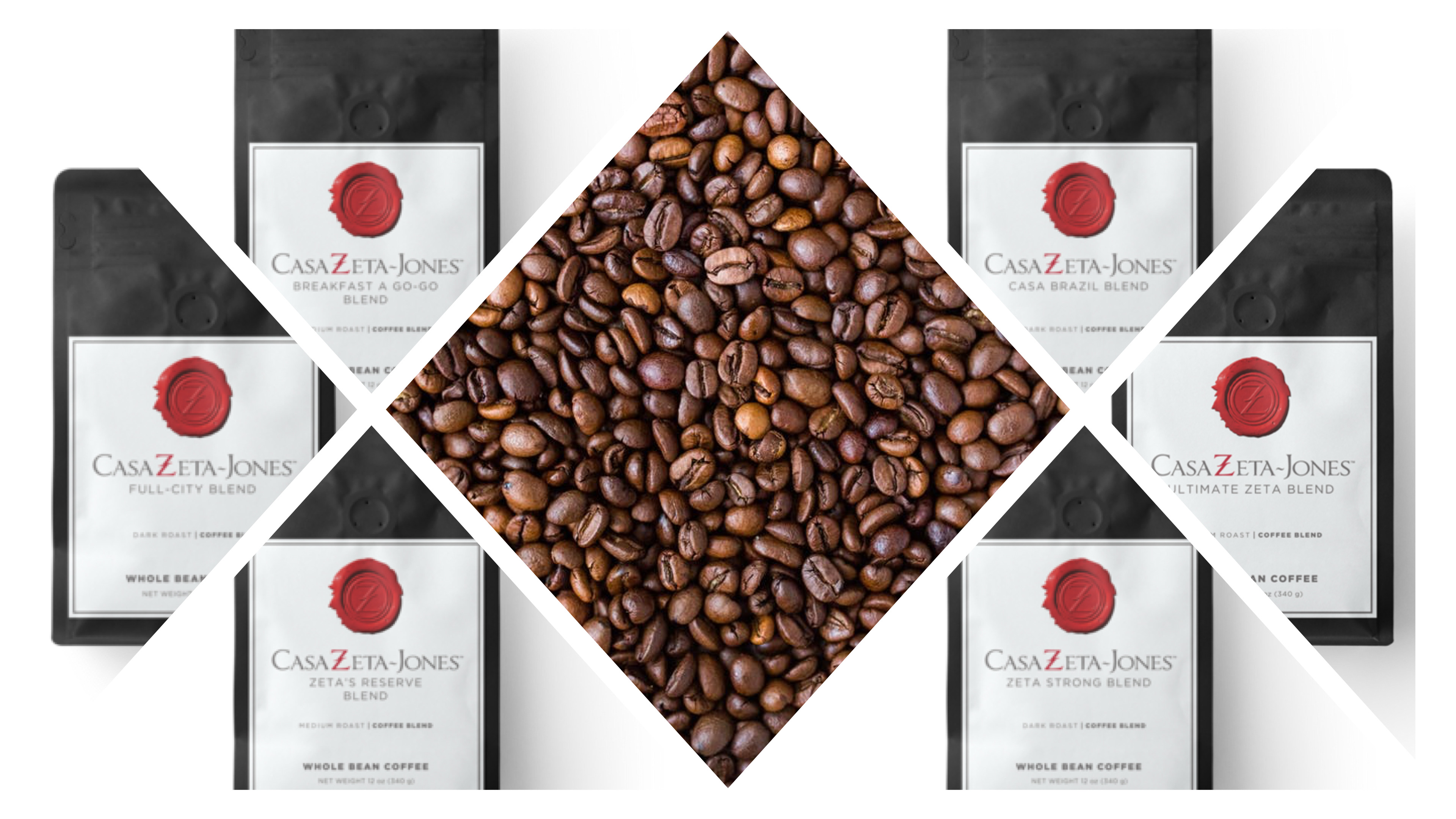 Breakfast A Go-Go Blend
A slightly spicy blend of Central, South American, and East African coffees with an excellent aroma
Zeta Strong Blend
A Fair-Trade Certified, rich, smooth, bold, and complex coffee with hints of caramel.
Ultimate Zeta Blend
A full- bodied blend of fine East African and Indonesian coffees with a smooth, citrus-like finish.
Full-City Blend
A pleasant, full-city roast, blending coffees from Central and South America
Zeta's Reserve Blend
A blend of select fine coffees from Indonesia, Central, and South America
Casa Brazil Blend
This rich, smooth, unique favorite is a dark-roasted blend of five distinct coffees. I loved them all!
All coffees come either in whole beans or ground beans. I cannot say that there was one better than the other. They all are fantastic!
For more info go to www.casazetajonescoffee.com