Charlotte Tilbury (pictured far right)
You may have heard the name, Charlotte Tilbury, you may have even seen some of her beautiful makeup line, but few know who she is. Perhaps, because she hailed from London, England where she became a giant in the beauty industry and became one of the most influential makeup artist mentored by the great Mary Greenwell who she cites as 'an incredible mentor'.
Tilbury's has worked with every major fashion magazines including, Vogue, LOVE magazine, Vanity Fair, V to name a few. She contributed her talent in photoshoots with Mario Testino and Mert and Marcus. Her celebrity client list includes the likes of Kate Moss, Kim Kardashian, Gisele Bündchen and rights Clooney. She has collaborated with designers such as Tom Ford and Burberry on their beauty campaigns.
In 2013, Charlotte Tilbury launched her own skincare and makeup line at Selfridges in London a renowned department store. This became the retailer's biggest-ever beauty launch.
In June 2020 in the middle of the pandemic, Charlotte Tilbury announced her partnership with Spanish fashion and fragrance powerhouse Puig while remaining Chairman, President and Chief Creative Officer. Quite a success story.
One thing is for sure no matter the passing of hands, the quality of the product from the ingredients to the packaging is still top of the line. I recently pickup a few pieces from the house of Charlotte Tilbury.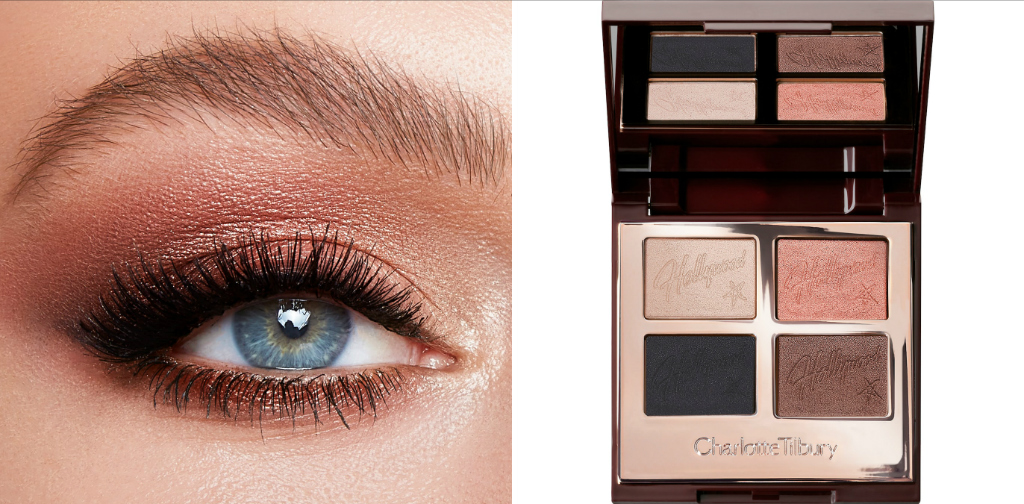 Here is my pick of the week:
First, I checked out the Hollywood Flawless Eye Filter Luxury Palette. I settled on the DIVA LIGHTS which offers a four colors flattering eyeshadows with shades of rose champagne, soft glitter rustic rose, rich taupe and matte black for creating smokey oft shimmering, light metallic and modern matte textures to build intensity.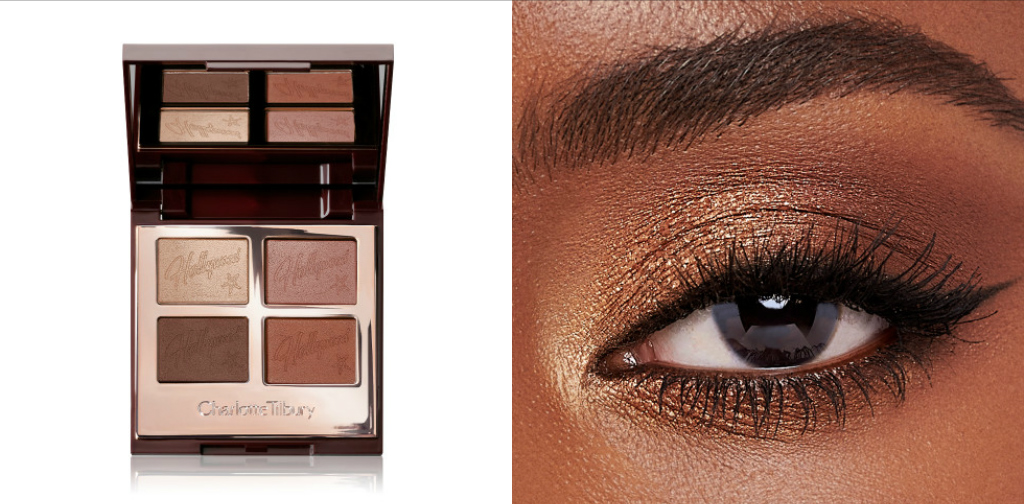 Next, I picked up Eyes of the Star eyeshadow palette featuring shades of metallic honey gold, soft amber, matte terracotta and dark chocolate brown which helped creating a smokey eye.
Exagger-Eyes Liner Duo gave me the perfect contrasting effects between bright and dark, metallic and matte shades. At the end I was able to simulate look wider and brighter eyes.
Lip Cheat Kiss 'N' Tell was perfect to define fuller lips. I just loved the scarlet red lip liner shade. It Smooths over texture for a flawless, seamless finish. The best thing, it lasts up to 6 hours with no smudging.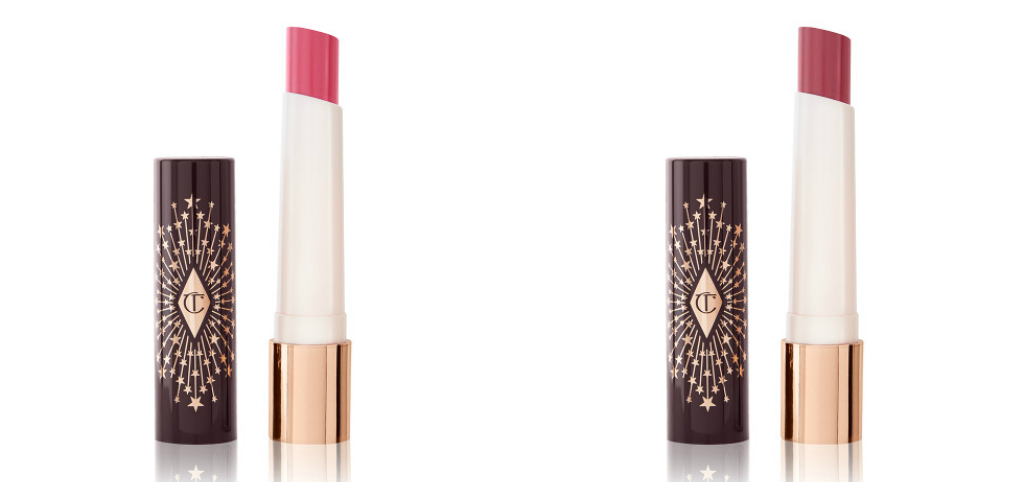 Hyaluronic + Happikiss Colour Balm: A beautifying peachy nude rose shade. This gloss balm is formulated with HYALURONIC ACID-INFUSED and C-PEPTIDE an which leaves your lips LOOKING PLUMPER and SMOOTHER.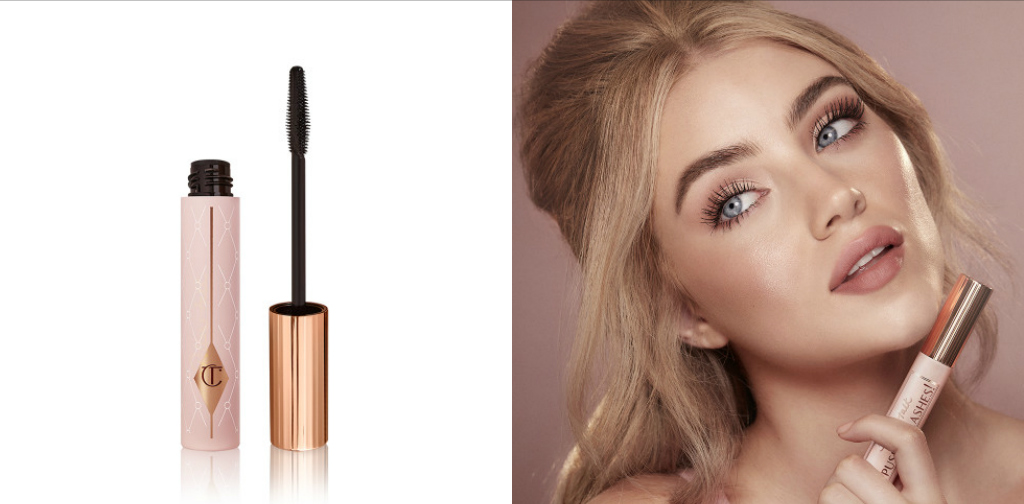 Pillow Talk Push Up Lashes! Mascara Super Black: The 24 HOUR LIFT EFFECT acts as an amplifier making your eyelashes looking bigger, brighter and more voluminous.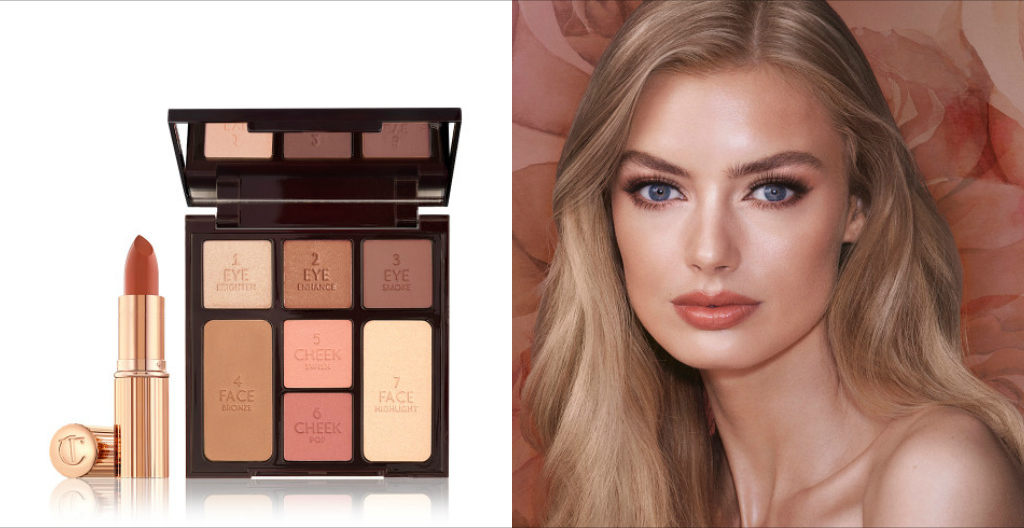 Finally, you should absolutely try the Palette Stoned Rose Beauty. It covers all your needs for eye, cheek and contouring. I just love it. Inside you will find:
An EYE BRIGHTEN: a golden champagne eyeshadow to prime the surface of the eyelid with light-reflecting shimmer.
An EYE ENHANCE: a peach-inspired bronze shadow to add soft, glowing dimension to the eyelid.
An EYE SMOKE: a universally-flattering rich chocolate shade for sultry definition.
An FACE BRONZE: Charlotte's best-selling Film star Bronze & Glow formula in a muted tawny-brown to warm the complexion and define the cheekbone hollows, jawline and nose.
An CHEEK SWISH: For a rosy, glow-giving wash of colour. A peachy-pink hue to be applied on the apples of the cheeks and blended out.
An CHEEK POP: Enhance the natural peachy-pinks in your skin for a lit-from-within glow. A romantic rosy-pink to POP high on the apples of the cheeks.
An FACE HIGHLIGHT: Everyone deserves a GLOW moment. Gild your skin with this sheer highlight for a magical effect and photo-finish radiance.
Perfect for everyone.
For more info go to www.charlottetilburycom