L to R Tim Lightboure, Sarah Jessica Parker and Rob Cameron
We all know the talented Sarah Jessica Parker, star of "Sex in The City," and poster child for New York City. She is famous not only for her love of New York and her acting roles, but for her sense of fashion and her love of shoes, which led to her becoming a savvy businesswoman. She is the epitome of fashion and distinction. What a lot of us did not know about Sarah Jessica, is that she is now also involved in the wine business. In 2019, she entered a collaboration with Invivo & Co's founders Tim Lightbourne and Rob Cameron. Following months of discussions, time in New York and a wine tasting with Sarah Jessica, they launched the Invivo X, Sarah Jessica Parker Sauvignon Blanc 2019 from Marlborough.
This launch has been named the most successful in 2019 by the Drinks Business. I must be honest; I have never heard of Invivo. It took Sarah Jessica to bring this company to the limelight. Tim and Rob have come a long way since they started Invivo & Coin in 2008. Their first major success came in 2014, when they launched a Sauvignon Blanc with legendary TV megastar Graham Norton after learning he was a fan of Sauvignon Blanc and their wine. Today, Invivo & Co. is one of New Zealand's leading producers. They have won over 250 medals and many trophies. They produce wine and have operations in New Zealand, Australia, Italy, France, in addition to producing gin in Ireland with their local West Cork partners.
A passionately creative person, Sarah Jessica Parker is involved in every step of the process of making her wines with Invivo ̶ from blending each wine, to designing the label. The X and the comma on the label, is an intentional and personal touch, referencing her signature email and Instagram signoff: "X, SJ."
Provence
In June 2020, in the middle of the epidemic, they launched her second release, Invivo X, SJP 2019 Rosé! This wine came from the South of France and was the first one that I had the pleasure of tasting. The rosé is crafted in partnership with the Chevron Villette vineyards which cover 500 hectares and makes up one of the largest wine-making properties in Provence. The vineyard is managed by Guillaume de Chevron Villette, expert winemaker, whose success and development are attributed to a passionate knowledge of his land, vines, and wine. The grapes come from the 'Golden Triangle', which includes Saint Tropez, famous for growing beautiful wines on free draining loamy soils.
PugetVille and Les Arcs, which offers a Argilosiliceous soil, are famous in their ability to blend with minerals of the regions. Also, Le Thoronet Abbey which is known for its claylimestone soil.
Tasting Notes: The rosé is a Provencal pale pink color, the nose bright and notable with aromas of red berries and minerals. The palate is dry and fresh; like a good rosé should be, with fruity notes of strawberries, rose petals and fresh herbs. It must be served perfectly chilled. It can be drunk during lunch with salads, in early evening as an aperitif or during dinner with fish or meat. This is one of my favorites. The wine is made in the region of Provence in France.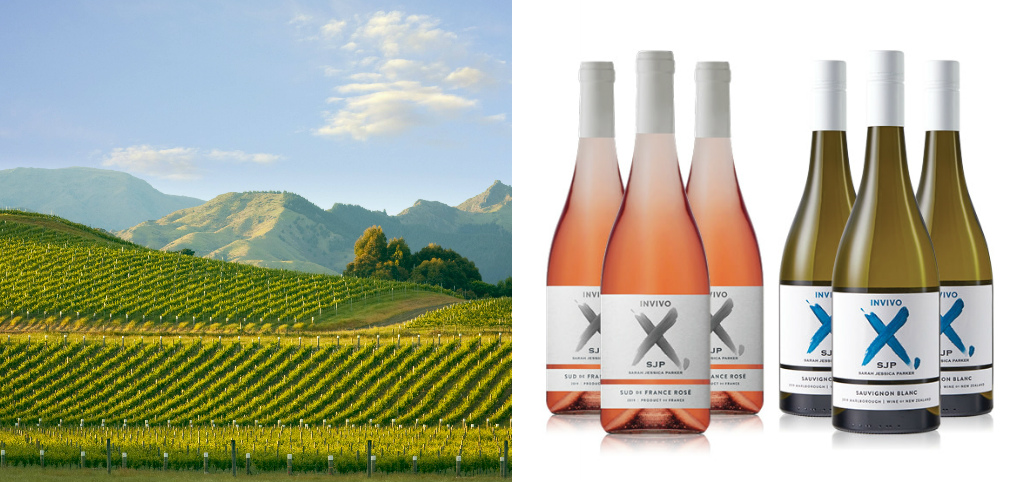 Marlborough, New Zealand
Next came the Sauvignon Blanc, 2020. Following the global success of the first vintage of Invivo X, SJP Sauvignon Blanc, Sarah Jessica Parker and Invivo co-founders Tim Lightbourne and Rob Cameron have made their 2020 second release together. This Sauvignon Blanc is a blend of five estates in Marlborough, spanning both the Wairau and Awatere Valleys.
Tasting Notes: Crisp and distinguished, this wine brings notes of apple and peach mixed with a touch of citrus. Fragrant on the palate, this wine brings a certain intensity on the palate which lingers in the mouth. The wine is made in the region of Marlborough, New Zealand.
This is also the wine that gives back, Working to combat child hunger in America and countries around the world is a cause that is incredibly close to Sarah Jessica's heart. Sarah Jessica Parker and her Invivo X, SJP winery business partners, Tim Lightbourne and Rob Cameron, pledge their commitment to funding more than 330,000 school meals for children around the world, through a charitable alignment with FEED.
For more info, go to: www.InvivoXsjp.com and www.invivowines.com