Michael B. Jordan steps into the world of Tom Clancy's spy games to portray an elite Navy SEAL caught up in a vast conspiracy while pursuing his wife's killer in "Without Remorse," an engaging action thriller costarring Jamie Bell, Jodie Turner-Smith and Guy Pearce.
Boldly directed by Italian filmmaker Stefano Sollima, best known for his visionary work on the television series "Gomorrah" and "ZeroZeroZero," this pulse-pounding political thriller offers a solid origin story to a peripheral character in Tom Clancy's "Jack Ryan" universe, a captivating storyline that grabs audience's attention from the jump, and some knockout action set pieces to go along with it. Featuring a riveting screenplay by Taylor Sheridan ("Yellowstone," "Hell or High Water") and Will Staples ("The Right Stuff") that succeeds as both an action thriller and a classic revenge story, "Without Remorse" has the winning formula of vivid direction, first-rate storytelling, and a mesmerizing lead performance by Michael B. Jordan at the center of it all. Along with these bonafides, this Jack Ryan spinoff is elevated by the kind of captivating, deeply immersive camerawork that makes the viewing experience all the more enjoyable, crisp editing that brings the action to center stage, and a tense score that compliments the suspenseful storyline.
Based on the 1993 Tom Clancy novel, "Without Remorse" centers on John Kelly (Michael B. Jordan), Senior Chief of an elite Navy SEAL team, who we meet in Syria as he carries out a mission to rescue a CIA operative being held captive by Russian special forces. Apparently their mission doesn't sit well with the Russians, because back in the States shortly thereafter, Kelly and his SEAL team members are ambushed by masked assassins, leaving Kelly's pregnant wife (Lauren London) dead and himself badly wounded.
After his wounds heal, and with the help of a former SEAL team member (Jodie Turner-Smith), a suspicious CIA operative (Jamie Bell) and the Secretary of Defense (Guy Pearce), Kelly sets out to Russia to exact revenge on the only assassin that got away, Victor Rykov (Brett Gelman). But as Kelly and his hit squad get deeper behind enemy lines, they find themselves at the center of a wide-ranging conspiracy involving those they'd least expect. Along the way, Kelly gets into a prison brawl, survives a plane crash, fakes his own death and engages in some of the most badass combat sequences in recent memory.
If there's one thing audiences can expect from a Tom Clancy property, it's captivating political intrigue and propulsive action sequences, and "Without Remorse" is certainly not lacking in either of those categories. Whether it's hand-to-hand combat, rooftop shootouts, or a plane crash into the Bering Sea, filmmaker Stefano Sollima brings a distinctive directing style to the table at every opportunity, and his command of action sequences is something to behold. Working from a stellar script co-written by Taylor Sheridan, whose own flair for gripping, unpredictable action is evident in films like "Sicario" and "Wind River," Sollima takes the tried-and-true Tom Clancy blueprint and adds his own unique touch, resulting in a singular cinematic experience. Also helping Sollima distinguish "Without Remorse" from previous political thrillers is the stylish camerawork by Philippe Rousselot, which captures the action in inventive ways but without drawing too much attention to itself.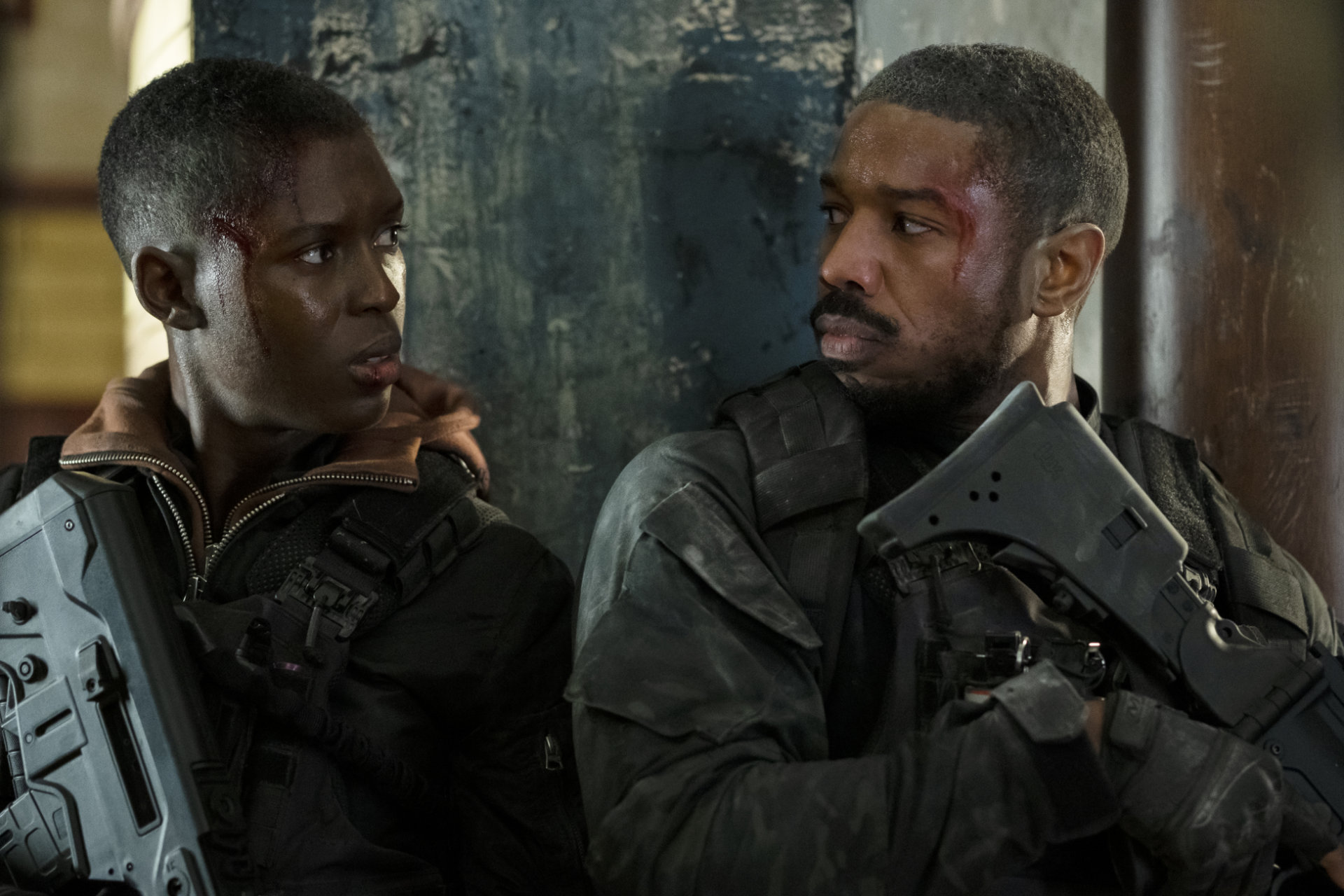 If anyone was still unsure that Michael B. Jordan is a legit movie star after seeing him break hearts in 'Fruitvale Station," lace up the gloves as Apollo Creed's son in "Creed," or play against-type as the ruthless Kilmonger in "Black Panther," then his portrayal of John Kelly in "Without Remorse" will surely seal the deal. Even when the premise ventures down some arguably implausible paths, Jordan's charisma and commitment to character never wavers, and audiences will enjoy accompanying him on his vengeful mission. Serving as Jordan's dedicated scene partners are Jodie Turner-Smith as Kelly's loyal SEAL team member Karen Greer, Jamie Bell as a seemingly shady CIA operative harboring state secrets, and Guy Pearce as the Secretary of Defense who sets Kelly's Russian revenge mission in motion.
"Without Remorse" is an action-packed political thriller highlighted by Michael B. Jordan's killer performance.
By Lucas Mirabella
Running Time: 110 minutes
Rated R for violence.
Available to stream March 30th on Amazon Prime.