ALTURA style / Photo by Doug Saribay
With climbing gyms closed due to COVID19, I decided to take this time to venture around Southern California and hone in on my outdoor bouldering skills. After my first day of climbing outside in Stoney Point, one thing was clear: I needed to get back to basics and become a smarter climber. That meant learning more about safety and the right gear. When I first started climbing for sport and competition, I definitely rushed into a pair of climbing shoes without the thought of performance, support and comfort.
After reading a lot about the evolution of the climbing shoe in John Sherman's "Better Bouldering," he eliminates the idea that you have to have an uncomfortably tight fit. In fact, in the early days of bouldering, many climbers wore socks with their shoes! Fancy that?! A trained ballerina in my teenage years, I try to avoid any more bloody toes and sprained ankles these days. If I'm doing something I love for several hours, I'd rather do it in comfortable shoes!
So, I sought out to find and test a shoe style that would provide me with ankle support, have some level of comfortability and allow me to perform at my best as a climber.
Enter: BUTORA (Boo-tore-ah). Many go straight for the more known brands including: Scarpa, La Sportiva and Evolv. When I discovered Butora, I found that the company had a unique start; different from the others. Their entire team are passionate climbers, including Mack Maier, their Director of Product Development who has climbed around the world; from Asia to the Middle East and beyond.
Turns out, Butora's aim was to introduce a more comfy shoe to the climbing market.
"Butora began because we saw a need in the climbing shoe market. Traditionally, in order for climbing shoes to perform well, they had to be sized very small, which of course led to discomfort. Butora began in order to build high performing climbing shoes that are comfortable right out of the box. We also offer a wide and narrow fit in almost every model we offer," Mack told me.
A fairly new company, Nam Hee Do started Butora in Korea and it only just came to the U.S. five years ago with the states' division run by President Bryan Hylenski. The Butora 'way' was to focus on design and the quality of materials.
"We only use the highest quality raw materials, from the denier of thread, our in house blended NEO rubber, the German leather, to the organic hemp, we are very specific on the materials we use. We specifically use organic hemp in our less performance oriented models because it is sustainable, and has excellent anti-microbial and therefore anti-odor properties," Mack said. I tried two styles from Butora and only have positive things to say.
Let's start with the…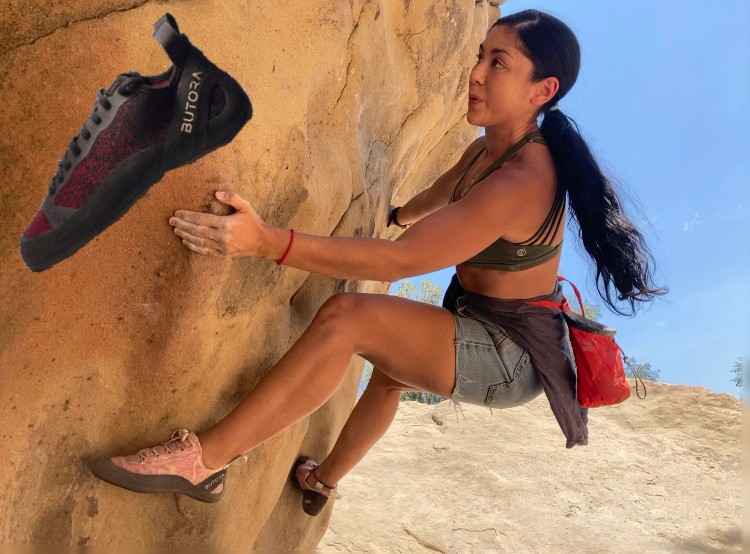 It didn't take long for these shoes to become my go-to for most of my long outdoor climbing days. I wholeheartedly trust them for smearing. If I'm going for a highball, I wear these. The cushioning inside on the roof of the shoe is really a game-changer for comfort. They call it their "intro" shoe, but it's a solid style for beginner, intermediate and pro climbers. The design and color options are stylish with fun colors for everyone. Not to mention, it's one of the most affordable shoes out there.
Features:
4.0 mm Neo Rubber that gives you a soft friction you can trust
Full length ABS mid-sole to maintain structural integrity, and add to performance on small edges
Knit upper, for breathability, comfort on the skin, a light feel, and outstanding durability
Micro fiber lining for comfort, treated with an anti-microbial spray to reduce odor for up to six months
Asymmetrical shape to compliment the true shape of the human foot for comfort and performance
Lacing with an outer sheet and inner dyneema-like core for durability
Polyurethane strip around lacing to prevent tearing of upper material
Polyurethane strip extended over the toe box to maintain the shape of the shoe over time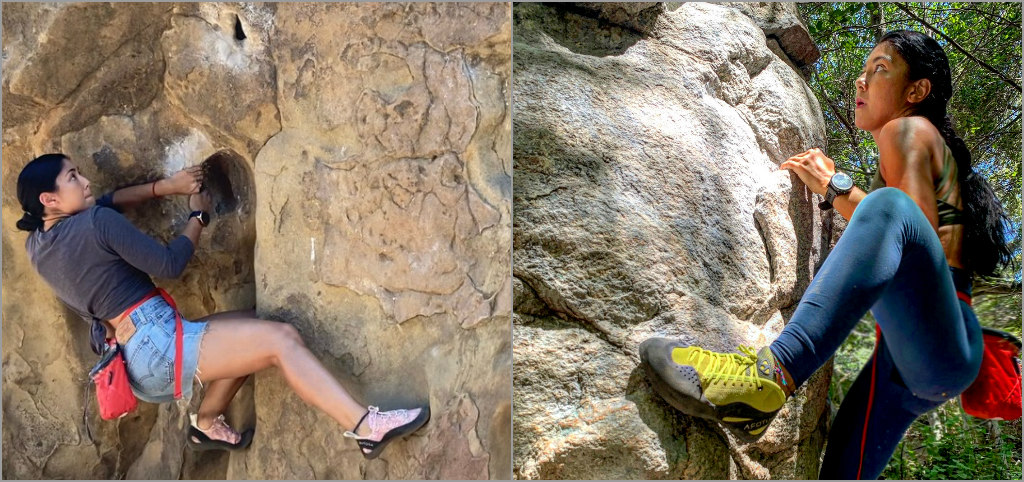 I went with the WIDE fit/GREEN color. For sizing, I'm a 7 for a normal running shoe and I decided to size up to an 8. That was the best decision I could have made. I can climb in these all day long. I love the high-top quality and laces that give your ankle full coverage. The wide fit really gives your foot room to breathe without compromising your footing on the rock. This style is often compared to La Sportiva's TC Pro.
Features:
NEO Fuse sticky rubber
100% Organic Hemp lining to control stretch and odor
German leather upper
Open cell Poron foam tongue for all day jamming comfort
Closed cell foam padded ankle protection
Ample rubber for protection and grip
Moisture-wicking split leather footbed
Butora means "Persistence, determination; used when telling a climber to go for it, to stick it." So, with that said… Butora and SEND IT!
SHOP BUTORA with LATF CODE: LATF252020
https://www.hmhoutdoors.com/butora/
Valid through 12/31/2020
https://www.butora.com/ or if you're in the U.S. CLICK HERE