Click to watch at-home fitness segment filmed with iRig Video Creator HD Bundle
Did you know about Zoom before the pandemic? Most of us didn't. When California shut down and 'sheltered at-home' in early March 2020, offices turned remote and Zoom usage increased. To give you an idea, in December 2019, there were reportedly 10 million users. In March of this year, Zoom was seeing 200 million daily meeting participants, according to founder Eric Yuan. That quickly rose to 300 million the following month.
Now that Zoom meetings are a permanent workday necessity for the average office Joe, morning news reporter, indie filmmaker, talk show host and celebrity interviewee… we are all striving for the 'best quality Zoom.'
LATF sought out to find the most affordable way to get the best out of your Zoom.
We discovered IK Multimedia. They have everything from microphones to iPhone stands, etc. Although we're not reporting or interviewing out in the field with the pandemic, we tried out their:
iRig Video Creator HD Bundle
This is perfect for journalists, podcast creators, filmmakers and actors. It has everything you need in one bundle:
The 10" LED ring light offers color temp and brightness options. Just plug the USB connection into your laptop or desired USB port. The built-in controller allows you to adjust the brightness. It makes a world of a difference for your Zoom meeting, audition or even your Instagram live!

iKlip Grip Pro multi-function stand lets you shoot from the perfect angle. Your phone fits right in and it has an adjustable feature to move your shot around. It acts as a desktop tripod, handgrip, full-sized tripod and monopod!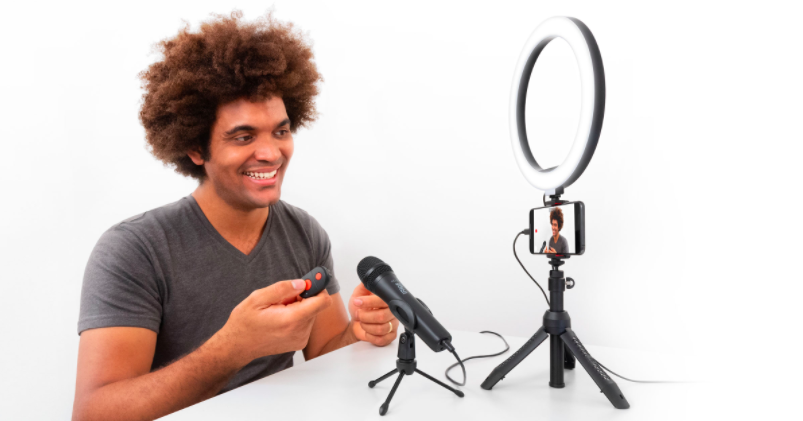 iRig Mic HD 2 digital condenser microphone captures radio-ready audio. This is fantastic for interviews and podcasts. Just make sure you do a playback before you record to make sure the audio levels are perfect. It connects digitally to your smartphone, with Lightning, USB-C and Micro-USB cables included, and offers 24-bit, 96 kHz. If you want to go hands-free, check out their iRig Mic Lav: a professional-quality mobile lavalier microphone for iPhone, iPad, iPod touch and Android.
The bundle works with all smartphone apps right out of the box. We tested out the bundle and filmed with their IK app. It's helpful, but not necessary.
From celebrity interviews to lifestyle segment and general office zoom meetings, this bundle is perfect for everyone and we HIGHLY recommend it!
Interview with Top Chef's Padma Lakshmi using the IK Multimedia ring light
Check out all that IK Multimedia has to offer at: https://www.ikmultimedia.com/
Out in the field with IK Multimedia's iRig Mic & iKlip Grip Pro