Click PLAY to watch!
Everyone knows that a good night's sleep is essential to your health. Not one week goes by without hearing on TV or on the radio that you need to have 7 to 9 hours of sleep to be at your best. Although, it seems that growing up, I could get by with 5 hours and not feel tired; but that's not the case anymore. I have to have at least 8 hours and I must say, I actually look forward to my bedtime.
That being said; you need to have the proper mattress to get the best possible rest. As I got older, I started studying what would be a better mattress for me. I went from not knowing anything at all and buying any kind of mattress, to buying a Tempur-Pedic, which I was told was the best I could get. As it turned out, it is not the best at all. It is good, but it simply is not the best of the best.
Recently, in the market for yet another new mattress, I found a company by the name of Custom Comfort Mattress which makes the best American mattresses right here in California. For decades, the Custom Comfort team, founded and owned by the The Trudell family, was often told they could not compete with the billion-dollar budget mattress companies. Because they didn't feel right about how mattress companies had begun the move towards cheaper synthetic materials and stripped-down construction, they saw an opportunity to make and deliver quality mattresses.
They started building double-sided mattresses made with natural materials and traditional craftsmanship one-by-one right out of their garage, in the same way that I had seen my parents go to farms to purchase sheep's wool to have their own mattresses made to order. The Trudell's were known for not taking shortcuts and provided the same detail in mattress-making. Since 1988, they have built and handcrafted the old-fashioned way, making double-sided, natural cotton mattresses that are longer lasting, more supportive, more comfortable, and healthier for you and your family, constantly striving for excellence.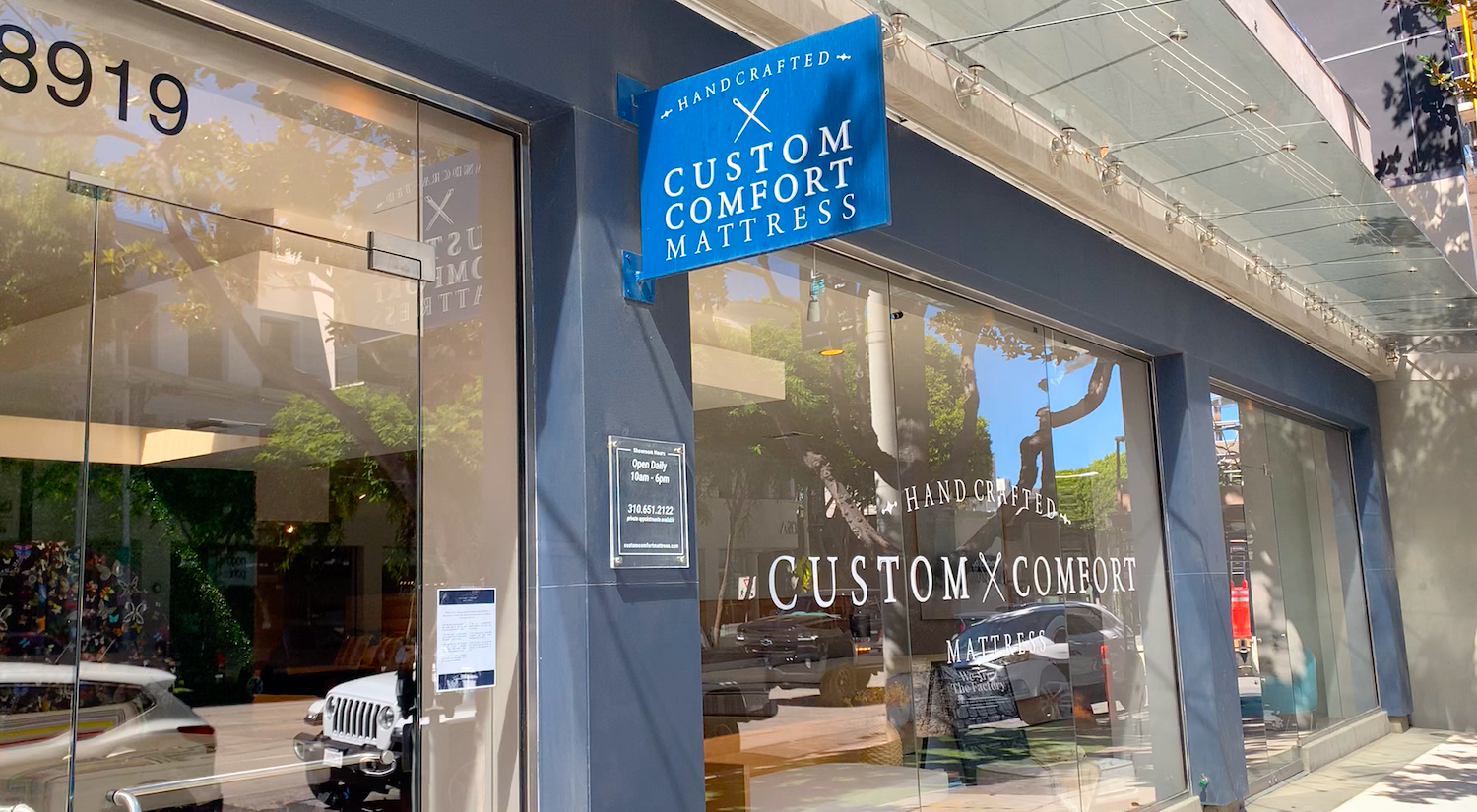 In 2009, Custom Comfort Mattress opened a new store on Beverly Boulevard in West Hollywood in an effort to reach higher-end customers in Los Angeles. The showroom is managed by co-owner Gary Trudell who gave me the story behind the 'Custom Comfort' name: "Unlike our "one size fits all" industry, we take a craftsman-approach and use a variety of construction styles and cozy natural materials to deliver the right amount of support and comfort for each one of our special customers. Whether you are a line-backer or a lightweight, we have the right mattress combination for you! We can even custom make a bed to meet your exact specifications, quite amazing and perfect for athletes."
If you live in Los Angeles, Gary recommends a visit to Custom Comfort Mattress, for sleep consultations which, by the way, includes the optimal pillow and mattress combination. Whether you're training for a marathon or recovering from back or hip surgery, they offer in-depth insight to match you with the right mattress options.
In under a decade, this designer-focused showroom has emerged as the Company's fastest growth location, reflecting a growing appreciation for the luxurious sleep provided by their team. Against all odds and by selling direct to consumers and focusing on building exceptional products while delivering high customer satisfaction, this mom and pop company was able to compete with much larger competitors, and can still do so today.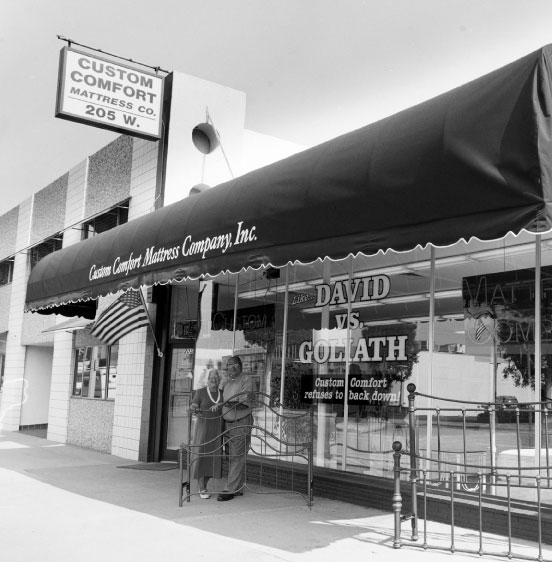 The original David vs. Goliath / Custom Comfort Mattress store!
Additional stores were opened in Orange County and production capacity was increased. Perennial underdogs, iconic ad campaigns showcased a long-shot position in the industry including: "It's David versus Goliath" and "Custom Comfort won't back down!" Each person has unique needs for restful, regenerative sleep. They craft the perfect bed for your lifestyle, body, and budget. They're "Dedicated To Making American Mattresses The Way They Should Be."
After my consultation, I could not resist, I had to have the Rolls Royce of mattresses and get the adjustable Cal King, which I have been sleeping on like a baby for the past month. It adjusts up and down, has a massage button and it has lights under the bed which allows you to see where you step at night.
Well worth the investment.
Check out our latest 'For Home' episode….