Let's face it, very few dogs look forward to their weekly bath. You can see it in their eyes, the instant you say the word "bath" … it's usually followed by uncontrollable shaking.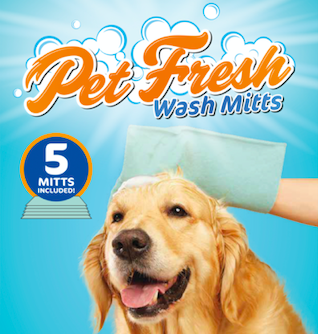 Thankfully, I just discovered Pet Fresh Wash Mitts, a perfect solution to remedy the problem.
Pet Fresh Wash Mitts are lightly fragranced shampoo, infused mitts that become pH-neutral when you add water. All you need is just a bit of water, then lather, scrub and towel dry your fury friend et voila! It is what you call a stress free cleaning. A great option for in between grooming visits and ideal for use on the go. It is gentle on skin and fur.
These mitts have been designed for dogs of all breeds and sizes, but it's specified that they're also suitable for use on the coats of other furry animals. Each set contains five of the mitts.
Pet Fresh Wash Mitts are so easy to use. Just make sure that the water you are using is neither too cold or too hot. you happen to be on the go, you can also dump water straight out of a water bottle, it will Lather the same. It will only take a minute or so.
It's safe to use this mitt from your pet's head to their tail—just keep the lather away from their eyes, nose, and mouth.
Once you're through scrubbing, simply dry it with a towel without taking the time to give them a rinse.
Then they'll be able to get back to playing, sleeping, walking or whatever they were doing before their short bath.