There is something really soothing about essential oils coming out of a beautiful diffuser floating in a room.
For over 25 years, Saje has offered their clientele essential oil blends that contain natural ingredients with healing properties. They come from various parts of the world and actually work. These essential oil blends can treat stress, pain, balance, and support in relaxation prior to sleep, and for symptoms of coughs and colds.
Their 100% certified natural products are formulated to be safe and effective based on modern science and traditional use.
But that's not all, Saje has very distinctive diffusers made of stone which will fit any décor in your home. I could not resist and chose one for my living room.
The Aroma Om® Deluxe White is made of ceramic with a LED rotating light feature. The tank supports 450ml of water that can diffuse in a 1200 sq. ft. room which can be timed for 1hour, 3 hours and can last up to 6 hours. It is equipped with an automatic shutoff so no worries if you forget to turn it off. An added bonus is that this device will also serve as a humidifier while infusing the air with the healing power of plants.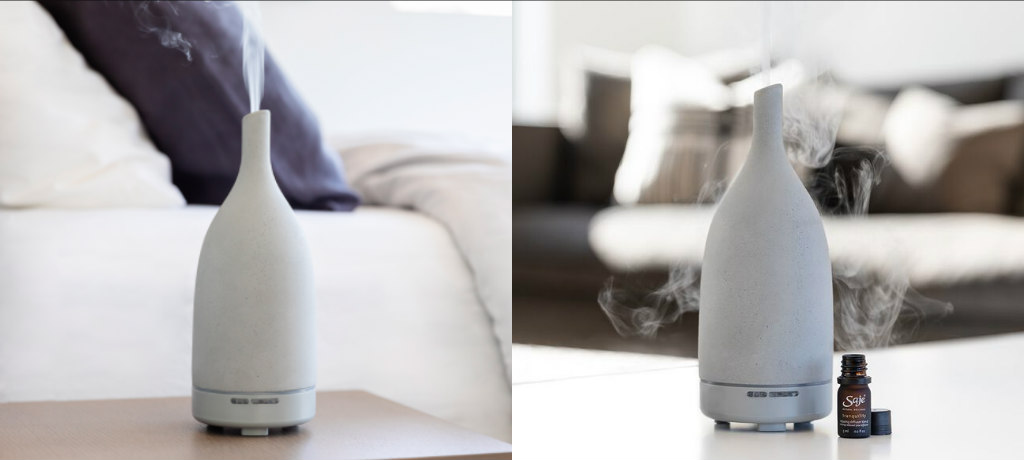 For my bedroom, I chose the Aroma Om® Stone which has all the same features as the Om® Deluxe White, the only difference is the size and shape. The 3 fl. oz. (100 ml) water tank will diffuse and cover approximately 400 sq. ft. and mists for approximately 3 hours continuous or 6 hours intermittent (30 sec on/30 sec off). It is perfect for your home and equally perfect if you want to gift a friend or a member of your family for any occasion. I guarantee that you will love it.
Please be sure to check their website to choose from the various essential oils they offer. Whatever your needs are they have it.
For more info and to purchase go to www.saje.com