Will Ferrell and Rachel McAdams make a magnificently funny duo playing a pair of Icelandic musicians who are chosen to represent their country in the world's biggest song competition in "Eurovision Song Contest: The Story of Fire Saga," a silly but sweet comedy also featuring Dan Stevens, Pierce Brosnan, and Demi Lovato.
Inspired by the titular song contest that began in 1956 and now spans over 40 countries, this music-themed comedy hits all the right notes thanks to an uplifting underdog storyline and a spirited setting that is embraced instead of mocked. Much like he pulled off with his deliriously enjoyable 2005 rom-com "Wedding Crashers," director David Dobkin finds the right balance between romance and humor in the storyline, allowing this unusual tale of Icelandic musicians striving for televised greatness to be more than just an exercise in eccentricity. Thanks to an inspired script that Ferrell cowrote with his longtime collaborator Andrew Steele, a likable ensemble cast who fully embrace their colorful characters, and an abundance of original music that is at turns catchy, kooky and heartfelt, "Eurovision" is a delightful comedy and a much-needed antidote to these dispiriting times.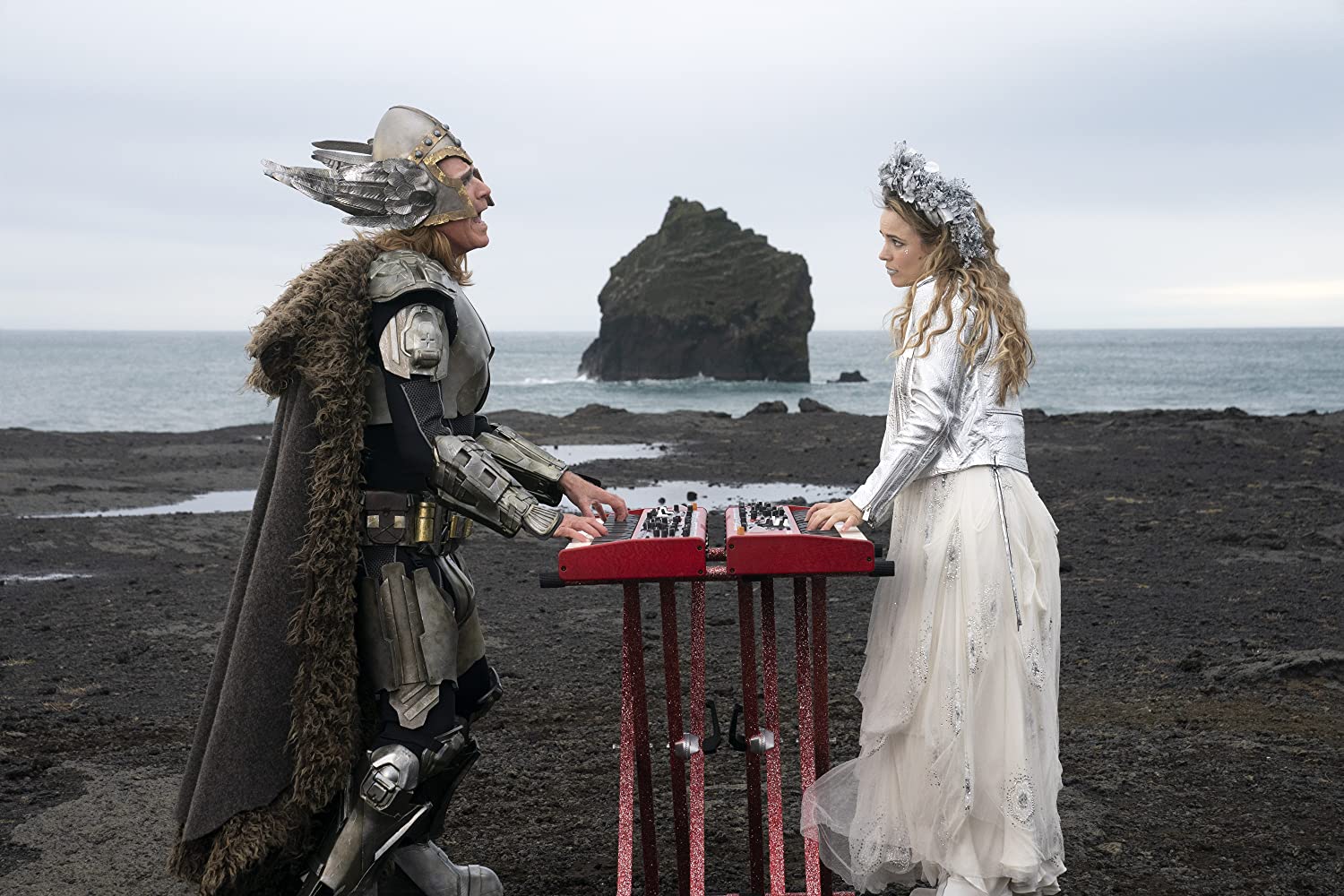 In the film, Ferrell and McAdams play Lars and Sigrit, a pair of aspiring musicians in their Icelandic hometown of Husavik who perform locally as a Euro-pop group called Fire Saga. Lars and Sigrit met as kids and bonded over their shared love of the Eurovision Song Contest, the world's largest and longest running music competition. Over the years, that passion for Eurovision has only increased, especially for Lars, who dreams of winning the contest despite his fisherman father's (Pierce Brosnan) disapproval.
Through a hilariously dark turn of events, Lars' dreams of Eurovision glory come true when a tragedy befalls the other Icelandic competitors, resulting in Fire Saga being chosen to represent their country at the competition in the host city of Edinburgh. But while Lars and Sigrit are ecstatic to be living out their dreams, they also find themselves overwhelmed by Eurovision's intimidating environment and stiff competition, most notably Alexander Lemtov (Dan Stevens), Russia's bombastic finalist. As Fire Saga vies for the top prize while facing obstacles on and off the stage, audiences will fall in love with these quirky characters as they fall in love with each other.
A feel-good comedy that is unabashedly silly but still earns its emotional payoff, this Netflix release is sure to attract attention when it premieres on the streaming service this Friday. Although viewers may be less familiar with the contest stateside than internationally, where it is watched annually by hundreds of millions, "Eurovision" serves as an introduction to this wonderfully weird world and a celebration of the larger-than-life characters that populate it. With an extensive background directing films across multiple genres as well as music videos in his earlier years, filmmaker David Dobkin's unique skill set and tonal command make him an ideal director for this project, and the results are as memorable as one would hope. Thanks to the pitch-perfect characterization of the Eurovision universe, and an appealingly character-driven script by Will Ferrell and Andrew Steele that is consistently funny but never mean-spirited, audiences will find themselves embracing this strange world, and taken aback by how emotionally invested they become in Fire Saga's success.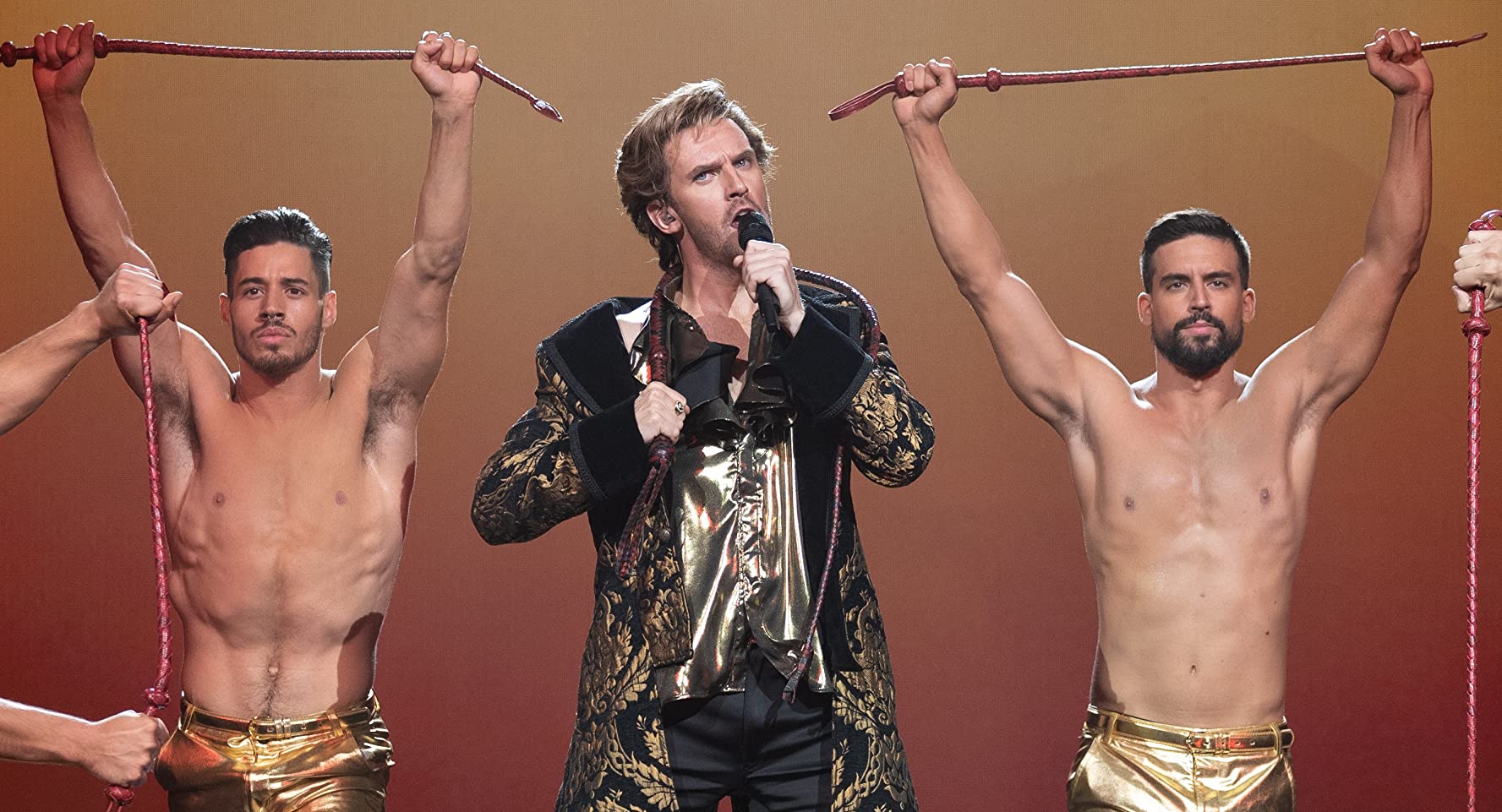 Helping achieve the emotional payoff is the winning chemistry between the film's lead actors, Will Ferrell and Rachel McAdams, who both gave similarly memorable performances for Dobkin in "Wedding Crashers." Once again, the director taps into the McAdams' inherent goodness to play a character who is delightful from start to finish, and the actress shows off some strong comedic chops as well. Ferrell's Lars is a lovable goofball, and the performance perhaps ventures into absurd territory too often, but it's a sweet portrayal and the character fits right in with the other performers at Eurovision. As for the supporting cast, Pierce Brosnan earns lots of laughs as Lars' father with his unwavering disapproval of his son's artistic pursuits, while Demi Lovato shines in her short screen time as Iceland's reigning vocal queen, but Dan Stevens wins top honors with his fall-down-funny take on Russia's George Michael-esque contestant.
Will Ferrell and Rachel McAdams sing their way into audience's hearts in "Eurovision Song Contest: The Story of Fire Saga."
By Lucas Mirabella
Rated PG-13 for crude sexual material including full nude sculptures, some comic violent images, and language.
Running Time: 123 minutes