"At Wellnesse, we make the highest quality products that are not only safe… they're packed with beneficial ingredients that are like extra goodies for your body," said Katie Wells, the owner of Wellnesse. Appropriately titled, the "Wellness Mama" celebrity podcaster founded the personal care brand alongside her husband Seth Spears. They recently launched an all-natural shampoo and conditioner.
She spent over a decade perfecting the formulas in her kitchen to create products that are safe for people as well as for the planet.
All Wellnesse products are formulated through an important process, combining the latest in scientific research with the best nature has to offer. Their goal is to contribute to a world our children and grandchildren can be proud of so we make decisions that last longer than they will.
"For most of my life, I thought my hair hated me. It was determined to be dry and oily at the same time. It never curled when I wanted it to curl or stayed silky when I tried to wear it straight, then, I learned many products strip away the natural components that make hair strong and silky, leaving your hair dependent on them. I researched like crazy and started making my own shampoo using herbs, beneficial oils and soothing ingredients provided what my hair actually needed," Katie added.
CHOOSE FROM: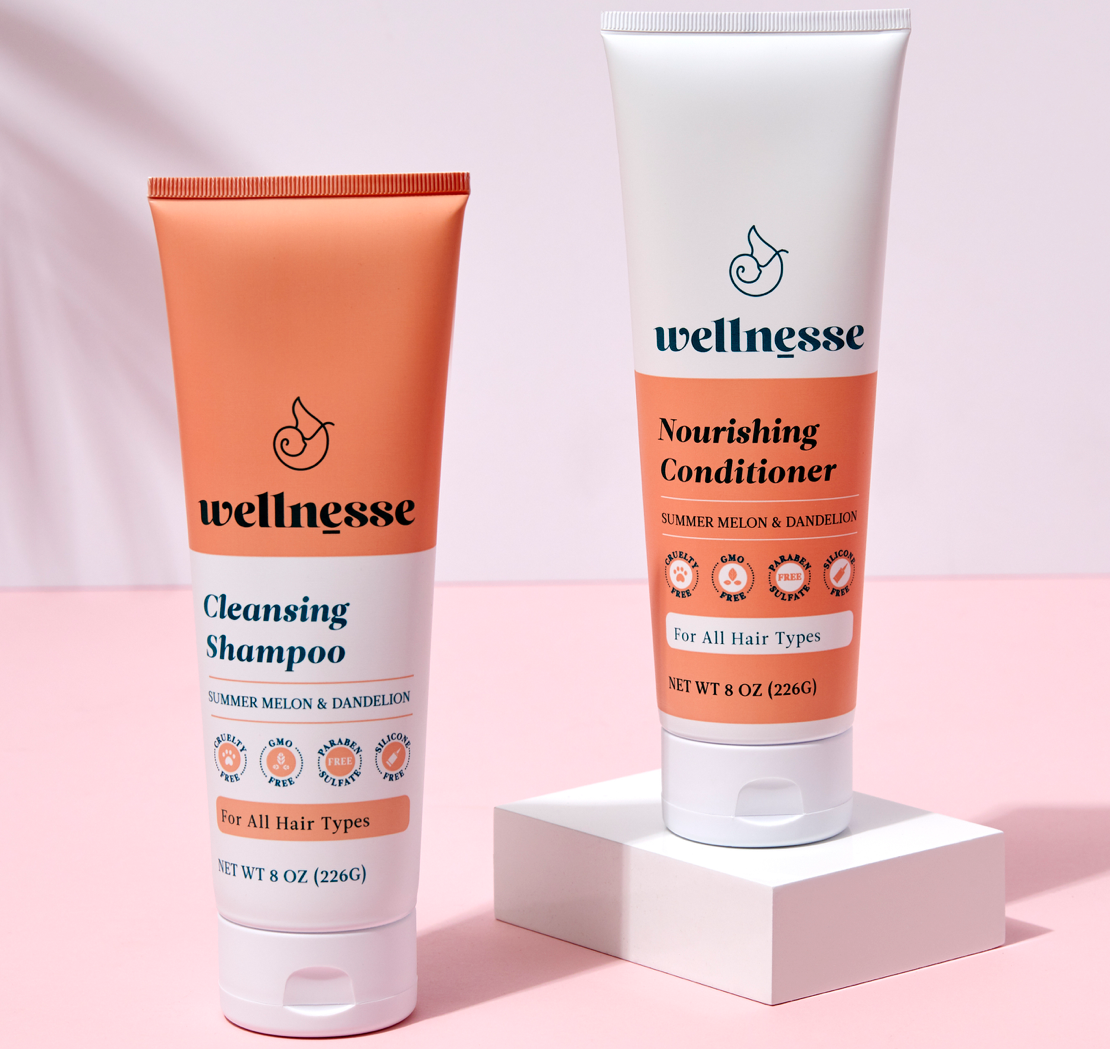 Wellnesse's Cleansing Shampoo and Nourishing Conditioner is for all hair types and is made with an EWG safe ingredient formula that feeds your hair with nettle, shea, argan and other supportive ingredients to help hair stay thick, strong and shiny.
Each ingredient benefits your hair in a different way. Keratin, quinoa, and chamomile work together to infuse moisture while natural suds cleanse hair and scalp, so strands stay smooth. Panthenol, a provitamin of B replenishes and moisturizes locks. Lavender makes hair silky, soft, and easy to manage and melon and dandelion create an invigorating aroma in your shower! The Nourishing Conditioner, has avocado butter, and safflower to condition, detangle, soften, and make hair easier to comb.
If you have wavy, curly hair go with the Smoothing Shampoo and Enriching Conditioner: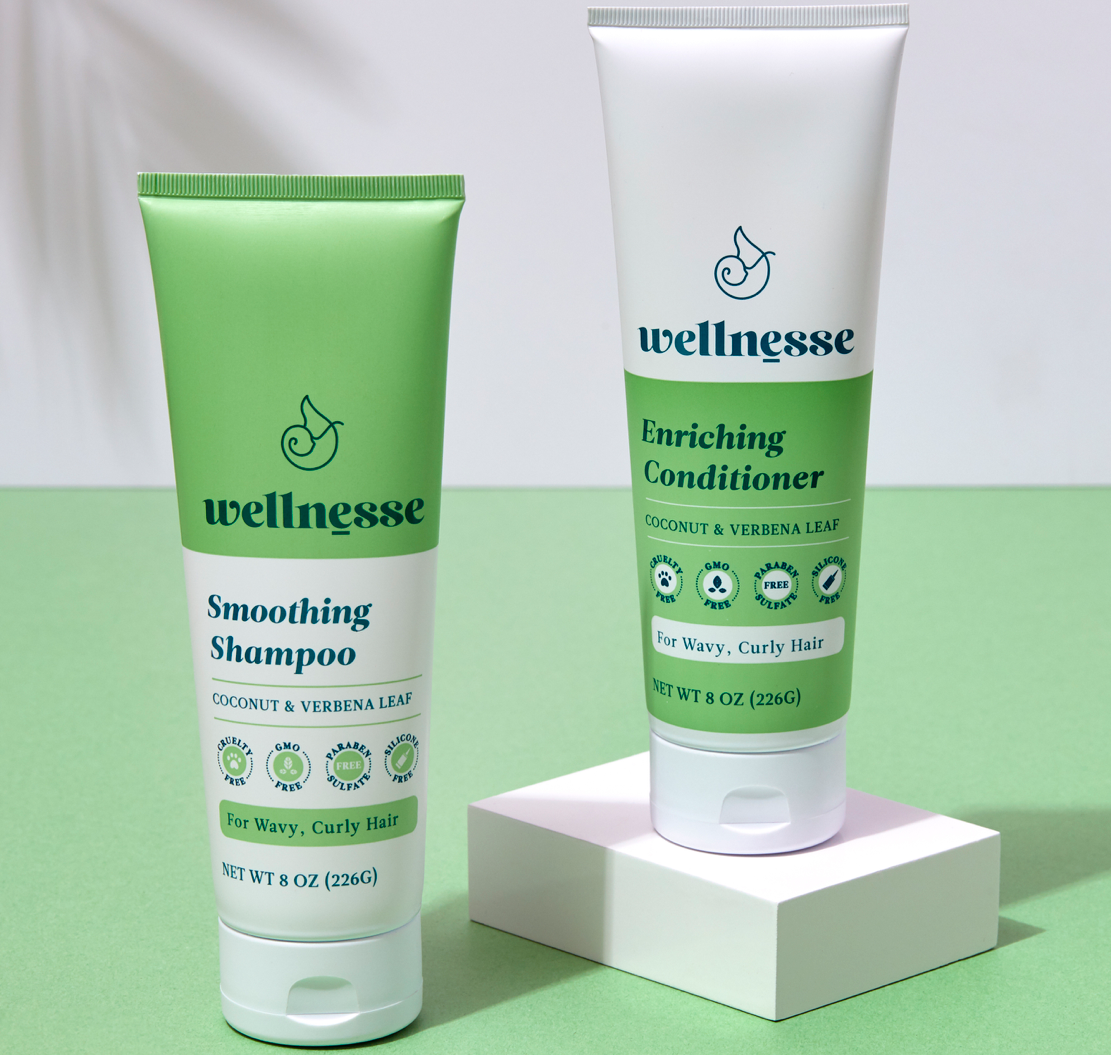 Two ingredients (among others) in this blend are: shea butter and organic virgin coconut oil. Both are renowned for their emollient texture and moisturizing capabilities. Shea butter contains vitamins A and E, and essential fatty acids. It also shields hair from heat damage. Coconut oil nourishes the scalp and reduces oil build up. It's also great for reducing breakage—so hair is less brittle.
Their "Curl Active Blend" has Tomato fruit extract, rice extract, and keratin amino acids. Keratin is an essential building block to restoring strength and supporting regrowth. Tomato fruit ferment seals moisture into individual strands, giving curls that spiral effect.
Lastly, another unique ingredient is the rice extract, which has been used as a beauty treatment for centuries — known specifically for its strengthening and smoothing properties. I bet you did not know that! Neither did I.
Enriching Conditioner for Wavy, Curly Hair with Coconut & Verbena Leaf.
Another key active ingredient in their Enriching Conditioner is safflower. Safflower is rich in oleic acid, which means it's highly beneficial for soothing and conditioning the scalp. In our formula, it's also highly effective at detangling curly locks (bye frizz!) and boosting hydration, softness, and shine.
Find the products at http://www.wellnesse.com