CLICK TO WATCH
Founded by Antonio and Malorie Alletto, GRIT OCR draws competitive obstacle course racers, weekend warriors and fresh runners.
Partnering with our favorite trail race producer, Terry Majamaki of New Global Adventures, the Alletto + Majamaki team pull off an organized race that is sure to keep its intimate community setting and attract mega racers of all levels. In a sport where it's hard to come by a well run race event, GRIT OCR is at the top of its game. Now for the race spotlight review…
ORGANIZATION
New Global Adventures is the best of the best when it comes to being organized. One month and days leading up to the race, you receive email reminders and even your BIB number ahead of time. They give you an option for early check-in the day before and have a good amount of volunteers on race day checking in to avoid long lines. Event signage is clear on the roads leading up to the race location, so there is no confusion as to whether you're in the right place! With VIP Parking and lower level parking, they have a shuttle going back and forth. Announcements are ongoing and start waves are well timed.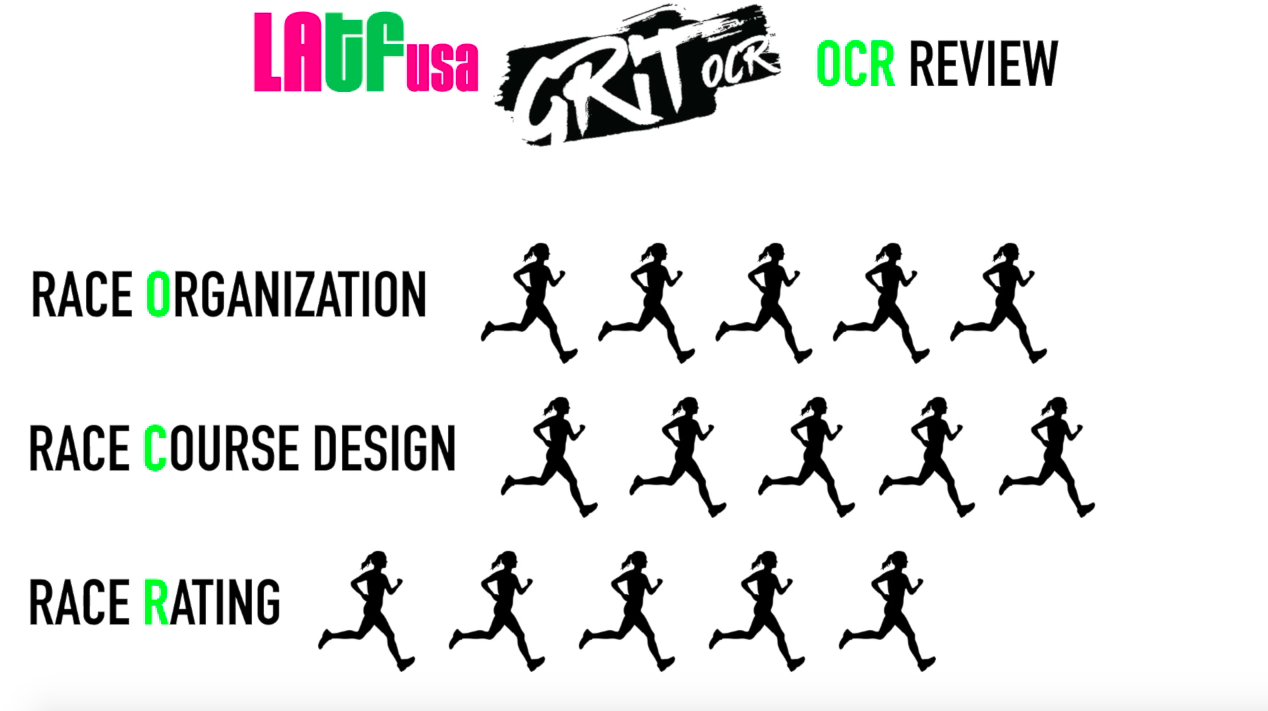 COURSE DESIGN
GRIT OCR can give Spartan a run for their money when it comes to obstacle variety and lineup. As Antonio told LATF, "I brought a little of my Crossfit background and put in some strength based obstacles." The course absolutely tests your fitness with an eight row sandbag carry up and down hill, followed by a 400 pound HT box flip and a rope climb immediately after that. Not too long after that, you have a jerry can carry. Needless to say, this course will let you know where you're at in terms of grip and upper body strength. The obstacle placement is always key in a race and as Antonio said, it has "a lot to do with logistics – being able to carry those obstacles to those places." One of my favorites was a 3+ mile ruck run through the trails. Just a day before, the team ordered backpacks on Amazon and filled them with sand. It was a nice addition to the course! Course designs for both the CLAW on Saturday (8+miles, 23+ obstacles) and FANG on Sunday (5+miles, 20+ obstacles) allows runners of all levels to come out and race. Shout out to Platinum OCR, Hardkour Performance and more for lending obstacles from the sandbags to the Boo's Closet ninja grip obstacles.
RACE RATING
I give it 5 RUNNERS. GRIT OCR is a rising star in the OCR world. I heard great things before and I had a great experience during. With a nice amount of purse prize money ($500 for fastest finisher on both days) courtesy of La Cocina Bar & Grill, I'm sure they will continue to attract mega racers. The medals are beautifully designed and the T-shirt quality is comfy.
Testing both your mental and physical grit, this race lives up to its name.
For 10% off VALENCIA TRAIL RACE or SPACEROCK TRAIL RACE use code: LATFUSA
For more info visit: https://gritocr.com