Click to Watch!
Ever since the Coronavirus (COVID19) spread around the globe, most Americans have been instructed to Shelter-At-Home and quarantine. Under executive orders, gyms and all fitness related facilities have closed until further notice. Even recreational parks have shutdown access to trails for hiking. So, we have been forced to get creative when it comes to our daily workouts.
Fitness challenges started to trend on Instagram with friends tagging each other in "See 10 push-ups do 10 push-ups" and other various dares.
With a possibility of being indoors until late April to early May, LATF decided to explore fitness equipment companies in order to create the perfect gym at home. Focusing on everything from cardio/running to upper body work and stretching/recovery, these are our top recommendations. The gym might be closed, but your fitness doesn't have to be!
TREADMILL: We discovered an incredible equipment company in Vernon, California called New Life Cardio Equipment. Run by Hany Mikhaiel and Jason Crenshaw, they offer treadmills, stationary bikes and more from various brands. Affordable for your COVID19 budget, their website lists sales and available machines.

I went with the PROFORM 505 CT treadmill. Features include: Space-saving foldable design, Powered Incline & Speeds up to level 10, low-noise and free of vibration (great for apartments).

PEG BOARD: In California, many of us are rock climbers. Valor Fitness' Peg Board is extremely afforable and easy to install at home. Whether you hang it horizontally or vertically, you can work your grip and upper body strength.
SANDBAG: This is one of the most versatile fitness items you can own. Use it for squats, stairs (if you have them), Farmer Carries, etc. Valor's sandbag comes with two pouches which you can fill with sand.
PULL UP BAR: Everyone needs one. They fit in most every doorway frame. Some designs allow for various pull-up forms.
RESISTANCE BANDS: Perfect for stretching and flexibility. Valor has a varity of sizes.
FOAM ROLLER: Never forget to stretch and foam roll! Give your muscles a break and roll out after every workout! Try a roller with groove designs to really dig in or a flat surface roller.
Tune in to the video above to check out these products!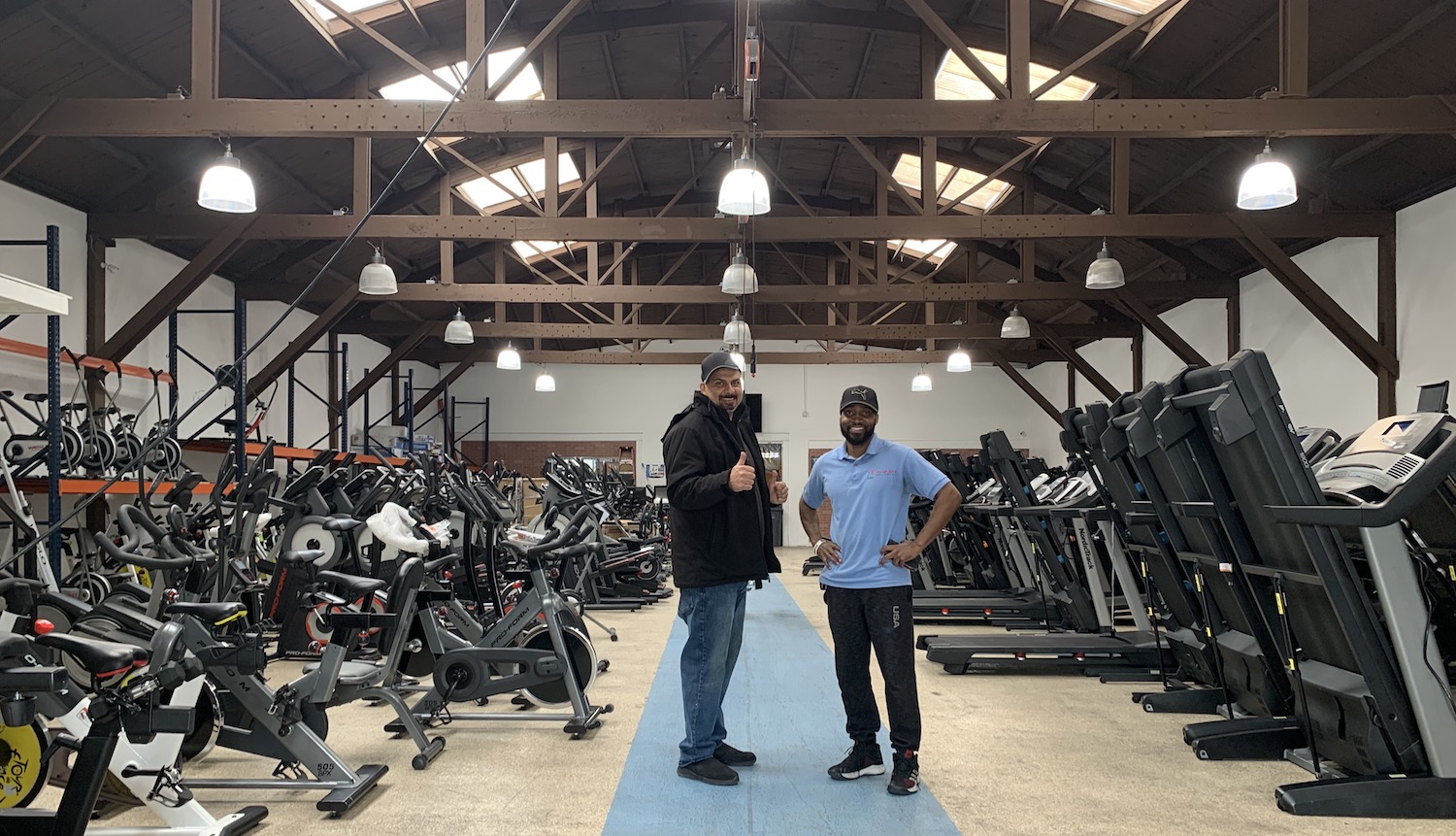 New Life Cardio Equipment's Hany Mikhaiel and Jason Crenshaw
Now you need to film your workouts and share with your friends and family! We recommend IK Multimedia's iRig Video Creator Bundle. Stay tuned for our review and how to create videos with their:
iKlip Grip Pro multi-function stand
iRig Mic Lav lapel mic
A 6" LED ring light
Check out New Life Cardio's inventory at https://newlifecardioequipment.com/ and Valor Fitness at: https://www.valorfitness.com/
VJ Shoes provided by: https://vjshoesusa.com
2XU Compression Pants by: https://www.2xu.com