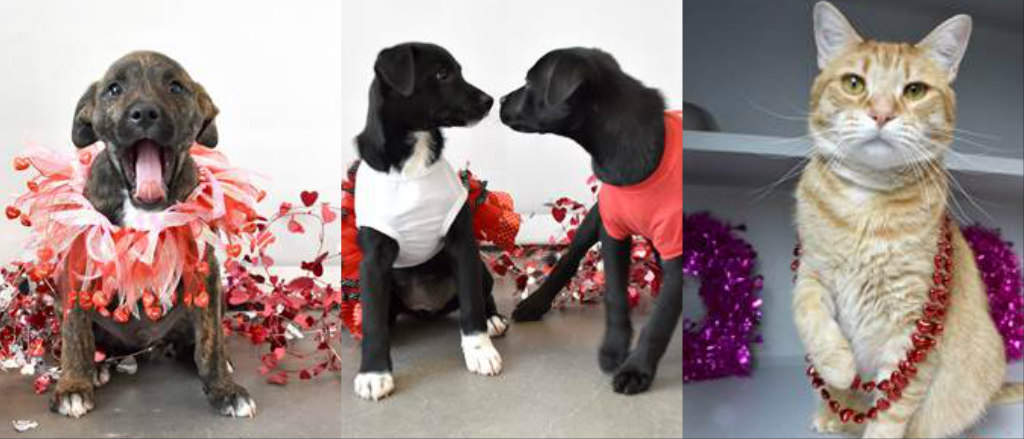 On the year's most romantic weekend, Helen Woodward Animal Center reminds the public that the most dedicated soulmates will meet you at the door on four furry feet. To celebrate the true love of an orphan pet, the Center invites potential adopters to a weekend of FURever Love. Adorable gifts for new valentines, a kissing booth, and a speed dating event with orphan pets, are all part of the plans guaranteed to connect those searching for true love with their PAWfect match! Stop by Helen Woodward Animal Center from Friday, February 14th through Sunday, February 16th, to find your FURever Love.
On Friday, February 14th between 12:00 noon and 1:00 p.m., Helen Woodward Animal Center invites the first potential adopters through the door to participate in a round of "Orphan Pet Speed Dating." Set up in the traditional style of singles speed dating, the experience will allow those seeking a new furry bae the chance to meet a variety of dogs and cats of different ages, breeds, and energy levels. With Center volunteers positioned at each station, adopters can discuss lifestyle, house and yard size, family size, and other important details that factor into finding the PAWfect pet.
"The same way you wouldn't only consider a partner's looks when deciding who to marry, adopters should take into consideration all of the personality traits that will make a new pet the perfect one for them," explained Helen Woodward Operations Director Jennifer Shorey. "I've seen people come in thinking they wanted to adopt a Husky, and leaving with a little terrier. You can think of our adoption staff as your matchmakers. They know these pets so well and they can help you find the one that will be your perfect forever soulmate."
For the entire weekend, those who adopt will receive special valentine's bandanas and pet cookies from K-9 Dimensions (while supplies last), roses, and an opportunity to take a photo with your new adopted valentine in the FURever Love Kissing Booth.
To find your FURever Love, please contact Helen Woodward Animal Center Adoption Department at: 858-756-4117 ext. 313, visit www.animalcenter.org or stop by at 6461 El Apajo Road in Rancho Santa Fe.
ADOPTION PROMO:
WHEN: Friday, February 14th through Sunday, February 16th!
FUREVER LOVES AVAILABLE ALL WEEKEND!
Speed Dating Event: Friday – 12:00 p.m. to 1:00 p.m.
Adoption Hours:
Friday – 12:00 p.m. to 6:00 p.m.
Saturday – 10:00 a.m. to 6:00 p.m.
Sunday – 11:00 a.m. to 6:00 p.m.
WHERE: Helen Woodward Animal Center Adoptions Department – 6461 El Apajo Road, Rancho Santa Fe, CA 92067
WHAT: A Weekend of FUREVER LOVE – Find your PAWfect Match!
· Orphan Pet Speed Dating – February 14th from 12:00 p.m. to 1:00 p.m.
· Valentine-themed pet bandana and cookies from K-9 Dimensions
· Roses
· FURever Love Photo Booth