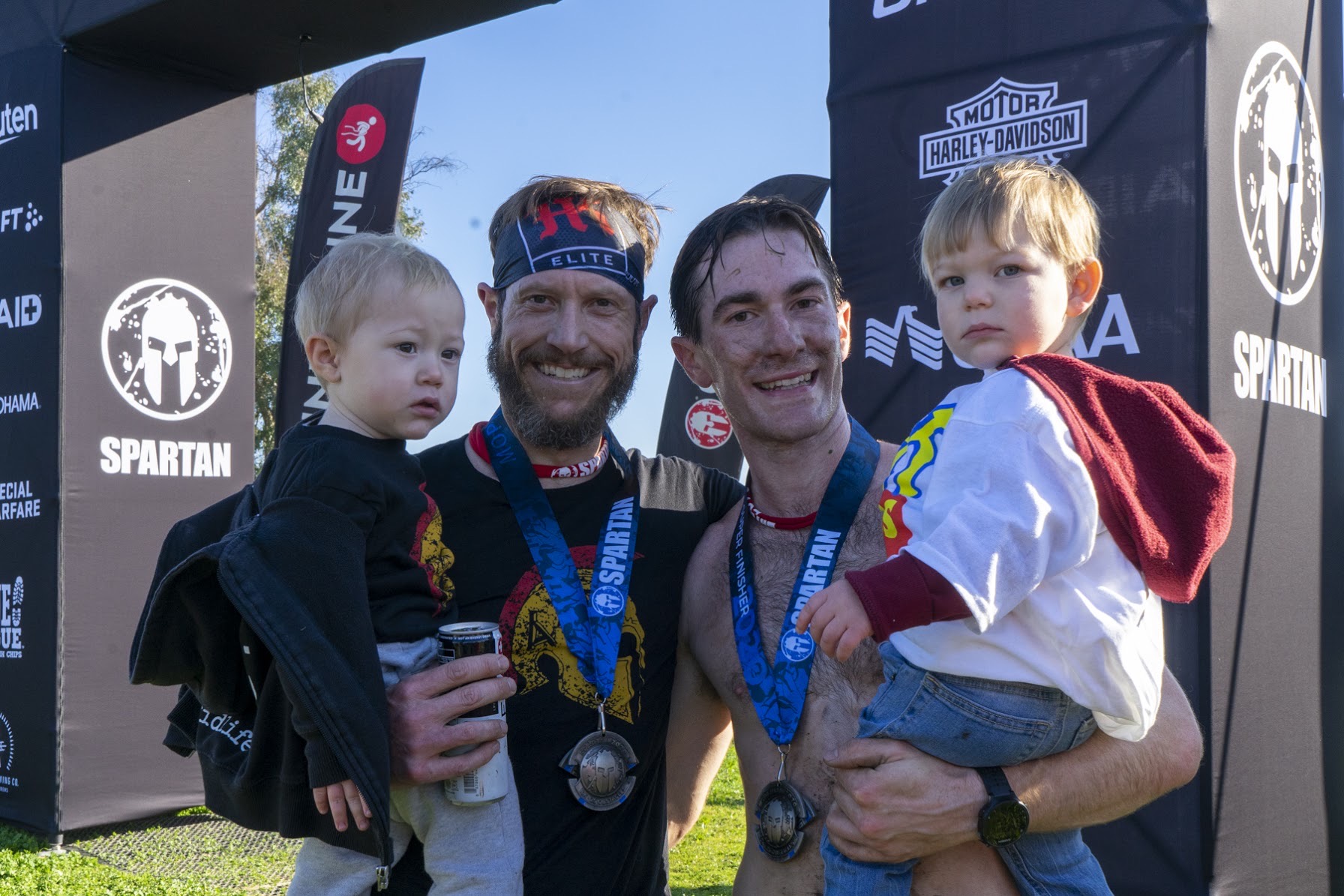 Hardkour Performance Elites John Burkle with son Jay & Georgis Tzortzakis with son Lucas
It's just before 7:00 AM in Chino, California and the fog is still lifting off the grounds of Prado Regional Park, leaving the grass damp and the newly set Spartan obstacles slippery. The brisk weather doesn't stop the hundreds of dedicated Spartan racers, pro athletes and weekend warriors from warming up.
The DJ is blasting the music and racers are reuniting for the first time since the 2019 race season ended.
"I'm looking forward to getting back out on the course after the holidays and having fun with my friends!" said Age Group (AG) competitor, Rachel Munoz as she stretched pre-race.
Spartan star Veejay Jones, who ended up taking took home 1st Place Elite said, "I love this race as the first race of the year. It's really close to me. It's a great test. It's not anything too challenging. It's not 3,000 ft of climbing – it's not too technical. You've got a couple of short climbs – a lot of open running so you can really test your fitness."
From four to forty-five years-old, friends, families and teammates are all-smiles as they hug and high-five. It's clear, the Spartan community is back and stronger than ever.
---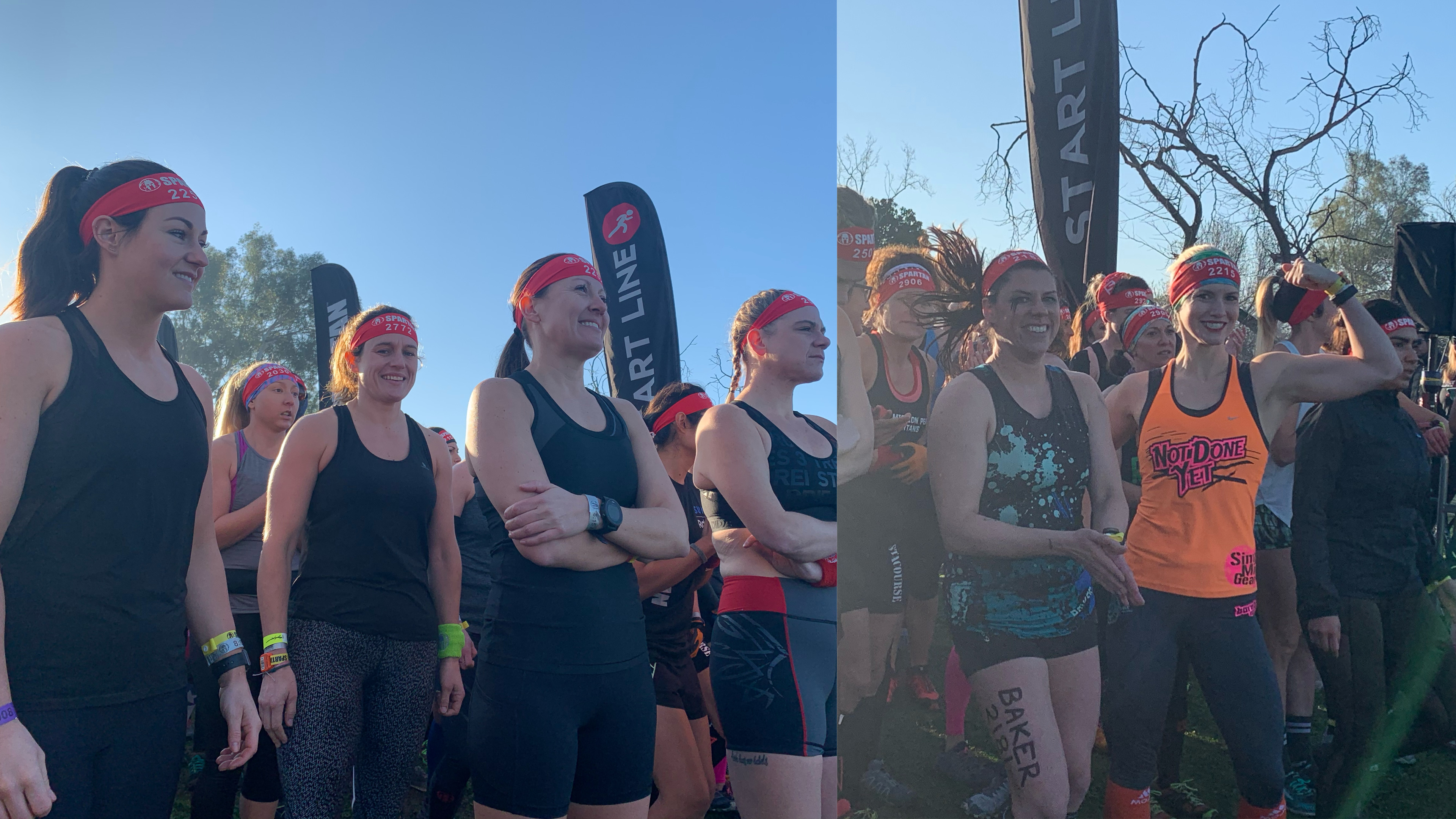 Start line feels with AG Women (ft. Sarah Rich & Rachel Munoz)
NO MUD
Just before race day, the Spartan Super and Sprint map revealed that there would be no Rolling Mud / Dunk Wall due to 'no digging' restrictions. The mud is certainly what attracts many first-time racers for photo-opps, but others had their own opinion about the mudless race course.
"It's going to be nice to not have to deal with all of the mud in your hair, but, at the same time… it's kind of one of the fun parts. Especially since it's supposed to be 70 degrees out! I kind of looked forward to cooling down," Munoz added.
"I'm going to miss the mud, actually. I like getting muddy and dirty; I like that it slows it down a little bit and makes it an extra challenge, which can be really tough. Without that mud dragging your feet down, it's going to be super fast," said Hardkour Performance Elite racer, John Burkle.
At the end of the day, nothing slowed Burkle down after taking 1st place in his AG at Saturday's Super and 2nd at Sunday's Sprint.
Steve Hammond took 5th place in the Men's Elite wave. Known as the 'Trail Master,' Hammond saw no issues with the mudless race. I spoke with him just after crossing the finish line.
"No dunk wall is good. Makes for a slightly different race. Less muddy, but probably would've been a bit more chaos. Spartan couldn't help it with venue restrictions last minute. Doesn't really change much in the race. It's still super enjoyable. We had a blast out there," Hammond said.
Next up, Hammond will be helping out on the trails at San Jose and at the Seattle and San Luis Obispo races.
---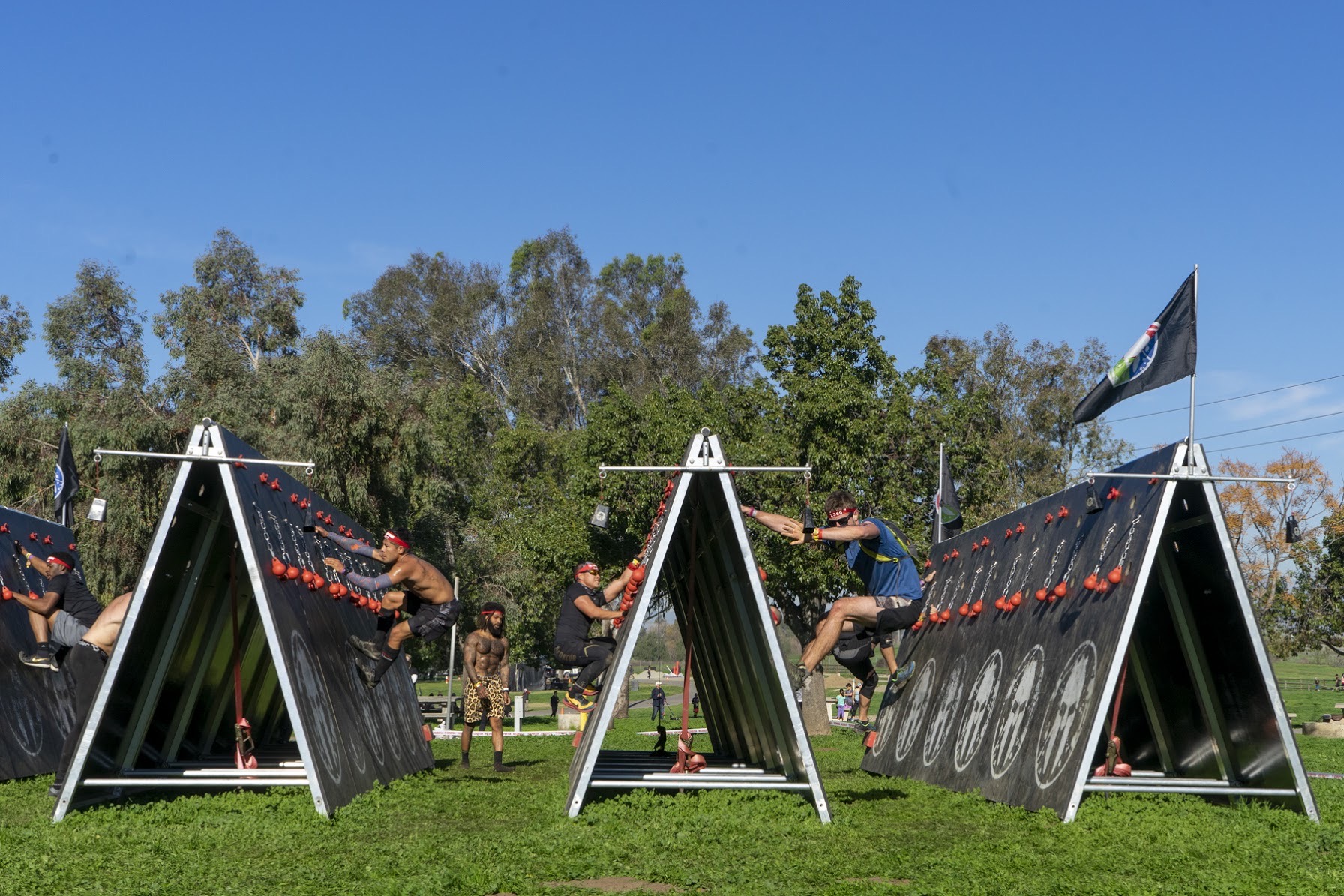 NEW OLYMPUS DESIGN
Spartan unveiled a sleek new Olympus obstacle look, which took runners of all levels by surprise. Michael Hammel, who was a referee for Olympus had his eye on the crowded burpee pit.
"This pit has been full all day. Even with elites. Start, middle, end… they're failing everywhere," Hammel said while taking yet another Spartan's headband before they served the required 30 burpee penalty for falling off an obstacle.
"It's tough. A lot steeper than what it used to be. The material is different. I used to always get Olympus. It was my favorite obstacle before, now it's not," said AG competitor and Hardkour Performance athlete Johnson Kounlavong.
Hardkour Elite, Sarah Rich took home 1st Place in her AG two days in a row for the Super and Sprint distances. Despite most runner's complaints, Olympus didn't bring her down.
"It was amazing. I gave it all I had. It was a fast course. The obstacle placement was a killer. All the heavy carries in the beginning and all of the hard obstacles at the end; it got me. But, I liked it – it was great. Olympus was a little wet. It felt good, though. I had to hang on a lot more than I thought I'd have to, but I got it!" Rich said just as she crossed the finish line.
---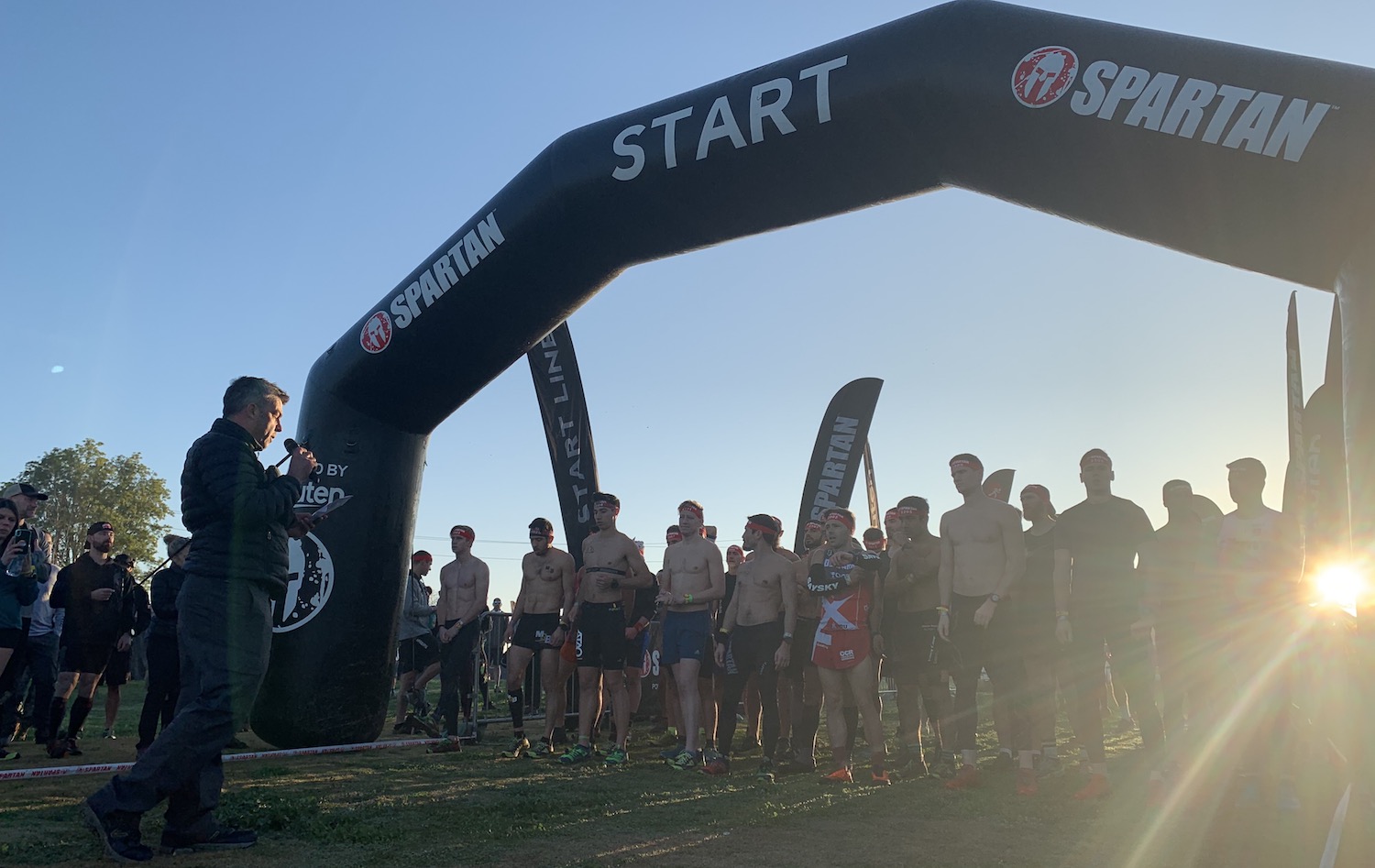 Elite Men's Wave, Super
ELITE QUALIFICATIONS
Spartan announced the ​Elite Category Qualification Criteria back in Fall 2019. To earn an Elite Qualification Code (EQC), a competitor must be 14 years of age or older as of Wednesday, January 1st, 2020, and meet at least one of the following criteria:
One or more top 3 finishes at Spartan events in the Elite and/or Age Group category within the previous 24 months.
One or more top 10 finishes within the Elite category at any regular season Spartan event within the previous 12 months.
One or more top 5 finishes within any Age Group category at any regular season Spartan event within the previous 12 months.
US $2000 or more of lifetime prize money earned to date in the Spartan Elite category.
I asked Spartans, from AG to Elite what they thought of the new qualifications. Georgis Tzortzakis, Hardkour Performance Elite & AG competitor sees the good side of the new criterion.
"I think it was a long time coming. They should have done it a couple of years ago, but regardless – it's good that it happened now. We're seeing the competition in the Age Group front," Tzortzakis said.
"I think it's a good idea to keep it fast," added John Burkle.
OCR European Champion, Leon Kofoed came all the way from Denmark to race the season opener. He said, "I think it's good to start more standards where you can't just pay to start early. Say you want to have an early Saturday; you've got to earn it to run with these guys. It makes sense; and also it's nice to have fewer people in Elite because you have a lot of guys who get there – they're not really supposed to be there but they get hungry and they take off."
"I feel like it's also better for the women. When you have the women catching up to the men who started 15 minutes ahead of them – a mile down the road because they're walking. I get it, you want to start early in the morning but this is where the competitors are. You don't see Joe Schmoe showing up in the elite wave in a marathon – everything's got to be taken seriously," added Veejay Jones.
---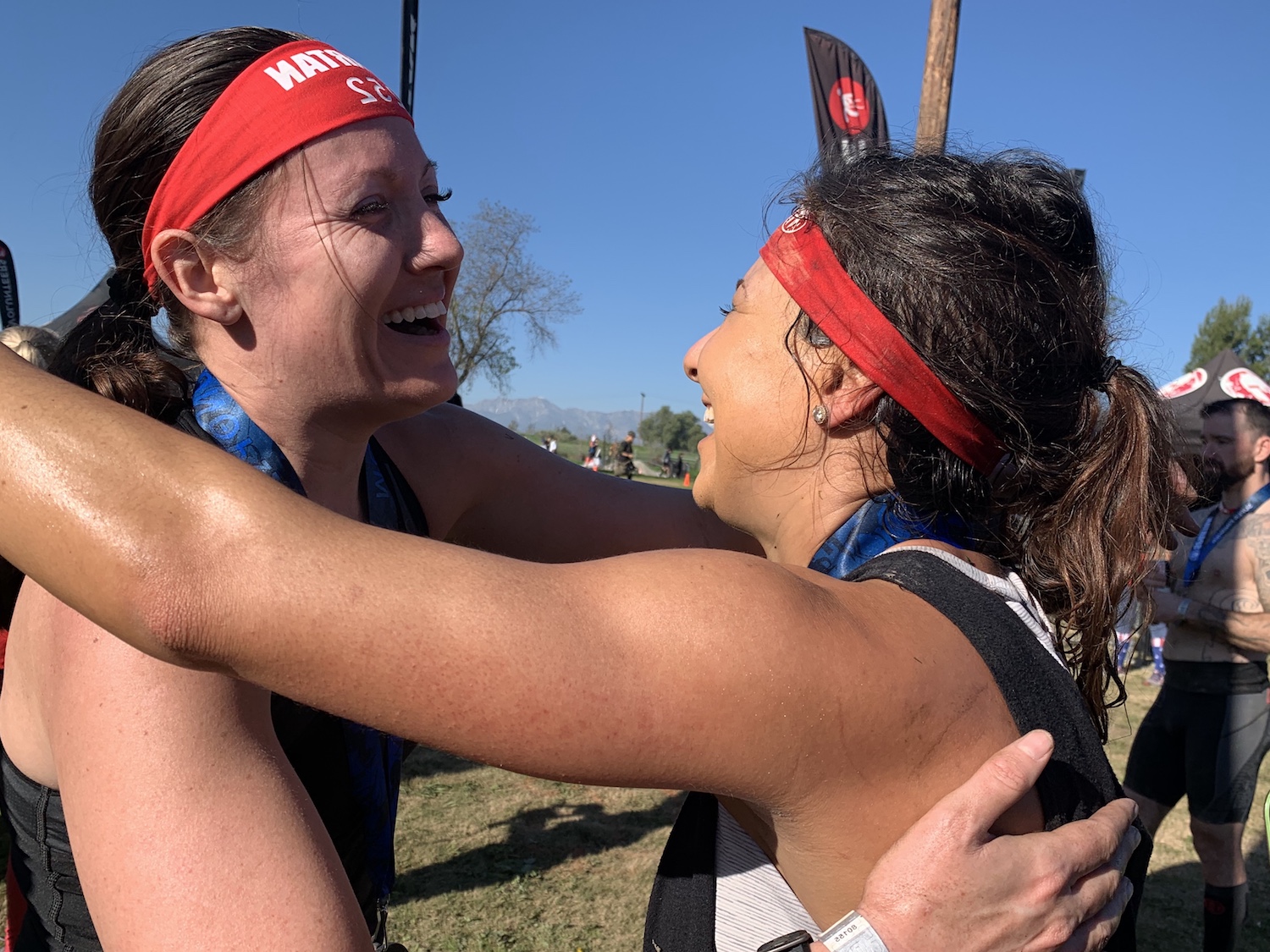 Finish line hugs with Sarah Rich of Hardkour Performance and Kimberly Grana of Fitness on Fire
At the end of the day, mud or no mud, 30 burpees or no burpees, every Spartan seemed ecstatic to be back for the 2020 race season.
Many have been training post-holidays and, as Veejay said, "You get to test your fitness." The course is challenging, but not Big Bear challenging… yet.
He added, "Water all over all of the obstacles was definitely challenging. It really showed if your strength was in line and if you're strong coming out of the off season. You get to test your running. I got a good look at where my fitness is at – I know what I need to work on and I know where my confidence lies. I was really strong on all of my obstacles – just the run game was not quite where I want it to be. Spartan in the USA is very much a running sport so – for me, I need to work on that. But this course is one of my favorites throughout the year. I always love coming out."
Keep training, SoCal Spartans and we'll see you at the next finish line!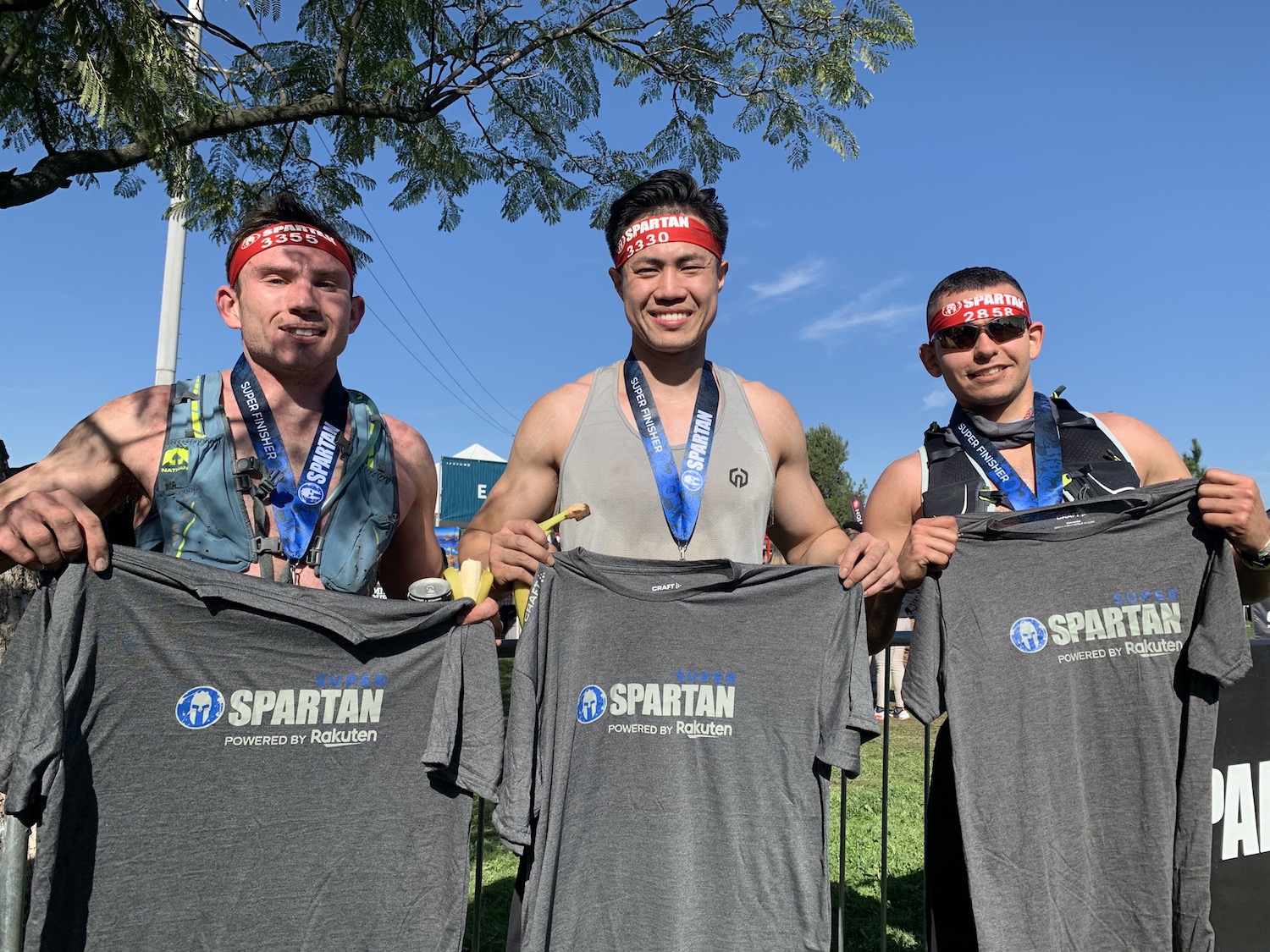 Spartans show off their medals and the new T-shirt design at the finish line!