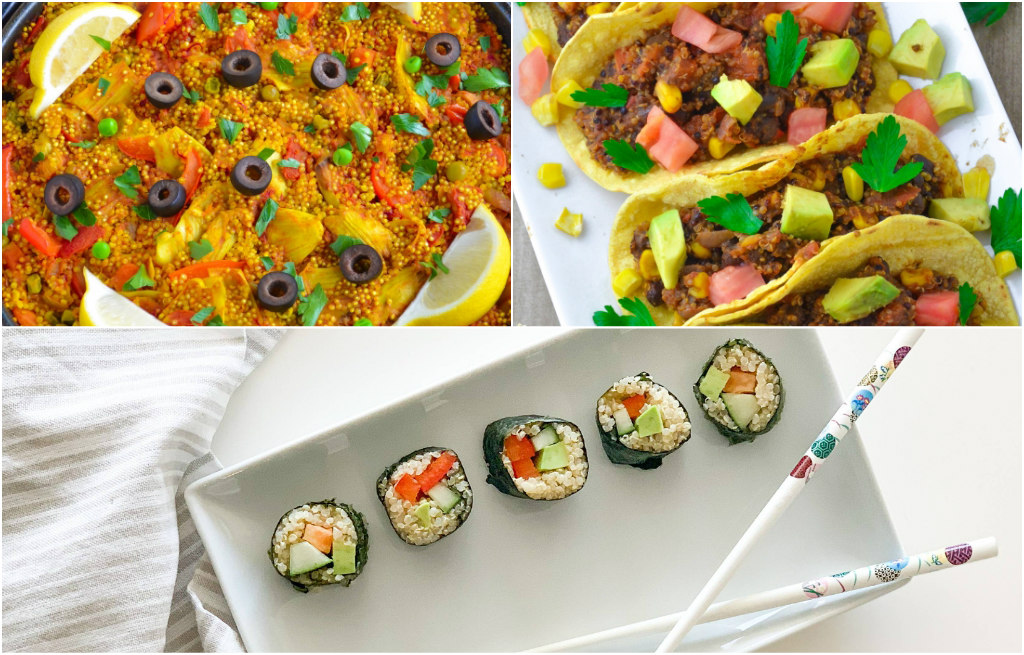 Did you know that today is National Quinoa Day?! Check out these three delicious recipes from quinoa brand Ancient Harvest to celebrate this healthy food holiday…
Quinoa Sushi
Ingredients:
¾ C dry Ancient Harvest Traditional Quinoa
1.5 C + 2 TBSP water
1.5 TBSP rice vinegar
1 TBSP Sugar
¼ tsp salt
1 large red bell pepper
2 medium to large avocados
1 large cucumber
10 nori sushi sheets
Coconut aminos, tamari, or soy sauce for dipping (optional)
Sesame seeds (optional)
Helpful Tools:
Bamboo mat (a non-stick flexible pastry mat can work too)
Sushi knife
Marinade brush
Rice paddle
Directions:
Combine sugar, salt, and vinegar in a small bowl and stir until dissolved. Set aside
In a large pot lid, combine ¾ cup Ancient Harvest Traditional Quinoa and 1.5 cups water in a pot. Bring to a boil. Once boiling, reduce heat to a simmer and cover. Cook for 15 minutes until quinoa is fluffy and translucent. Fluff with a fork and pour into a ceramic or glass mixing bowl. Immediately refrigerate.
While quinoa is cooling, wash the cucumber and bell pepper. Slice cucumber, bell pepper, and avocado into long, vertical strips. The bell pepper and cucumber strips should measure about ¼ of an inch in thickness, or a ½ an inch depending on preference.
Prepare your sushi rolling station by laying out the bamboo mat, adding 2 tbsp of water to a ramekin, place veggies in organized piles on the cutting board. Set marinade brush next to ramekin of water.
Once quinoa is back to about room temperature or cool, add vinegar mixture and stir in.
Use rice paddle to add quinoa to the nori sushi sheets, applying a generous, even layer of quinoa, leaving about an inch of space on the bottom free of quinoa to help with rolling. Use photo for reference. Leave the top 1/3 of the nori sheet free of quinoa.
Add veggie strips on top of the quinoa.
Dip marinade brush in ramekin of water and paint the water on the top edge (about an inch) of the nori so it will stick when you roll it.
Use bamboo mat to roll the nori from the bottom up to the top where the water has been brushed on.
Cut and serve! Optional: top with sesame seeds and serve with dipping sauce.
---
Quinoa Paella
Ingredients:
1 1/2 cups Ancient Harvest Traditional Quinoa
1 can chopped tomatoes
1/2 cup frozen peas
1 red pepper
1 cup chopped mushrooms
1 can artichoke hearts
1 cup chopped carrots
1 small onion
3 cloves minced garlic
3 cups vegetable broth
2 tbsp olive oil
1 tbsp tomato paste
1/2 tbsp paprika
1 tbsp saffron
optional: 1/2 tbsp turmeric
salt to taste
lemon, parsley, and olives to top
Directions:
Heat your shallow paella pan or skillet on medium heat and add the olive oil, onion, and garlic.
Add the chopped carrot and chopped pepper, along with one cup of vegetable broth.
Add the sliced mushrooms and artichoke hearts (cut those in half).
Add the peas, tomatoes, tomato paste, and stir.
In a small bowl, mix the saffron with 1-2 tablespoons of vegetable broth.
Add the quinoa to the pan, along with the saffron, paprika, turmeric, and salt.
Give the paella one last stir to make sure the ingredients are evenly distributed. After this, DO NOT stir again!
Cover the paella and cook it on high heat for 7 minutes. Then lower the heat to low/medium and cook for another 10 minutes.
Finally, remove your paella from the heat. Top with fresh parsley, olives, and lemon wedges.
---
Quinoa Tacos
Ingredients:
1 cup Ancient Harvest Harmony Quinoa
1 can black beans
1 can sweet corn
2 large chopped tomatoes
2 cups vegetable broth
3 tbsp tomato paste
1/2 onion
2 cloves minced garlic
splash of olive oil
1/2 tbsp paprika
1 tbsp cumin
salt and pepper to taste
avocado and parsley (or cilantro) to top
corn tortillas
Directions:
Heat a large pan over medium heat. Add the olive oil, followed by the chopped onion and minced garlic. Cook for 2-3 minutes.
Drain can of beans and can of corn and add them to the pan.
Add the vegetable broth, chopped tomatoes, tomato paste, quinoa, paprika, and cumin. Cover the pan and cook for 20-25 minutes, or until the liquid has pretty much evaporated.
Add salt and pepper to taste. Take off heat.
Heat your tortillas on a clean pan for 10-15 seconds on each side. Then add your taco mix to the tortillas and top with chopped avocado and parsley or cilantro.
Bon Appetit!