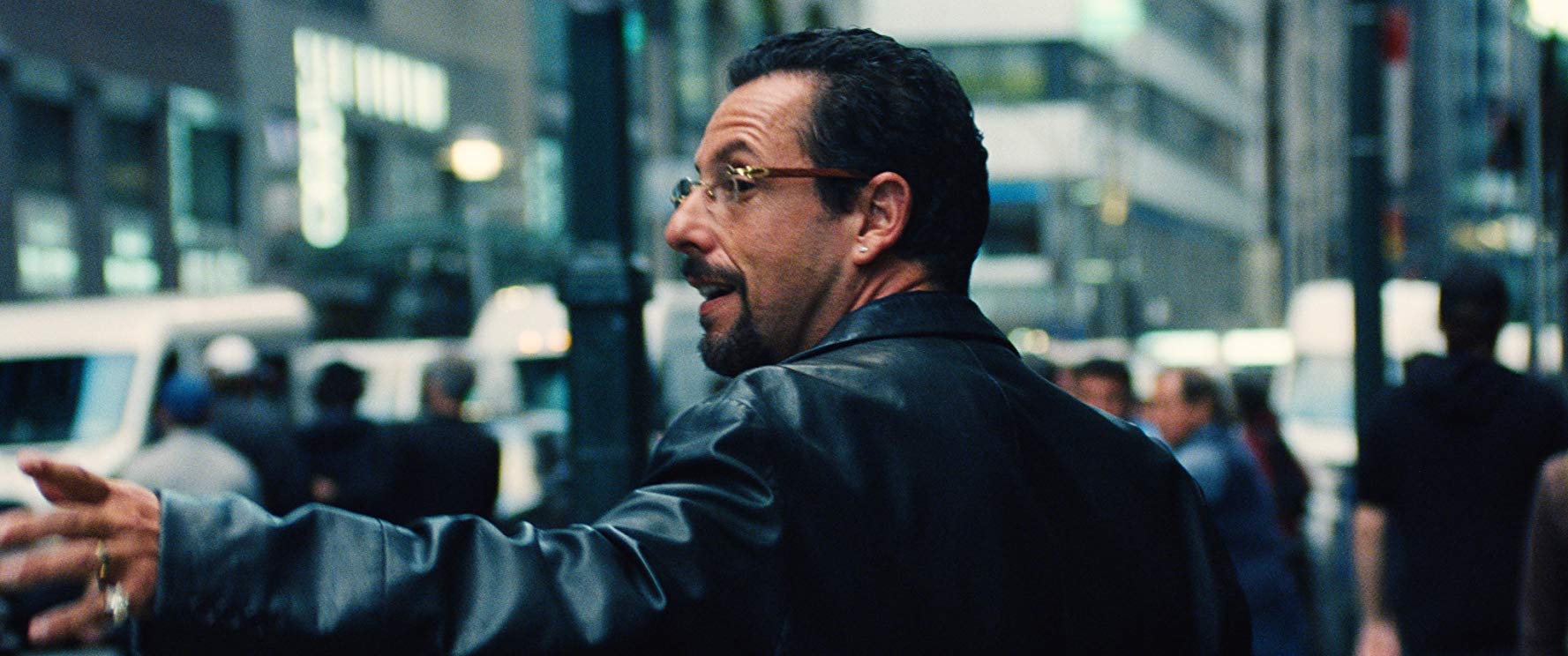 Adam Sandler delivers a sterling performance as a jeweler in the diamond district of New York whose reckless gambling gets him in way over his head in "Uncut Gems," a magnificently manic crime drama with Idina Menzel, Lakeith Stanfield and Eric Bogosian.
With their fifth feature collaboration, the fraternal filmmaking team of Ben and Josh Safdie apply their kinetic shooting style that they honed in the indie world and inch even closer toward mainstream moviemaking than they did with their last film, the gripping Robert Pattinson heist drama "Good Time." Setting their latest original work in the rarely depicted diamond district, the riveting script by the Safdies and Ronald Bronstein offers audiences a thrilling and utterly panic-inducing cinematic experience, putting us in the shoes of a degenerate gambler as he dives headlong into some absurdly risky bets. Capturing the gambler's destructive mindset with a palpable energy, the director duo's filmmaking style is as dynamic and energized as it is chaotic and stressful. What becomes abundantly clear throughout the course of this one-of-a-kind gem is that the Safdies are operating on another wavelength, and audiences will be more than satisfied with this bet if they're willing to take the risk.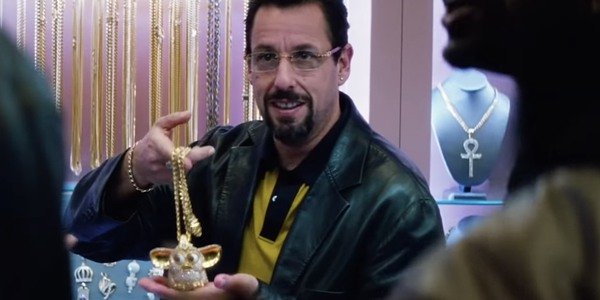 Mostly set in 2012, "Uncut Gems" centers on Howard Ratner (Adam Sandler), a jewelry store owner in the diamond district of New York. When Howard isn't spending time with his wife Dinah (Idina Menzel) and kids, he's risking everything on ridiculous sports bets, operating on a daily stress level that is nothing short of suffocating. Whether using his escort-girlfriend (Julia Fox) to reel in big fish like The Weeknd, or having his well-connected acquaintance Demany (Lakeith Stanfield) bring in athletes like Kevin Garnett, Howard has all the angles covered, and he needs every one of them to work out to get out of the red with shady loan sharks like Arno (Eric Bogosian).
When Howard receives a rare opal stone that he bought from a back channel source at an African diamond mine, it sets in motion a chain of risky gambles involving multiple people, some of whom he's already indebted to, that is both hilariously shady and positively nerve-wracking in its execution. As Howard tries to create some order to the chaos he has caused, all while keeping up with regular family obligations and dodging loan sharks, audiences are invited inside the twisted mind of a degenerate gambler who lives for the risk and couldn't stop if he tried.
With their most accomplished and well-rounded film to date, filmmakers Ben and Josh Safdie offer audiences a pulse-pounding character study of a gambling addict that brings us into their combustible mindset perhaps better than any previous gambling picture. With its propulsive energy and darkly comic tone, the Safdie brothers wonderfully capture the gambler's absurd way of life, and smartly dramatize how utterly impossible it is for someone to bring any degree of normalcy to such a reckless lifestyle. The crafty script never allows the narrative tension to let up for a moment, and the deeper that Howard falls into debt, the more he doubles down to try to get himself out of it, with the storyline achieving a trainwreck effect that is simply mesmerizing.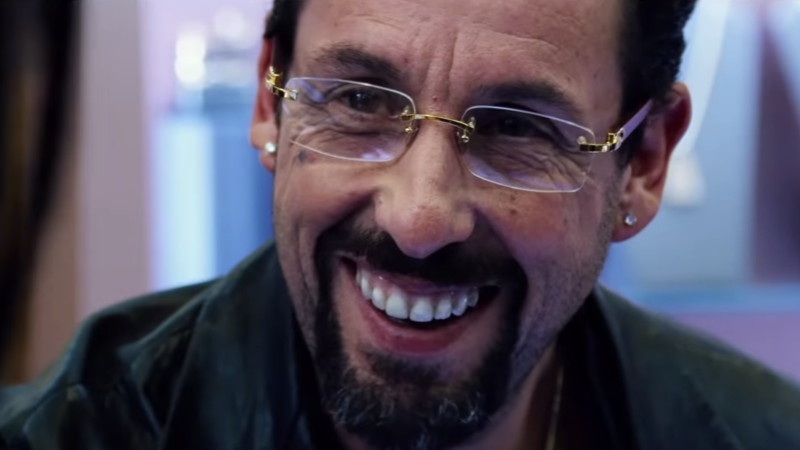 The Safdie brother's daredevil approach to filmmaking meets a perfect match in this story of compulsive gambling, and the film achieves such stress-inducing heights thanks to Adam Sandler's utterly captivating lead performance as the reckless risk-taker at the story's center. Sandler's dramatic prowess has shined through in films like "Punch Drunk Love," "The Meyerowitz Stories" and "Funny People," among others, but "Uncut Gems" proves without a doubt that the funnyman has legitimate acting chops, and they're put to extraordinarily good use here. And while Sandler's performance is hands-down the most breathtaking aspect of this production, the supporting performers also show up in a big way, with Idina Menzel standing out as Howard's frustrated wife, Eric Bogosian bringing an ample degree of menace to the role of loan shark Arno, and newcomer Julia Fox nearly stealing the show as Howard's girlfriend-employee, Julia. The Weeknd and Kevin Garnett also have some memorable cameos as a pair of Howard's dissatisfied clients.
Thanks to Adam Sandler's high-wire performance, "Uncut Gems" is a sure bet.
By Lucas Mirabella
Running Time: 134 minutes
Rated R for pervasive language, violence, some sexual content and brief drug use.
https://a24films.com/films/uncut-gems