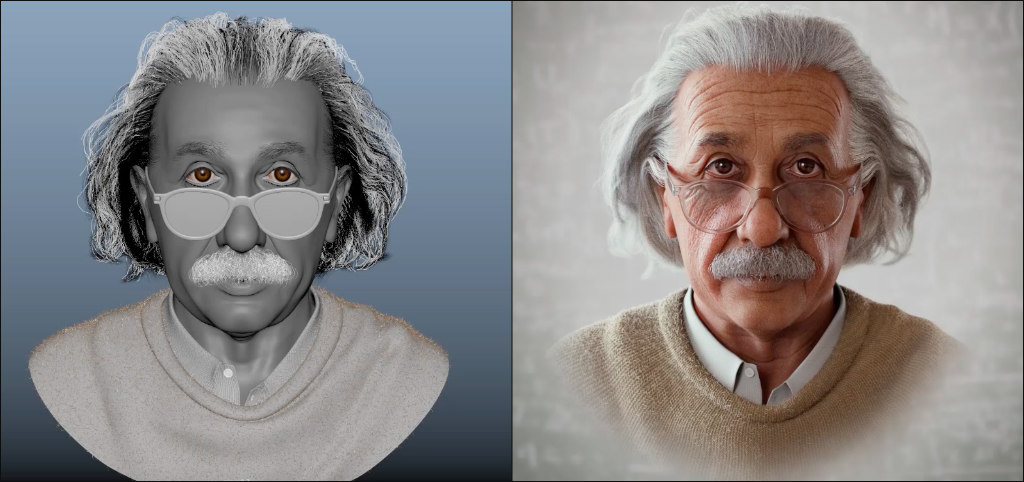 Before & After of Alexander's Einstein Rendering
3D design has always fascinated me. It can bring characters, from animals to famous people in history to life. It's like magic!
And, if 3D art is magic, then that makes Alexander Beim a magician.
Growing up, he always loved to draw. After finishing art school he worked as an artist. Eventually, he switched out the crayon and brush for a computer mouse after discovering his love for working with computers and digital 3D art.
In 2002, he founded the LotusArt Studio. The team consists of a network of graphic designers, animators, video and compositing operators who have turned their passion into a career.
They create photo realistic visualizations, professional animations and CG characters. Everything looks real, right down to the lines on a character's skin and even the strands of their hair. Alexander's company creates virtual avatars, character rigging, facial animation, lip sync, Hair Dynamics, fur, as well as clothing with Cloth Simulation in photo-realistic representation.
With detailed precision, Alexander brought Albert Einstein back to life for the 2019 Daytime Beauty Awards, which honors science behind beauty. The audience was in awe as Einstein greeted them, speaking and making eye contact. He matched a voice over to Einstein's speaking gestures, so it was as if he was speaking in real time. So, how does it work?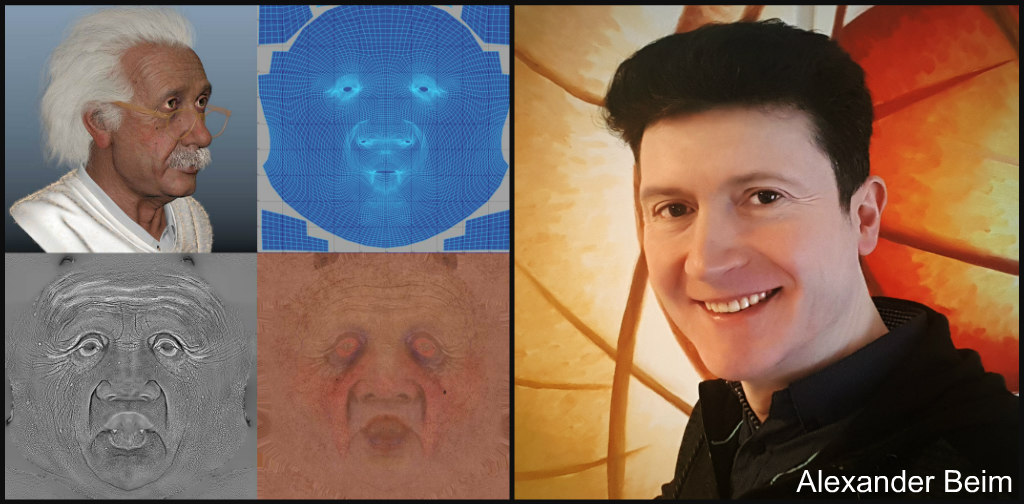 Alexander and his team use a Zbrush. They first create a 3D concept for a character and they can tailor it to the customer's request. People, animals, fantasy creatures, etc. They can also create a 3D model from your 2D concept.
The Retopology process begins. Retopology is the act of recreating an existing surface with more optimal geometry. After the model is created with Zbrush, it must be reduced with as little loss of details and form in order to animate it later with computer services.
Time for color! The previously gray 3D model is filled with color. Fine details such as pores or fabric structures are created as a texture. The color map is created in Zbrush as PolyPaint or texture painting program.
Voila! Albert Einstein himself….
Alexander and his Lotus Art team work with clients from all around the world, creating everything from 3D babies to animated flying dinosaurs! To see more of his magic, visit: https://lotusart.de