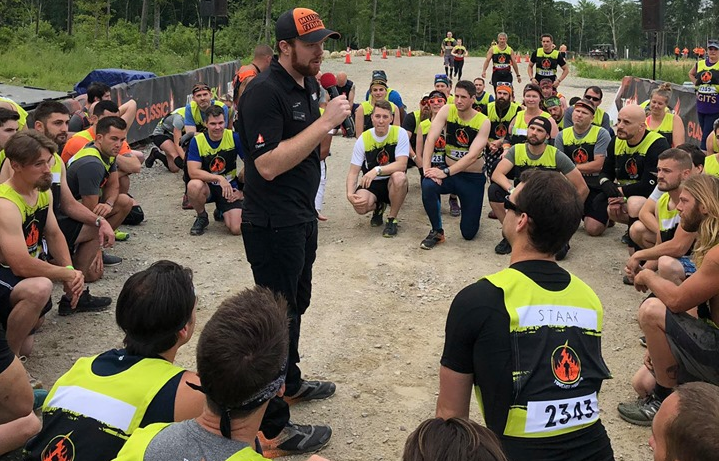 Tough Mudder CEO Kyle McLaughlin leading a pep talk pre Tougher Mudder
Although the first known 'obstacle course racing' (OCR) event took place way back in 708 BC at the 18th Ancient Olympiad, the sport is actually considered to be relatively new when it comes to gaining recognition amongst the mainstream public. Sure, there was the Tough Guy OCR in the late 1980's, but it wasn't until Tough Mudder and Spartan Race came along when people started comprehending and understanding what a "mud run" is.
Still trying to find its place in the competitive and recreational sports world, OCR has a long way to go. But it's kingdoms like Tough Mudder who have made it their mission to introduce OCR to the everywoman and everyman.
Obstacle racing enthusiasts are always curious what Tough Mudder will unveil every race season. After ending purse prizes for competitive waves, the organization is catering more to the weekend warrior and helping those with weightloss goals to transform through a Tough Mudder journey.
"Over the past 10 years we've worked to make Tough Mudder more accessible to people with different backgrounds and fitness levels. By opening that door, more people can now use the Tough Mudder experience to help transform aspects of their lives," Tough Mudder's CEO Kyle McLaughlin told me.
Ever-expanding and constantly evolving, Kyle sat down with LATF to talk all things Tough Mudder, its future and the path they are taking to inspire the masses…
In the grand scheme of sports, Obstacle Course Racing (OCR) is a fairly new sport and Tough Mudder is one of the leaders in the industry. How is the TM brand evolving as the sport evolves?
KYLE: I don't see what we do at Tough Mudder as a sport. A human experience, a fitness challenge, a festival of courage and accomplishment would be more appropriate descriptors. Sports have winners and losers, rankings and scores—and for the most part, that's not what we're about. That notion of not being in a competition—but being part of an extreme challenge that pushes you outside your comfort zone and past your own physical limits, with the support of a team that you bring or meet, has been core to our brand identity since day one.
We're inspired by the new audiences we've been able to reach–from the thousands of companies that are forming stronger teams through our corporate teambuilding program to the hundreds of charities who are looking for a new platform for teams to take on a challenge together for a great cause.

Justin Nucum, Pamela Price, Tony Maher, Georgis Tzortzakis of Hardkour Performance
There were some changes in the competitive Tougher Mudder event. What do you see in the future for TM's competitive categories as opposed to the general waves? With new rules and regulations?
KYLE: Recently we made some changes to our more extreme endurance events (Tougher, Toughest and World's Toughest Mudder), allowing anyone who has the fortitude to take on these challenges the opportunity to do so. This was a big step in getting back to our roots—focusing on delivering an incredible experience for the whole vs the few. It also creates an experience where the world's top extreme endurance athletes toe the line with participants who are doing their first ultra-event, helping each other achieve their own individual goals. For us, these events are another step in the journey that many of our customers take to conquer the next goal in front of them.
In 2017, I spoke with Will Dean who told me "One thing I believe that Tough Mudder has always stood for and conveyed is that we're authentic. I'd never want to lose that just because someone said we should expand." How does TM remain authentic?
KYLE: Will was spot on, and that principle sticks with us today. We try not to take ourselves too seriously. We're not afraid to try things and fail, admit when something hasn't gone as planned and pivot to change. At the end of the day, we're a customer experience company, and crafting an authentic experience is done best when you engage your team & community and empower them to take ownership over the experience.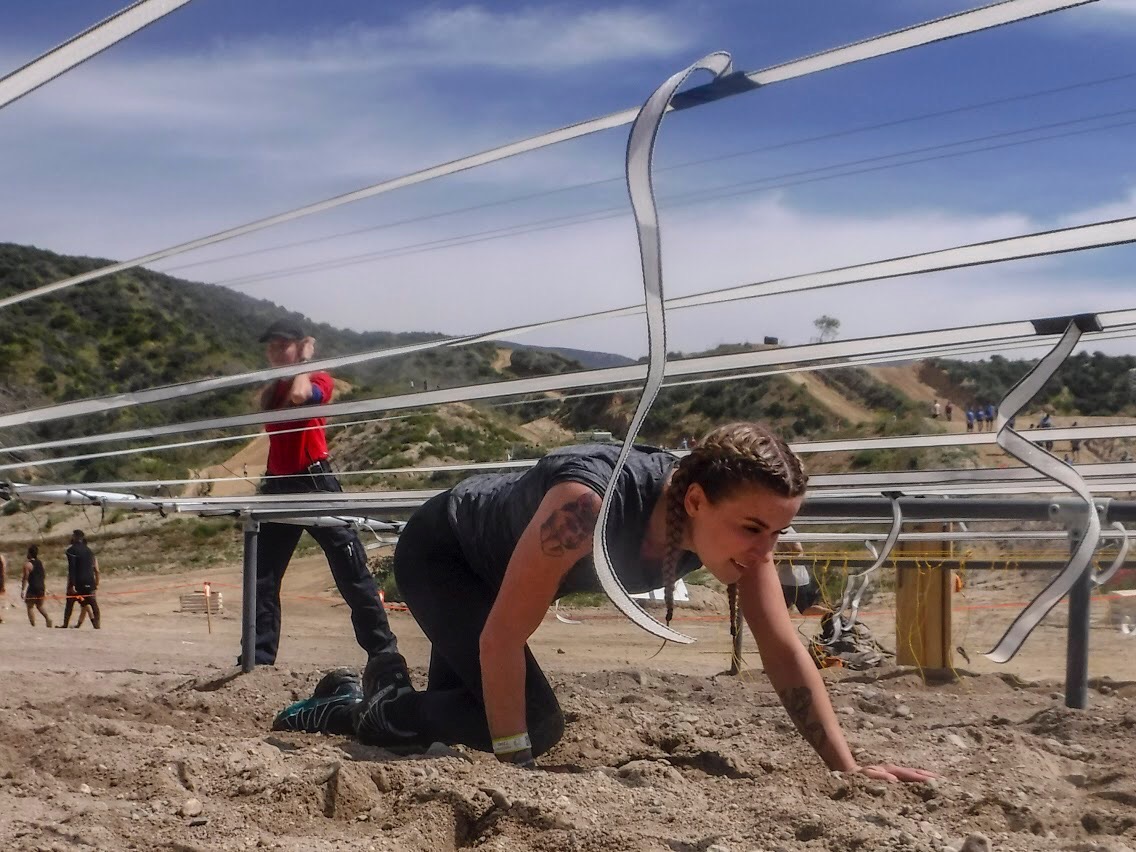 Photo by Tony Maher / Agne of Team Hardkour Performance at SoCal Tough Mudder
I tried the new 2019 obstacles at the 1st SoCal 2019 Tougher Mudder in April. I loved the balance challenge with Black Widow and Leap of Faith. With electrocution based obstacles such as Entrapment, is there ever any concern for racers? Will you continue to allow the public to vote and help design obstacles in the coming seasons?
KYLE: I can confidently say that we deliver some of the most unique and engaging obstacles in the business—experiences that encourage you to face your fears, to challenge your physical abilities and your senses. Several of our competitors in the OCR industry have stripped down their "obstacles" over time—and customers are getting tired of paying big registration fees to just carry heavy things over and over. Our electrified obstacles are a great test of courage and overcoming your fears—and they're engineered to be safe. We take safety very seriously, and strongly advise people who might have an adverse reaction to an electric obstacle (pacemaker, metal in the body, history of seizures or epilepsy) to bypass it. We have a great slate of obstacles in development for 2020, and starting next year we'll be rolling out new obstacles and on-course features with more frequency within a season.
Do you think OCR will ever make it to the Olympics? If so do you think TM will find a way to be involved?
KYLE: There's much advocacy and work being done by Spartan and others to have OCR included the Olympic Games. I think that's great for them—and they've aligned their events to be more standardized and formulaic to support that sport narrative. Tough Mudder is about human experience, about teamwork, about innovation, the unconventional, and about overcoming obstacles and being tougher together. I'd love to see Spartan succeed in their goal of getting OCR into the Olympics, but we're happy to focus on offering inclusive challenge experiences that don't fit a standard formula for all athletes—not just the ultra-elite.
With the 5k addition, will we see any new distance additions in the future?
KYLE: We've been really energized by the response to the 5k—bringing a whole new audience of Mudders into our community. We've got some exciting new products in development, some of which will launch in 2020… stay tuned.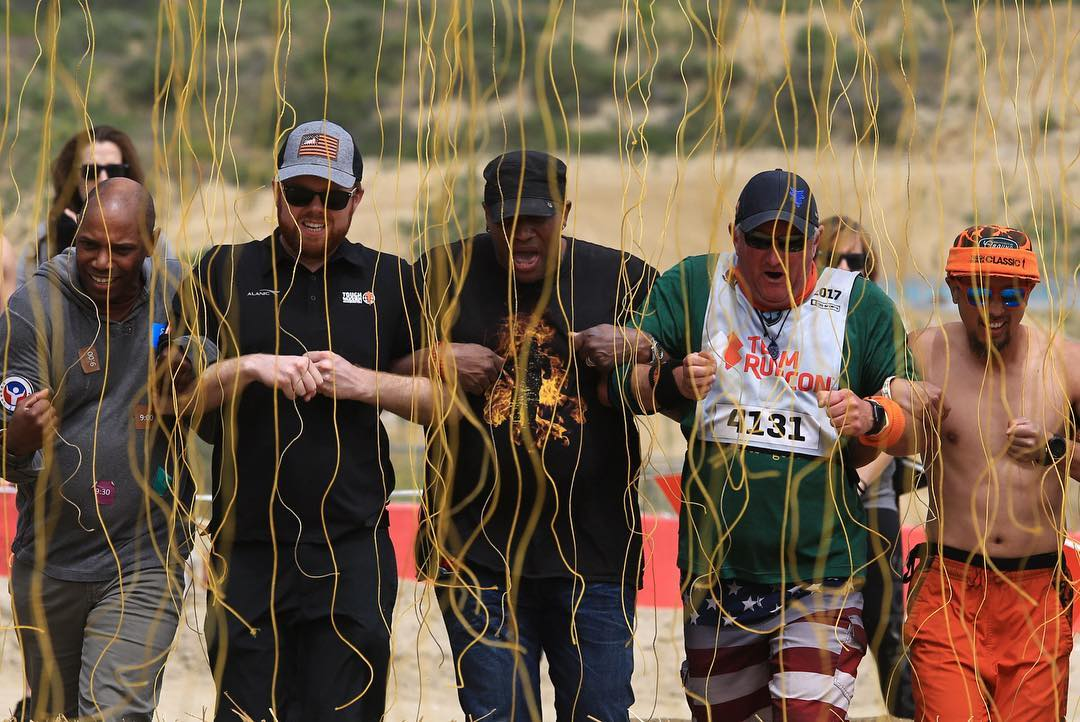 Kyle McLaughlin showing teamwork through the Electroshock Therapy obstacle