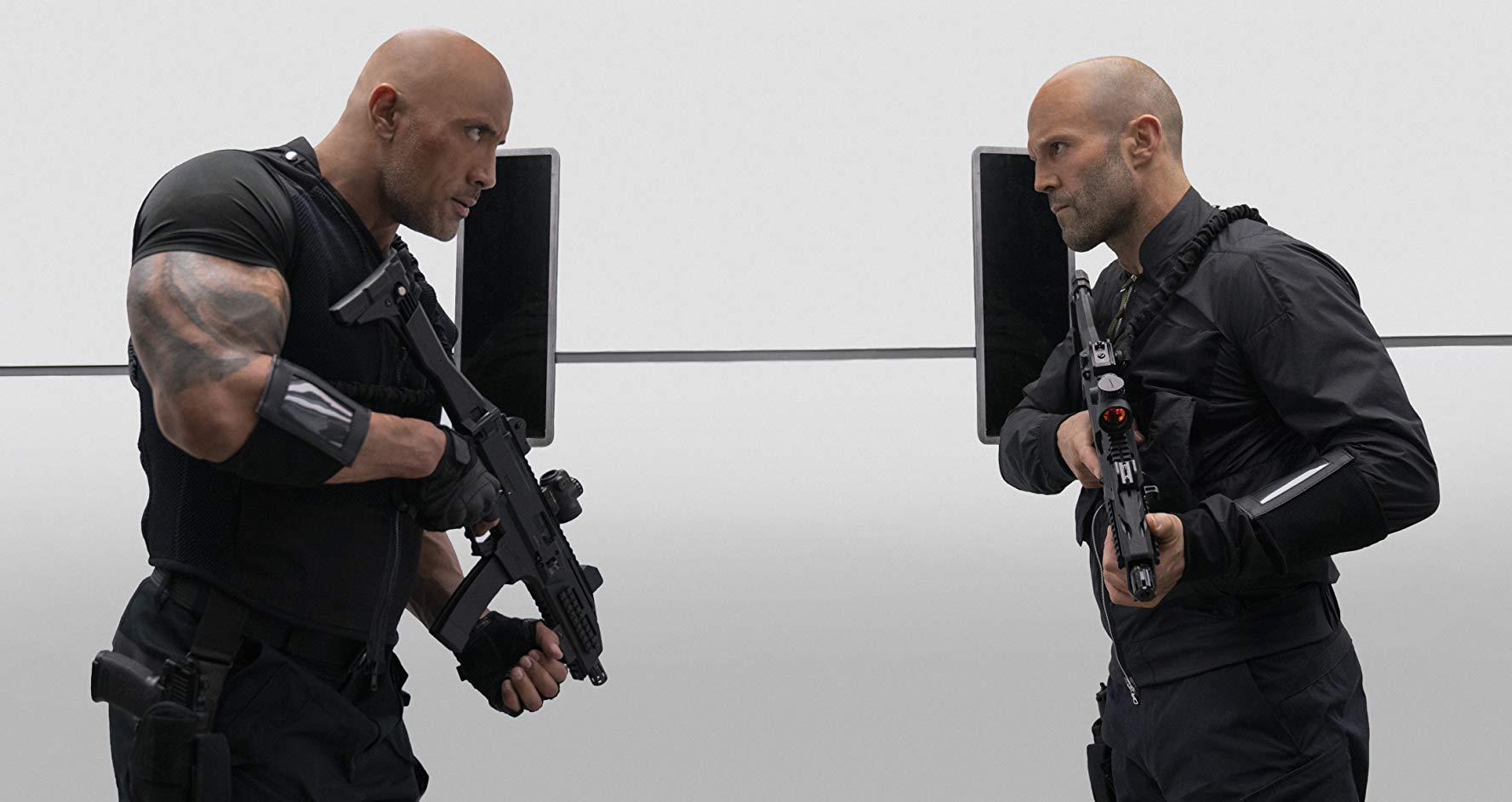 For the first spinoff in the multi-billion dollar "Fast & Furious" franchise, two of the series' biggest trash talkers are gifted with their own film as Dwayne Johnson and Jason Statham put aside their considerable disdain for each other to join forces in stopping an anarchist from spreading a world-ending virus in "Hobbs & Shaw," an action extravaganza that is more frivolous than furious, costarring Idris Elba, Vanessa Kirby and Helen Miren.
Coming off some impressive directorial work with last year's "Deadpool 2" and "Atomic Blonde" the year prior, director David Leitch calls upon his past experience as a stuntman and coordinator to stage some monumental action scenes that are in keeping with previous installments, and are as ridiculous as they are enjoyable. But on the whole, aside from some playful tough guy banter between Johnson and Statham that earns plenty of laughs, the script co-written by "franchise architect" Chris Morgan and Drew Pearce ("Hotel Artemis") is a hodgepodge of stale action movie scenarios and clichéd bad guys that doesn't bring anything new to the fore. Still, with the addition of multiple new characters, some memorable cameos, and a globe-spanning storyline that allows the bickering title characters to flex their muscles in crazy fight scenes on multiple continents, "Hobbs & Shaw" is enough of a diversion to please those looking for a summertime spectacle.

To refresh, in the "Fast and Furious" franchise, Dwayne Johnson, who first appeared in "Fast Five," plays Luke Hobbs, a no-nonsense lawman for the Diplomatic Security Service (DSS), while Jason Statham plays Deckard Shaw, a British Special Forces assassin-turned-mercenary. These two characters have gone to battle twice now, in "Furious 7" and "The Fate of the Furious," with Shaw getting the worst of the exchange, landing in prison after the sparring partners' last encounter. But now, a cyber-genetically enhanced goon by the name of Brixton Lorr (Idris Elba) has obtained an insidious virus that he plans to use against mankind, and Hobbs and Shaw are called upon to put aside their differences and stop the anarchist at once.
Although Hobbs and Shaw make some inroads in their attempts to subdue Lorr, the plan is complicated by the involvement of Hattie (Vanessa Kirby), a rogue MI6 Agent and also Shaw's sister, who catches the brunt of the anarchist's evil doings. While Hobbs and Shaw cross the globe in their efforts to put an end to the anarchy, getting help from some colorful characters along the way, their adventures take them from LA and London to Chernobyl and Samoa.
With his first entry in the "Fast & Furious" franchise, director David Leitch continues to prove, as he has done ever since his first (uncredited) directorial work on "John Wick," that his talents in the action arena are second to none, as he stages breathtaking sequences that somehow manage to be both outrageous and mesmerizing all at once. And while the emphasis in these films is always on the action, Leitch also exhibits an adeptness with the storyline's comedy as well, scoring a lot of laughs from the braggadocious tough guys at the story's center. However, there is only so much boastful smack talk and muscled up action sequences an audience can take before things start to grow tiresome, and with the exception of a memorable showdown in Hobbs' native Samoa, the repetitiveness of the endeavor began to numb my brain around the midpoint. Jonathan Sela's frenetic camerawork and Christopher Rouse's rapid-fire editing helps in keeping the action moving forward, but it's almost to a fault, as there is so much to take in at once it can be overwhelming at times.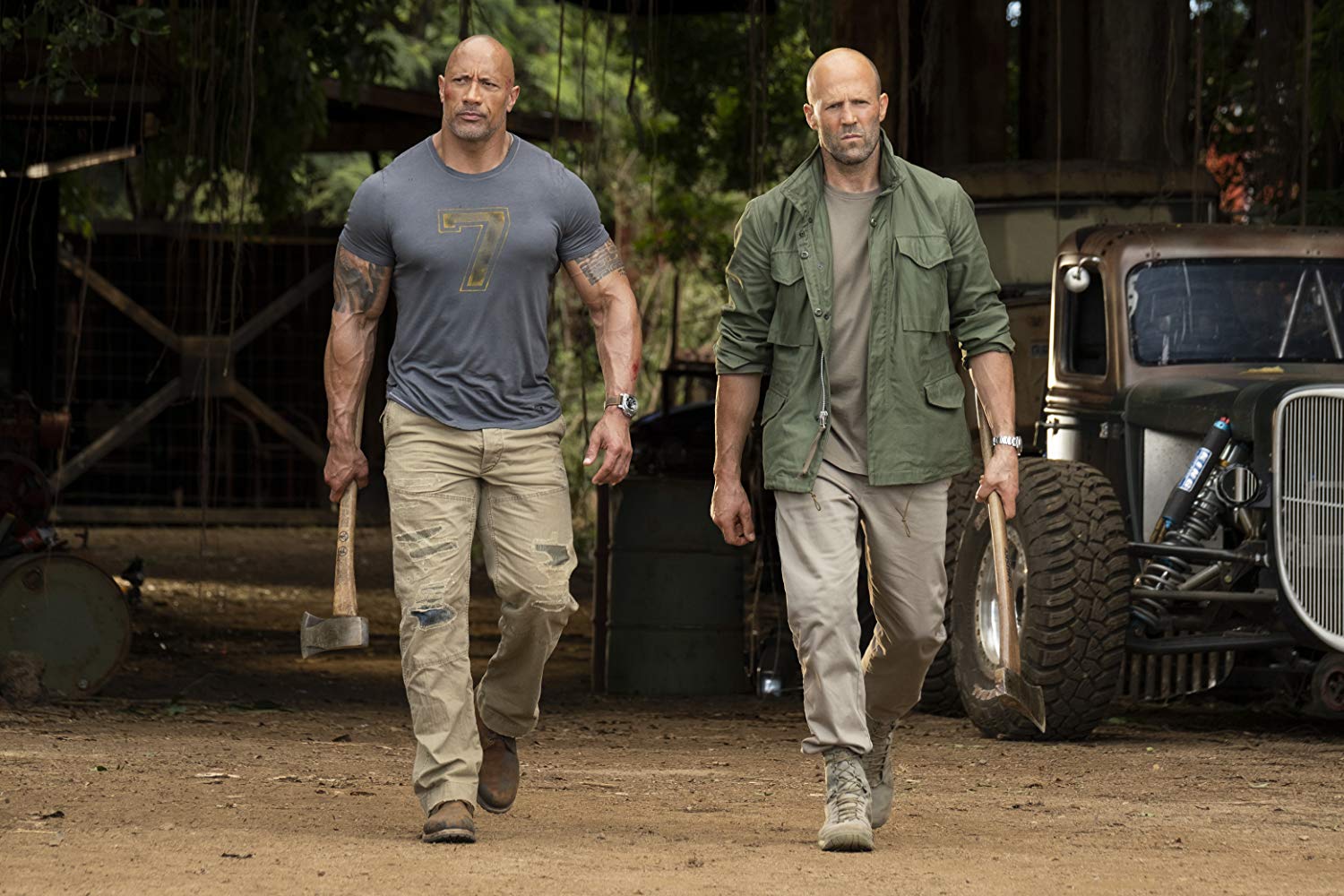 Reprising their roles as the title characters, Dwayne Johnson and Jason Statham slip right into their charming tough guy roles, and while this is far from new territory for the actors to explore, they are as watchable as ever as they go about their action hero charades for yet another chapter. Supporting characters are largely one-note, though Helen Mirren makes a welcome return as Shaw's mother Magdalene, while Vanessa Kirby ("Mission: Impossible – Fallout") continues to strengthen her action bonafides playing Shaw's wily sister Hattie. Idris Elba also succeeds in eliciting the full diabolical nature of his character Brixton Lorr, even if the role itself is beneath him given its one-dimensionality, while Cliff Curtis is a winning presence playing Hobbs' Samoan brother Jonah.
"Hobbs & Shaw" would never be confused with a good movie, but its commitment to insane action sequences will probably be enough to satisfy summer moviegoers.
By Lucas Mirabella
Running Time: 135 minutes
Rated PG-13 for prolonged sequences of action and violence, suggestive material and some strong language.