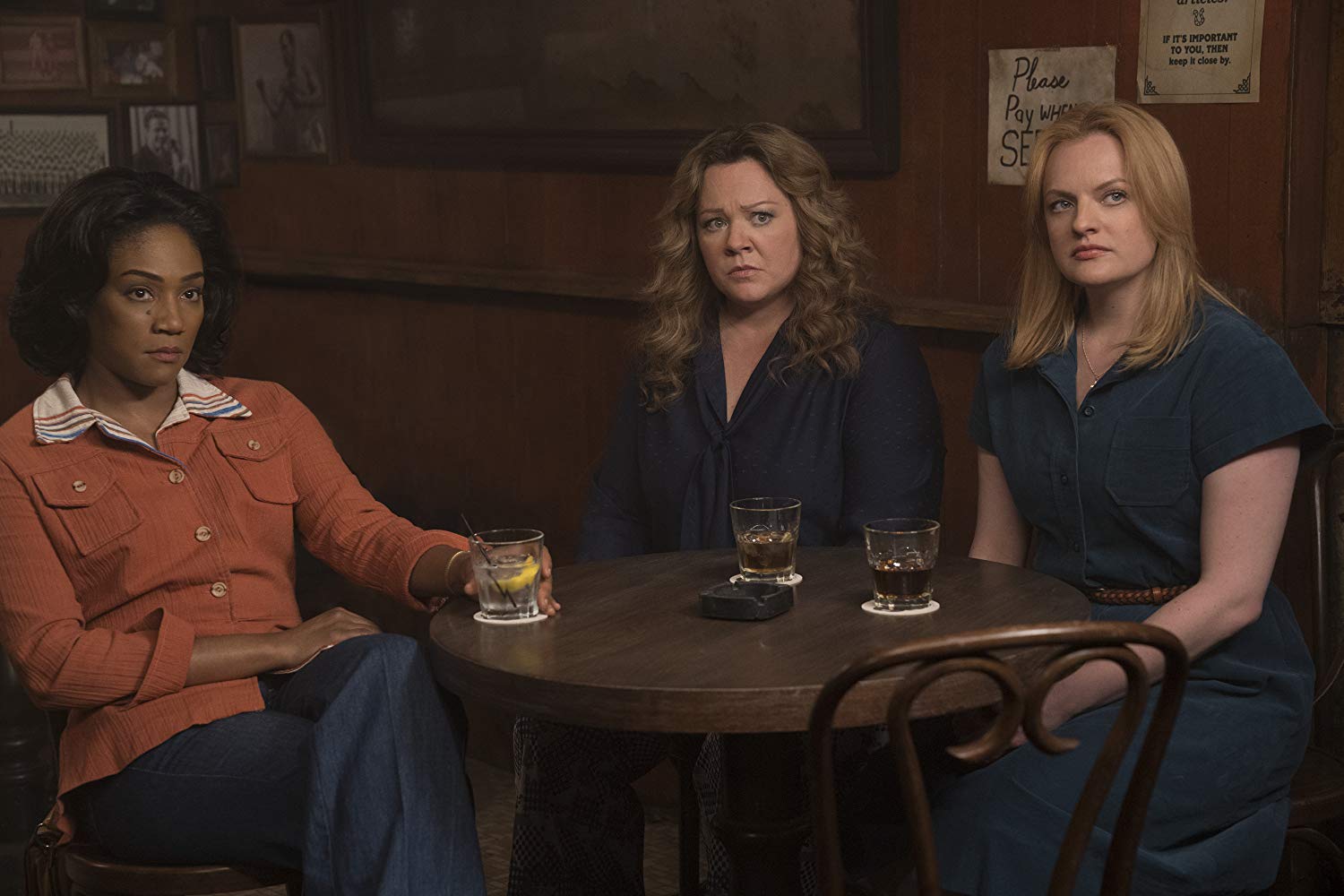 Melissa McCarthy, Tiffany Haddish and Elisabeth Moss team up to play a trio of mob wives in 1970s New York City who take over their husbands' business after they get locked up by the FBI in "The Kitchen," a bland crime drama that's all style and no substance.
Based on the DC Vertigo comic book series by Ollie Masters and Ming Doyle, this laborious gangster pic features a likable cast playing hard-edged women struggling to survive in a mobbed up man's world, and while the gritty setting and 70s milieu is outwardly appealing, there is an undeniable hollowness to the characters and overall storytelling that mars the film from the start. With her directorial debut, writer-director Andrea Berloff squeezes in a few moments of genuine suspense, along with some gallows humor and over-the-top violence, but the by-the-numbers mafia tale and artificial atmostphere make this production feel like a fugazi instead of the real deal. Some decent camerawork from director of photography Maryse Alberti and a memorably dark turn by Elizabeth Moss notwithstanding, this amateurish production tries to overcompensate for its thin depiction of the 70s mob world with enthusiasm, but it can't conceal the fact that there's just not much here to latch onto as a moviegoer.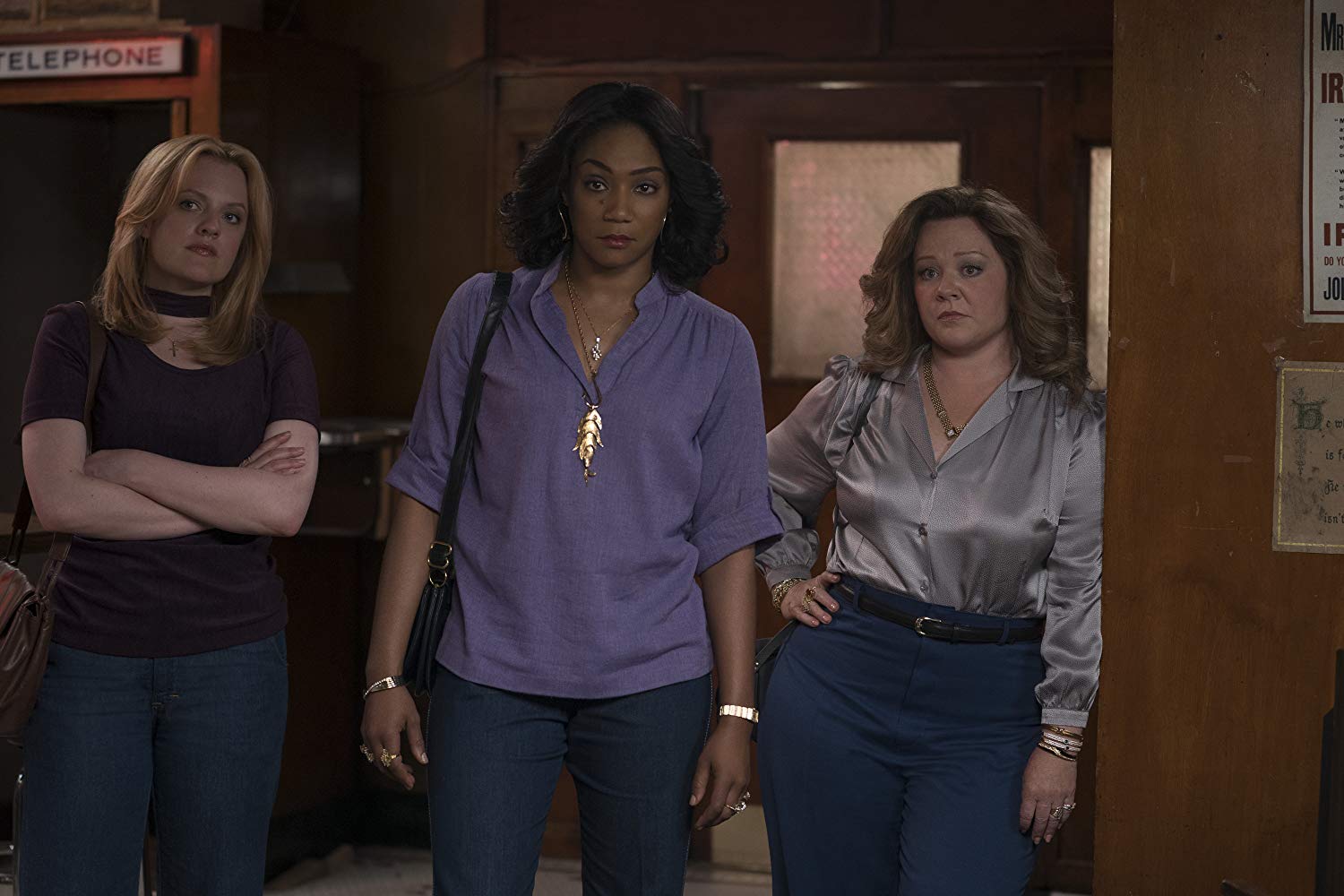 Set in the Hell's Kitchen district of New York City in 1978, a seedy neighborhood run by the Irish mafia, the film centers on Kathy (Melissa McCarthy), Ruby (Tiffany Haddish), and Claire (Elizabeth Moss), three wives united by their mobbed up husbands (Brian d'Arcy James, James Badge Dale and Jeremy Bobb). When their husbands are thrown in prison due to a robbery gone awry, the trio of mob wives find themselves in dire straits. Hoping that they'll being taken care of by their husbands' gang, the girls soon learn that the money coming to them is nowhere near what they expected. Rather than sit back and let their fates be decided for them, the wives decide to take matters into their own hands and take over the neighborhood mob business.
Of course, seizing control of something as male-driven and violence-oriented as the Irish mafia is no easy task, and while the women make strides on their own, they're also helped by a hitman named Gabriel O'Malley (Domnhall Gleeson) who, among other things, teaches the women the finer points of carving up a body. But with a business as ruthless as this one, trouble is always around the corner – in this case, in the form of a cunning FBI agent (Common), a prickly mother-in-law (Margo Martindale), a Brooklyn Mafioso (Bill Camp), and a whole lot of treachery on all ends.
Given the one-dimensionality of the world depicted and the characters populating it, it is unsurprising that the film was adapted from a comic book, as most of the proceedings feel far-fetched in almost every regard, from the cartoonish characters and strained dialogue to the oppressively gritty setting and hyper-violent narrative. If writer-director Andrea Berloff had intentionally taken this exaggerated approach to her depiction of the 70s mob world, the overall film would be infinitely more entertaining, as the audience could enjoy the tongue-in-cheek nature of the excess. Unfortunately, the storyline is so intent on being a down and dirty mob pic, and presenting the three women as these supremely badass symbols of female empowerment, that the whole affair comes across as far too grim to enjoy. And while the director of photography Maryse Alberti and the production and costume design team do a sterling job in recreating 1970s New York in all its grime and grit, it's not enough of a saving grace to vouch for these mob wives.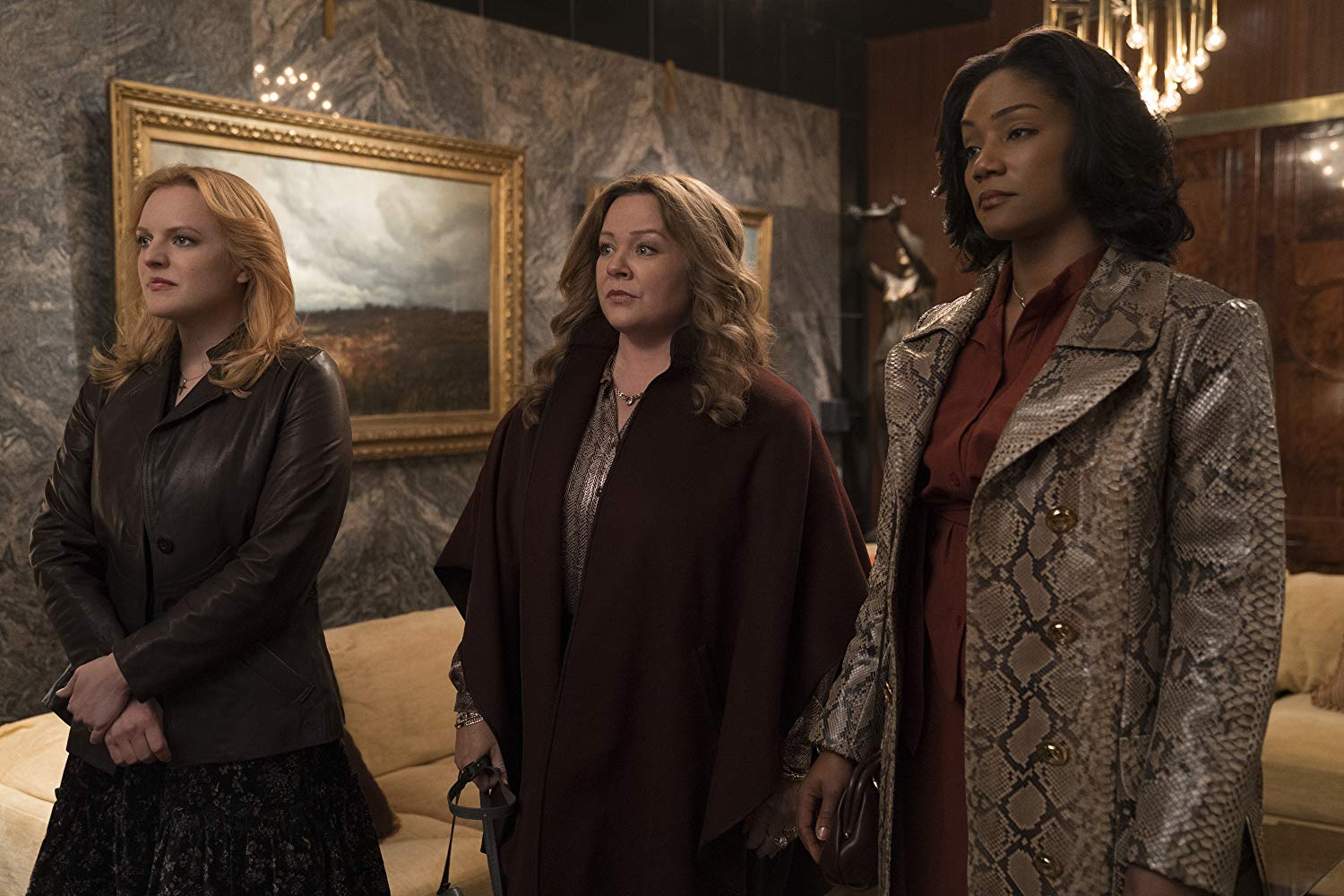 The acting of "The Kitchen" is not particularly good, and much of this can be chalked up to the aforementioned tonal issues that plague the proceedings. Melissa McCarthy lends her kingpin character Kathy an appropriate authoritativeness, and Tiffany Haddish plays her no-nonsense Ruby with similar attitude, but their efforts are sabotaged by the silly storyline, making them appear more absurd than empowered. As the battered woman who finally gives in to her violent impulses, Elisabeth Moss is easily the best and most believable element in the mix, though she too is hampered by a thin romantic subplot between her and Domnhall Gleeson's contrived hitman Gabriel.
If you're looking to feast your eyes on a quality mob flick, you'll have to look elsewhere, as there's nothing of substance in "The Kitchen."
By Lucas Mirabella
Running Time: 102 minutes
Rated R for violence, language throughout and some sexual content.