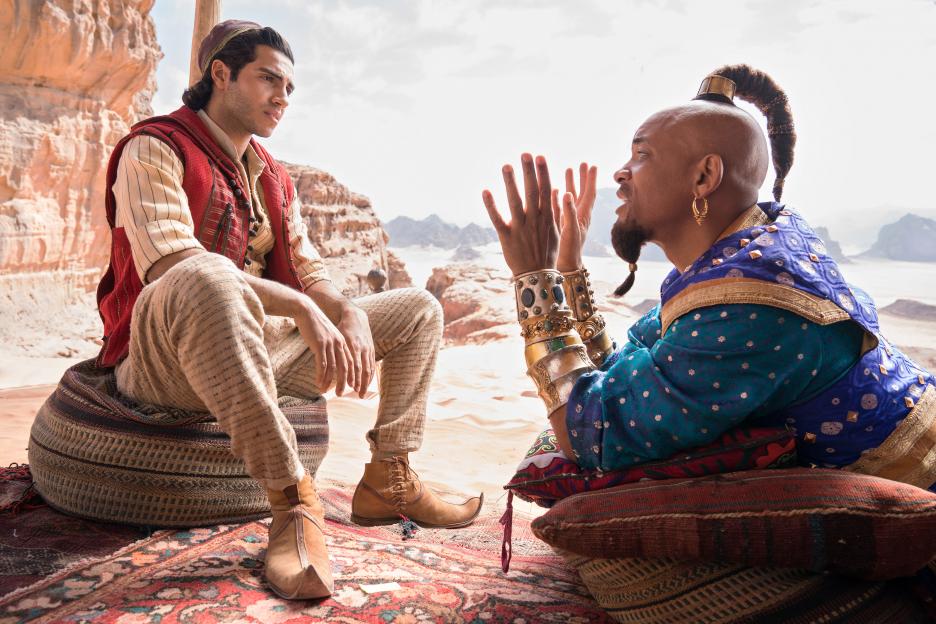 When a film studio decides to remake a hit film or adapt a bestselling novel for the silver screen, they take a major risk. There is already a built-in fan base that can't wait to compare and contrast it to the original product. Over the past several years, Walt Disney Studios has been the big risk taker in Hollywood; rebooting classic animated movies in live action form. From "Maleficent" to "Cinderella" and "Dumbo;" some have been well received while others… not so much. But Disney's latest venture of "Aladdin" is quite possibly their best revamp yet.
Twenty-seven years after the animated release, director Guy Ritchie breathes life back into the wonderful adventure and love story of Aladdin and Jasmine. With a stellar all-star cast including Will Smith (the Genie), Mena Massoud (Aladdin), Naomi Scott (Jasmine), Marwan Kenzari (Jafar) and Navid Negahban (Sultan), "Aladdin" keeps all of its original charm, while adding even more entertainment value with incredible special effects, production design, costumes, choreography and new original music.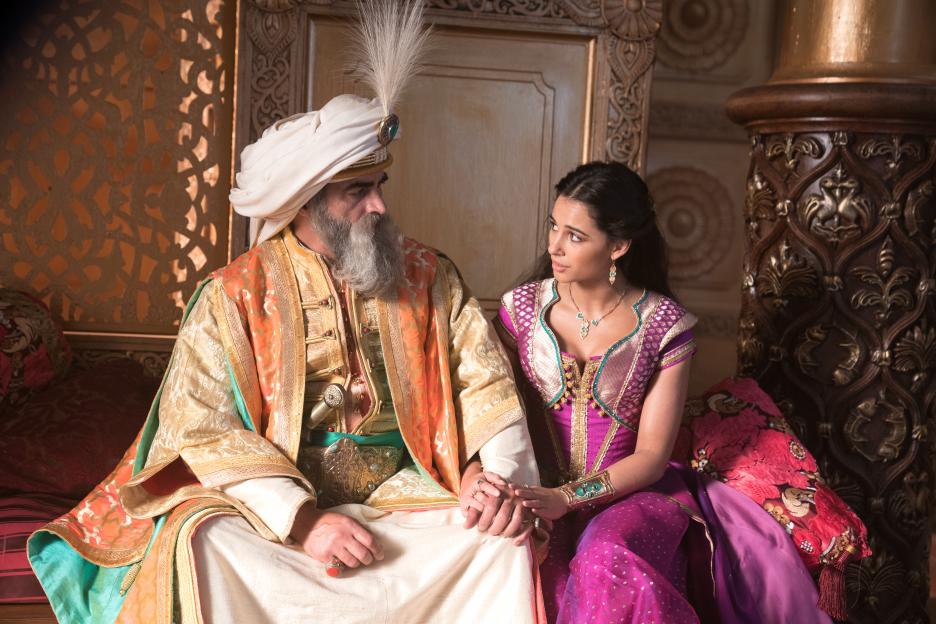 The 1992 animated film was loosely based on a Middle Eastern folktale from "One Thousand and One Arabian Nights." The courageous and self-determined Aladdin (Mena Massoud) is living on the streets of Agrabah where he and his sidekick monkey, Abu spend their days stealing to make ends meet. One day, he meets Princess Jasmine (Naomi Scott) who is disguised as a commoner. The connection is instant and both Aladdin and Jasmine fall for one another. Unfortunately, their polar opposite backgrounds of rich and poor would never allow them to be together. Meanwhile, at the palace, Jafar (Marwan Kenzari) the advisor to the Sultan (Navid Negahban) is plotting to takeover the throne. Jafar convinces Aladdin to risk his life in order to capture a magical lamp, which will allow him to make three wishes. When things go awry, the lamp ends up in Aladdin's possession, the almighty Genie appears and his life will never be the same.
The challenge of adapting an animated film to live action, is adding more depth to the screenplay. Co-writers, John August and Guy Ritchie were successful on all fronts. Each character had a well-rounded story line with heart and even a surprising amount of humor. As an example, where the Sultan had few words in the cartoon version, August and Ritchie created a much more dynamic role; emphasizing the father-daughter bond between Jasmine and her father.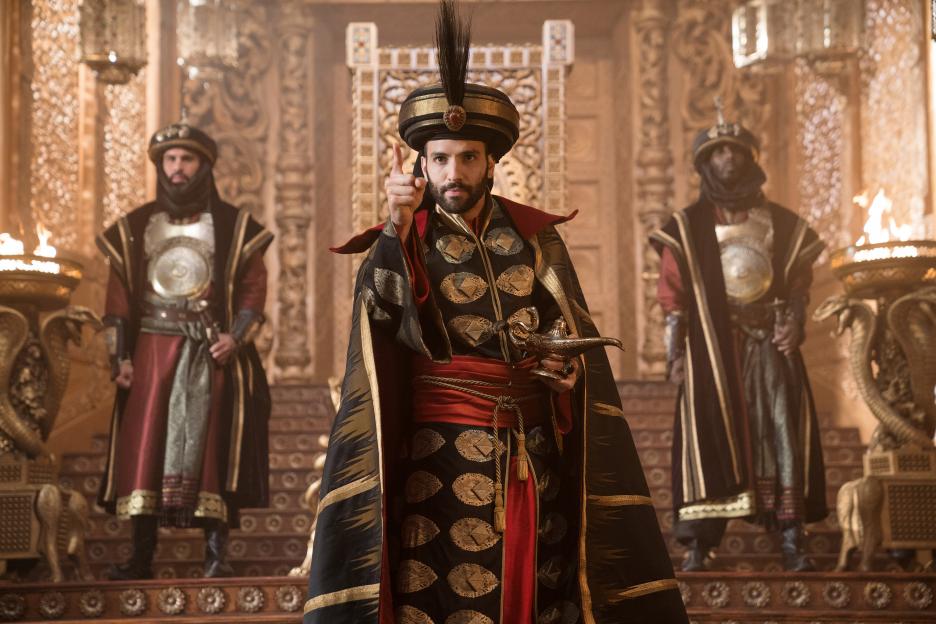 Actor Navid Negahban gave an outstanding dramatic performance throughout the film. Breakout stars Mena Massoud and Naomi Scott were perfectly cast as Aladdin and Jasmine. Their chemistry is palpable and their vocal performances are top-notch. With natural star quality, both Massoud and Scott have a long career ahead of them.
With big shoes to fill, Will Smith brought an entirely new energy to the role of the Genie, who was previously voiced by the legendary Robin Williams. Smith brings a unique pizazz to the character, deftly creating his own version. Nasim Pedrad (Dalia) and Billy Magnussen (Prince Anders) are absolutely hilarious in their supporting roles as the handmaiden and doofus Prince.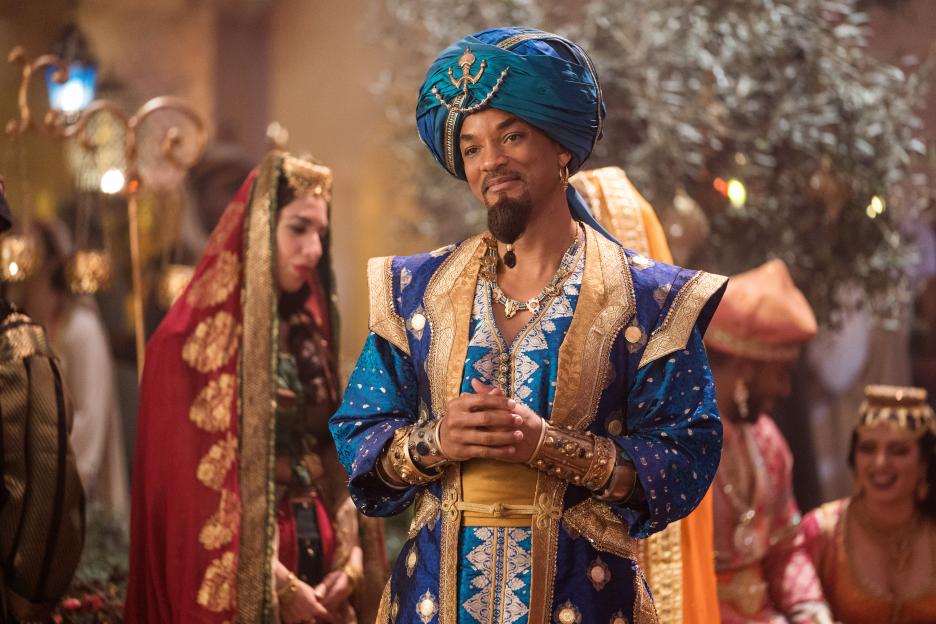 Of course, with every fairy tale there is a villain. Dutch actor, Marwan Kenzari, whom we've seen in "The Mummy" and "Murder On The Orient Express," is fantastically evil in the role of Jafar.
Director Guy Ritchie ("Sherlock Holmes" franchise) is no stranger to fast-paced, visceral action scenes and big productions. With his direction combined with an incredible production team, Alan Menken's award-winning score and two new songs written by Menken and lyrics by Oscar and Tony Award®-winning songwriters Benj Pasek and Justin Paul, "Aladdin" is the whole fantasy-adventure package.
Rated PG for some action/peril
Runtime: 128 min
By Pamela Price