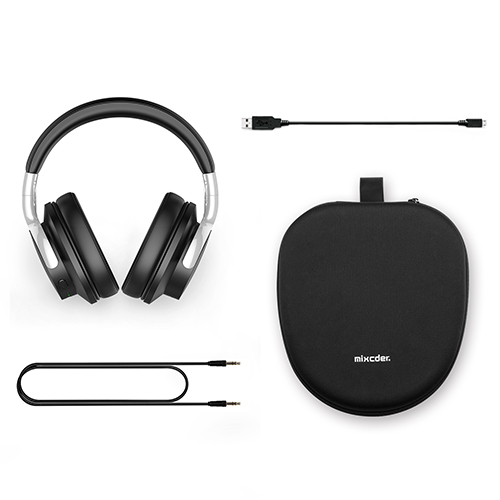 To be honest, I've never been a big 'headphones' person. Why? Well, as an athlete and runner, I don't train or run with music. Sure, every now and then I use the Apple headphones that come with the iPhone, but let's just say that I'm not a headphone connoiseur. However, I recently discovered Mixcder's E7 Active Noise Cancelling Bluetooth Headphones with Built-in Mic and now I take them with me everywhere I go.
Testing them out on the plane, this is the perfect excuse to not talk to the person next to you. The noise cancellation feature is incredible. In fact, in the airport, I didn't even hear the delay announcement! They are that good.
I also tested them out in the dance studio. While preparing for my class, I wore the Mixcder E7 while another song was playing on the studio speakers. I didn't hear one note because the headphones mask every surrounding sound outside.
The sound is crisp and clear, almost as if you're listening to the song live for the first time. When it comes to connecting, it's as easy as setting up any bluetooth connection on your computer or phone.
Features include:
ANC Technology:
Mixcder E7 adopts the Active Noise Cancelling tech, which continuously analyzes and reacts to outside noise, blocking out external noise by creating inverse waves, to make you immerse yourself in music.
Never Power Off:
The wireless mode: A built-in 400mAh battery provides up to 20 hrs of continuous playback per charge. The Wired mode: you can also connect it to your device by the included audio cable. Thus it will never power off.
Immersive Sound:
Large 40mm driver units and CSR Bluetooth ensure great sound quality, especially the powerful deep bass sound. You could also enjoy clean and clear sound with great details without being disturbed by noise.

Comfortable To Wear:
E7 offers a great and comfortable fit for its well-padded, soft and decent foam cushions, extendable arms, and lightweight. The rotatable earcups ensure a good seal around ears and long-listening comfort.
Hands-Free Call:
A built-in high-quality microphone guarantees hands-free calls in clear voice. The wireless connection between E7 and Bluetooth enabled devices (e.g.phones, tablets, PC, TVs) is quick and stable within 10m/33 feet.
Travel Essential:
E7 comes with a compact carry case where E7 can lie flat. This semi-hard case also provides some protection no matter where you go. The carry case and ANC feature make the E7 a great choice for commuters and travellers.
Price: $59.99
Check out their entire line of headphones at https://www.mixcder.com