Vitafusion is going organic!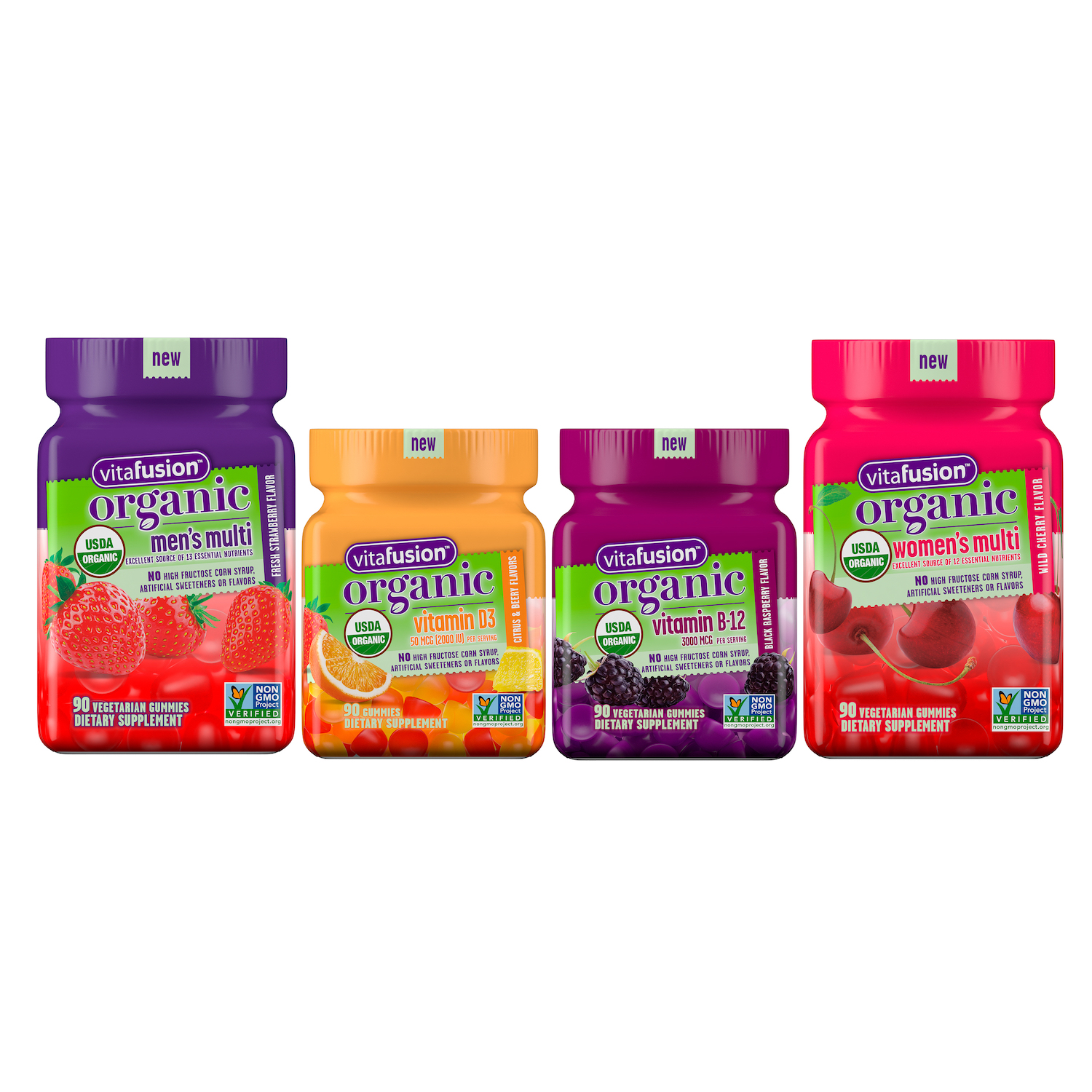 VitafusionTM Organic, a new line of USDA certified organic supplements including: Women's Multi, Men's Multi, Vitamin D3 and Vitamin B-12 fuses together essential nutrients with the best organic ingredients into delicious gummy vitamins.
Vitafusion™ is the only gummy vitamin brand that is clinically proven to absorb vitamins C & D3+.
The new vitafusion™ Organic line is USDA-certified organic and certified vegetarian by the America Vegetarian Association (AVA). "In 2008, we introduced a full range of nutritious gummy vitamins and supplements that have provided consumers with an enjoyable and convenient alternative to traditional vitamin pills and tablets, making taking vitamins a delicious pleasure rather than a chore," says Bruce Weiss, Vice President of Marketing, vitafusion™ Gummy Vitamin Brand.
"For more than a decade, we've been revolutionizing the dietary supplement industry and earned the title of America's #1 gummy vitamin brand, essentially igniting the gummy revolution in the U.S., which is expected to reach 4.17 billion by 2025.* And, we didn't stop there. We also listened carefully to our consumers by offering our new organic gummy vitamins, packed with nutrients your body needs. Actually, what makes vitafusion™ Organic supplements so special is what they don't contain, including: no artificial flavors or sweeteners, synthetic (FD&C) dyes, high-fructose corn syrup, gluten, dairy, soy, nuts, fish, or sugar coating. And they're non-GMO Project Verified and AVA certified vegetarian."
With natural fruit flavors like citrus & berry, wild cherry, fresh strawberry, black raspberry, and mixed berry, vitafusion™ stands for enjoyable, delicious nutrition for everyone. We deliver delicious, colorful, nutrient-rich supplements every day – and now, we're proud to introduce our much-anticipated organic line that includes:
vitafusion™ Organic Women's Multi to support overall health and wellness, the immune system, Vitamin D3 to support bones & muscles and six B vitamins to support the metabolism of fats, carbs, and proteins.**
vitafusion™ Organic Men's Multi: a fusion of 14 essential vitamins and organic ingredients. With six B vitamins to support the metabolism of fats, carbs, and proteins for energy production and Vitamins C & D3 plus zinc to support the immune system, in non-gelatin gummies to support your overall health & wellness**
vitafusion™ Organic B-12, with 3,000 mcg per serving, supports the metabolism of fats, carbs, and proteins for energy production and helps support nervous system health.**
vitafusion™ Organic Vitamin D3 is packed with 2000 IU (50 mcg) of vitamin D per serving, also known as the sunshine vitamin. vitafusion Organic Vitamin D3 supports bones, muscles, and the immune system.**
"As global awareness of the benefits of organic living and eating grows, vitafusion™ is committed to providing options for consumers looking to take a more mindful approach to their nutrition and overall wellness plans," adds Weiss.